Get Help From a Respected Wrongful Death Lawyer in Harrisburg, PA
The death of a loved one can turn your world upside down. The emotional pain is difficult enough to deal with, and you may also feel the fiscal impact for years to come. If you depended on the income provided by the deceased to support you and your family, you will need to find a way to replace it. You could also end up with a stack of medical bills and not have the resources to pay them, further clouding your long-term financial future.
What Happens When the Negligent Act of Another Causes the Death of a Loved One?
We frequently hear of situations where a negligent, or in some cases, criminal action results in the death of another. Think of a drunk driver who causes a fatal vehicle accident, a company that manufactures a defective product that fatally injures an unsuspecting consumer or a shooter who takes the life of an innocent bystander while committing a crime.
These are examples of what is referred as a wrongful death. In addition to the individual or entity who causes a wrongful death being held criminally liable for the act, the survivors may also pursue civil action by filing a lawsuit.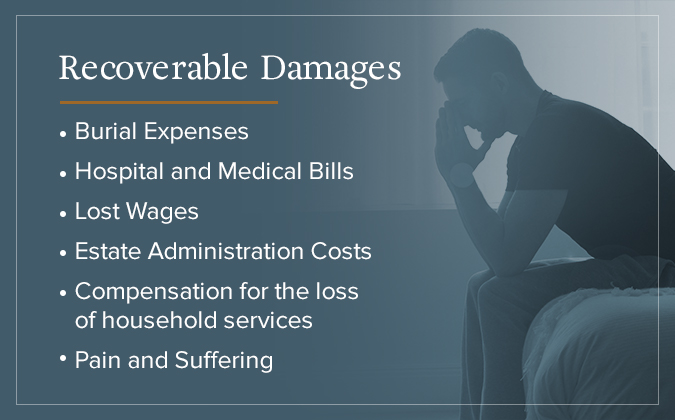 What Types of Damages May the Survivors Recover?
Under Pennsylvania law, the survivors of the victim of a wrongful death may seek to recover damages for losses related to the fatal injury. This included burial expenses, hospital and medical bills, lost wages, estate administration costs and compensation for the loss of household services provided by the deceased.
Survivors may also pursue additional punitive damages, commonly referred to as "pain and suffering." Any wrongful death lawsuit must be filed within two years of the date of death.

KBG Injury Law Can Help You Get the Results You Deserve in a Wrongful Death Situation
Obtaining a recovery of compensation in a wrongful death situation typically requires aggressive legal representation. In many cases, it will be necessary to seek benefits from an insurance policy that covers the negligent party. Depending on the circumstances, this will require reaching a settlement with the insurance carrier or taking the case to trial.
For more than 30 years, KBG Injury Law has helped people in Harrisburg and throughout southcentral PA take on the insurance companies in wrongful death cases. We have a long track record of attaining favorable outcomes for our clients — whether that is via settlement or civil trial verdict. You will receive effective, caring representation from an experienced wrongful death lawyer in Harrisburg who knows what it takes to get the results you and your family deserve.
Contact Us to Schedule a Free Consultation Today
Don't let the wrongful death of a loved one negatively impact your financial future. Contact KBG to schedule a consultation today. Your wrongful death lawyer in Harrisburg will review the facts of your case and help you to determine the most appropriate course of action. The initial consultation is free, and you will pay no legal fees unless we recover compensation for you.