What Is Insurance Bad Faith?
Oh, no! You just had a car accident. Fortunately, no one was hurt, but your car was totaled. Or perhaps, a fire that destroyed your garage. On the other hand, maybe you are injured at work and you have filed for workers' comp.
None of these three scenarios are ideal, but you aren't worried about expensive bills, because you have insurance — or, in the case of workers' comp, your employer has insurance. After all, it is required by law. You had a few bumps and bruises, but you know everything is going to work out financially. After all, isn't that why you get insurance?
But then it doesn't work out.
Your insurance company seems to be taking an unusually long time to make your payment. Then, they tell you they're going to deny your claim, but they don't really tell you why. Or maybe they'll say they will pay you about half what your insurance policy says they should.
There is a very good chance you are the victim of an act of "bad faith" by your insurance company.
---
Table of Contents
---
How Insurance Works
Every day we face a tsunami of advertising from insurance companies promising they will take care of us if we buy one of their policies. You would be wise to take these claims with a grain of salt. Whether a funny talking lizard or a woman who seems to enjoy wearing white all the time is making these promises, the fact of the matter is that insurance bad faith happens fairly often, and the big firms are just as guilty as the little ones.
For all the promises insurance companies make about putting you in good hands and taking care of you, it's important to remember these are for-profit companies. They don't have your best interests at heart — they are there for themselves and their shareholders.
Many of these companies, through the use of statistics, determine how much they will pay out when you make a claim. So even if the terms of your insurance policy state it will pay you a certain amount, they may refuse to do so if these statistics show the insurance company they will save a little money. They determine whether to honor your claim using a whole variety of shenanigans, some legal and others pretty questionable.
So, you have one of two choices: You can take whatever they give you — which is, sadly, what far too many people do and what the insurance company counts on — or you can file a bad-faith lawsuit.

What Are the Elements of an Insurance Bad Faith Claim?

Bad faith — or insurance fraud — is a legal term for when an insurance company tries to renege on its duties to their client, even though it has a contract with that client and has promised certain benefits. Insurance companies do this in several important ways.
Your insurance company withholds benefits that were due under the policy.
Your insurance company provides an unreasonable explanation for why the benefits were withheld.
Your insurance company refuses to defend you against a third-party claim — which can happen in a situation like a traffic accident.
Your insurance company refuses a reasonable settlement, even if it might be advantageous to you because it avoids a lawsuit.
Your insurance company misrepresents important facts about your case or provisions in the actual policy.
Your insurance company receives your claim but fails to act promptly or even acknowledge it has received it.
Your insurance company conducts an inadequate or a faulty investigation and uses that investigation to deny your claim.
Your insurance company never gives you a reasonable answer for why it rejected your claim.
Your insurance company uses methods that are demeaning or invasive while investigating your claim.
Your insurance company makes an unwarranted claim of arson against you if your claim involves a fire.
Your insurance company denies you a health care benefit because it says the cost is too high, even if the policy covers it.
Your insurance company advises you not to hire legal help.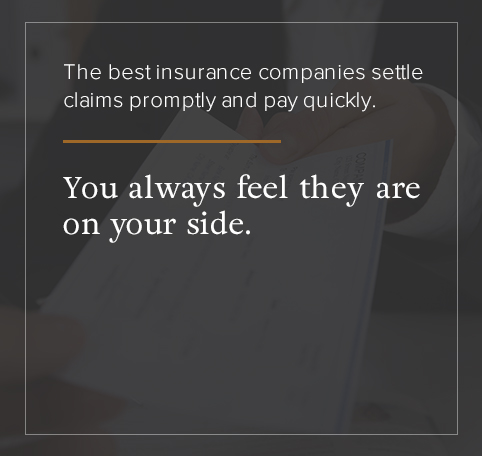 It's important, however, to pause here for a bit of perspective.
Clients disagree with their insurance companies relatively frequently. A difference of opinion is not a sign of bad faith. And if a company makes a mistake, but corrects it as soon as they discover it, that is also not an act of bad faith. States created bad-faith law to balance the interests of insurance companies and the insured.
Insurance companies have the right to reject invalid claims.
You have the right to fair payment for legitimate claims.
It becomes an act of bad faith, however, when you see any of the signs mentioned above.
The best insurance companies settle claims promptly and pay quickly. You always feel they are on your side. An insurance company that dabbles in bad-faith measures is always looking for ways to avoid paying the full amount, or either deny your claim or delay it to the point that it's to its advantage rather than yours.

How Do Courts Determine If an Insurance Claim Was Handled in Bad Faith?
While the reasons for bad-faith insurance claims remain relatively consistent across the country, the ways state regulators and the courts deal with them vary from state to state.
Some states require you to prove the insurance company did not thoroughly investigate your claim before denying it.
A few other states require you to show the insurance company ignored state regulations about investigating claims.
Still other states require you also to prove the insurance company deliberately ignored facts that would've verified your claim.
The strictest states require you to prove the insurance company deliberately acted against you in bad faith.
As you can see, the legal process isn't consistent nationwide. In Pennsylvania, the state's Supreme Court has tended to side with the policyholders, recently ruling a claimant does not need to prove malicious intent on the part of an insurance company to win a bad-faith lawsuit.
Determining how Pennsylvania interprets the insurance bad-faith laws is just one reason hiring an attorney to help you makes a lot of sense. Most bad-faith insurance claims are a David-vs.-Goliath situation, since insurance companies have virtually unlimited funds to fight claims, while you may not.

How to File a Bad-Faith Insurance Claim
Once you've decided your insurance company has acted in bad faith, you should contact a lawyer immediately to help you with your case. But the steps that lead to filing an insurance bad-faith lawsuit begin almost as soon as you sign your policy with your insurance company.
Look over your insurance contract with a fine-toothed comb. You need to review your insurance contract. You can't file a lawsuit unless you know there has been a violation. Get a complete, up-to-date version before you file a claim.
Record EVERYTHING. Keep all your evidence and documents together. Keep a log of every interaction you have with the insurance company, every letter you write, every text you send to your agent, every phone call you make. If you have a meeting, record the names of everyone who was there and what you discussed. Do it right away, not when you get home or later the next day. A record of a meeting can carry a lot more weight in a legal proceeding if you take notes in the moments after the meeting, not several days later.

If the insurer denies you, ask immediately for a review. If your insurance company denies your claim, immediately ask for a supervisor to review your claim. Possibly, during this new look at your claim, your insurance company will have second thoughts about why they denied it. If they deny you again after a follow-up review, it's time to start thinking about a lawyer.
Tell your insurance company you are considering a lawsuit. You will need to show a judge and jury you went out of your way to try and settle with the insurance company before you filed a lawsuit. Write a letter demanding they pay the claim. Send it by registered mail and make sure you get a receipt. After you send the letter, the insurance company has between 15 and 60 days to answer. If they don't respond, or if they still refuse to pay your claim, you can proceed with a lawsuit.
File an insurance bad-faith lawsuit. First, hire a lawyer to help you. Deciding to file a lawsuit is not easy for many of the reasons we outlined. A lawyer can help you decide whether it's best to file your lawsuit in a federal or a state court. He or she will advise you on what damages you should seek, and help you determine how this act of bad faith has impacted your life and your family's life. Even if the insurance company decides to back down and pay up, you can still proceed with a lawsuit.
There is one other way you can handle a bad-faith situation with your insurance company: File a complaint with your state's department of insurance. Most states will try and mediate your dispute. You can still file a lawsuit, however, even if you go to the department of insurance.

Should I Hire a Lawyer to Help With an Insurance Bad-Faith Claim?
Yes. Remember the David-vs.-Goliath scenario we mentioned above? An experienced lawyer can help put the fight on a more even playing field. If you're going to file a bad-faith lawsuit against your insurance company, hiring a lawyer makes sense for a lot of reasons.
A lawyer can help you review your insurance contract and pinpoint the exact violation that took place and that you should cite in a lawsuit.
A lawyer can help you prepare all your documentation.
A lawyer knows what paperwork to present when you file a bad-faith lawsuit, which level of court you should file in and the best jurisdiction to do it in.
A lawyer helps you get the largest possible settlement if you win, especially if punitive damages are included.
A lawyer is on your side. Yes, there is a fee if the lawsuit is successful. But insurance companies fight these lawsuits all the time — remember the statistics about how many of them engage in bad-faith activities. When you're fighting a big company, perhaps for the first time, having someone on your side who has been in this arena before is a reassuring comfort.
In most cases, lawyers will work on a contingency fee, only charging that fee if you win the lawsuit. You and your lawyer will work out a fee arrangement you both find acceptable.

The Experienced Team at KBG Injury Law Can Help You With All Aspects of Your Lawsuit
Working your way through the complex rules and documentation needs of an insurance bad-faith lawsuit can appear daunting and confusing. Our team of experienced and knowledgeable lawyers can help you determine the best course of action. We want to make sure you are receiving the maximum benefits to which you were entitled under the policy you signed with your insurance company.


At KBG Injury Law, we don't see you as just another client, but as a person who needs our help. We aim to treat each client as an individual and give them the attention they deserve. We understand how a wrongly denied insurance claim can affect you emotionally and financially, and how important it is for you and your family to be able to resolve all issues as quickly as possible.
We invite you to schedule a free consultation where we can talk about your situation and determine if there are ways we can help you. You can reach us 24 hours a day at our toll-free line, 800-509-1011. Or, you can visit our website and tell us about your situation.