If you've been injured in an accident at work or if you've developed an illness because of a work-related issue, you may be eligible to recover either Social Security Disability Insurance (SSDI) benefits or Supplemental Security Income (SSI) benefits. The Social Security Administration (SSA) administers both of these government programs, which provide financial assistance to those who have suffered work-related disabilities.
It might sound like just the thing you have been looking for. But you need to prove that your disability has prevented, or will prevent, you from working for at least a year. Partial disabilities don't count.  Applying for SSDI or SSI benefits is often a long and laborious process — and in some cases, including appeals, it can last for as long as two years.
We will flesh out more about SSDI benefits and SSI benefits below, including information on how to apply, what to do if your initial claim is turned down, the appeals process and the kinds of medical evidence you will need to bolster your case. We will also present some ideas about things that you can do to give your benefits claim a greater chance of success, such as hiring a disability lawyer.
---
Table of Contents
---
Who Qualifies for Social Security Disability or SSI Benefits?
To be considered disabled, you must:
Have a medical condition that has been diagnosed by a doctor as terminal or will last at least one year and prevents you from working.
Have a qualifying illness or injury on the SSA list of impairments, which explains how severe your condition must be.
Have a Residual Functional Capacity (RFC) assessment, which evaluates your job ability if your illness or injury is not on the list.
Undergo a Medical Vocational Analysis, which determines whether you can perform your current job or another job in your condition.
Be younger than the age at which you qualify for retirement benefits from the SSA.
You can't earn more than $1,220 a month or the SSA will not consider you disabled.
If you are eligible for SSDI or SSI benefits, you will have to submit to a Continual Disability Review (CDR). The review can occur every three to seven years, but you will be told when to complete yours. A CDR will determine if you are still qualified for SSI benefits or the SSDI program. If your injury or illness improves or if you start earning enough money, you will no longer be eligible for Social Security disability or benefits.
What Is the Difference Between Social Security Disability Insurance Benefits and Supplemental Security Income Benefits?
The SSA will pay SSDI benefits to you and sometimes to members of your family if you qualify and have worked — either for a business or self-employed — and paid Social Security taxes. You receive one credit for every $1,360 you have earned. You need to have earned 40 credits over the lifetime of your employment, 20 of which must have come in the past 10 years. Younger disabled workers require fewer credits.
SSI works best for individuals or couples who have not paid Social Security taxes or have not earned enough wage credits to qualify for SSDI. SSI provides benefits based on financial need. There is also a means test involved:
You cannot have more than $2,000 in assets individually or $3,000 for a couple.
You must be earning less than the $1,220 mentioned above.
The SSA will make allowances for one car and the house in which you live when determining your resource (asset) total. Any other cars or land will count against the above limits.
How Do I Apply for Social Security Benefits?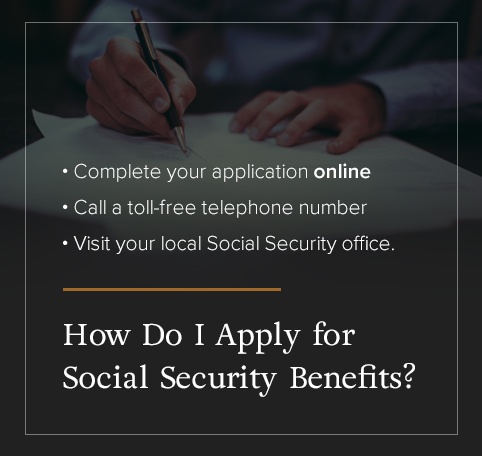 You can file for SSDI or SSI benefits in one of three ways:
SSA provides a toll-free telephone number (1-800-772-1213) you can call. If you have trouble hearing, you can call TTY 1-800-325-0778.
Your best option is to contact your local Social Security office and complete an in-person or phone interview. Because of the high volume of applications, every state has an office for its SSI and SSDI program. If you choose an online application, it will save you time and a trip, but if you stumble on a question or aren't sure of an answer, there is no one available to help you. Mistakes can cause lots of headaches when the SSA is determining your eligibility.
Also of note: You also cannot apply for SSI benefits online. The tele-claim center (the toll-free number) should likely be your last choice. It has a "long history of providing inaccurate information." If you wish to do an in-person or phone interview, the SSA will:
Arrange a time to conduct an in-person interview at their offices
Arrange a time to do a phone interview
What Kind of Injury or Illness Qualifies for Social Security Disability Benefits?
You can check a list of adult impairments prepared by the SSA to see if your condition qualifies. Remember that it must be terminal or severe enough that it prevents you from working.
This is a good time to mention that your chances of receiving Social Security benefits will depend upon the medical evidence you present about your disability during the interview or appeal. It is the most important factor used by the SSA to determine the outcome of a benefits claim. Evidence presented by your own doctor or by a specialist who treats your particular kind of disability gives your benefits claim the best chance of being successful.
For the SSA to consider and accept your medical evidence, be sure that it:
Contains recent or updated information
Is adequate and provided by a qualified medical professional
Includes notes and analysis by a qualified doctor
Includes treatment and exam notes
Contains mental health records, if applicable
Shows results of blood work, imaging and other tests, if applicable
Contains evidence of rehabilitation, if applicable
Some of the impairments that the SSA will consider when judging a benefits claim include:
Cancer
HIV/AIDS
Respiratory disorders like severe asthma
Mental disorders
Arthritis
Neurological conditions
Heart disease, especially if caused by stress in the workplace
Deep vein thrombosis, which may lead to a pulmonary embolism
For a complete look at what qualifies for Social Security disability, check the list of adult impairments above.

What Are the Chances of My Initial Social Security Benefits Claim Being Approved?
In all honesty, the odds are not good. SSA claims examiners approve only 30% to 35% of initial Social Security benefits claims. Claims examiners will turn down applications for a variety of reasons, including a lack of medical evidence that shows your disability is severe enough to prevent you from working or evidence that shows you have been working after you file a benefits claim.
If you do receive a Social Security disability denial, appeal as soon as possible and don't give up. Research shows your chances of success improve with each part of the appeals process.
Here are a few suggestions, however, that can help make you one of the 30% to 35% who are approved on their initial claim:
Report your injury as soon as it happens: If you are injured at work, immediately report what happened to your supervisor. It cannot be a coworker — it must be the supervisor. If the injury is serious enough, you may also ask for immediate medical assistance.
Keep good medical records: As we noted above, claims examiners look for good medical evidence when deciding whether or not to award benefits. Keep a record of every doctor visit, medical test, visit to an emergency room, bloodwork, imaging diagnostics or therapy. If you have only now decided to apply for Social Security benefits and it is several weeks or a month after the initial accident, contact your doctor immediately to get a copy of these records.
Work with your own doctor or medical specialist: Claims examiners or appeals judges prefer, by far, reports from your doctor or a specialist who works in the field of your disability.
Hire a disability lawyer: A study by the Government Accounting Office (GAO) shows that someone who works with a lawyer during the Social Security benefits claims process is three times more likely to be successful than someone who doesn't. Disability lawyers know how the SSA works and can help you prepare the proper documentation and prepare you for the SSA interview. Disability lawyers are particularly important if you are appealing a denied claim.
How Do I Appeal If My Initial Claim for Social Security Disability Is Denied?
If your claim for receiving SSDI benefits is denied, follow three key steps to appeal the decision:

Act immediately: You only have a 60-day window to appeal, so be sure to act within that time frame if your claim for Social Security disability is denied.
Contact an attorney: Reach out to a disability attorney who has experience with the SSDI program and making appeals.
Consider why your claim was denied: If you understand why the SSA denied your claim, you have a better chance at a successful appeal. An attorney will help you understand if you are missing evidence or if you are not eligible for SSDI.
Patience is the most important thing needed by people during the appeals process. Almost 1.1 million Americans are currently waiting for a decision about their benefits claim.

The first thing to understand is that there is no way to know how long the SSA will take to make decisions about your initial claim or, if it is denied, any appeals you make. While no set time limits exist for any of the steps, here is an approximate timeline:
In most cases, you will receive notification from the SSA about your initial claim within three to four months.
If you are turned down, file a Reconsideration Appeal. It will take another three to four months before the SSA reaches a decision.
If your Reconsideration Appeal is denied, you may ask for a hearing with an Administrative Law Judge (ALJ). It may be six months to a year before your appeals hearing can be scheduled. You can check the SSA's Hearing and Appeals page to see how long it may take before a hearing can be scheduled in your area of the country.
If the ALJ denies your claim again, you may ask for a review by the Appeals Council. If the Council decides to accept your appeal, it may be up to a year before they can schedule a hearing.
If the Appeals Council turns you down, your last option is to file a lawsuit with the federal court. It may take several months before a hearing can be scheduled and then an additional eight months before the court reaches a decision.
The process can last a very long time. Remember that your chances of success improve at each stage of the appeals process. While you can pursue any appeal by yourself, your chances of success are limited. A disability lawyer understands how to do an appeal before the SSA and can help you with any paperwork, collecting medical evidence, and helping you understand and navigate the difficulties you will face during the appeals process.

Can My Child Apply for Social Security benefits?
Yes. If a child under 18 is disabled, they can apply for SSI benefits:
You need to fill out both a Supplemental Security Income application and a Child Disability Form.
The SSA has prepared a list of childhood impairments to help you determine if your child's illness or injury qualifies for Social Security benefits.
You can fill out a Child Disability Form online or you can phone your local SSA office and arrange an in-person or online interview. You must present medical evidence of a disability for your child and allow the SSA to contact your child's doctor.
You need to determine whether you or your child are either making too much money or have too many assets to qualify for the program.
Can My Spouse Recover Any Social Security Benefits?
If you are receiving SSDI benefits, your husband or wife may also be eligible for benefits on your behalf. When a spouse applies, the SSA will always ask for proof of marriage. If eligible, your spouse may recover a benefit of up to 50% of your Social Security disability pay.
The SSA, however, places a limit on how much your family can recover in benefits. The Family Maximum is 150% of the disabled person's PIA or primary insurance amount. A disability lawyer can help you determine how much your spouse may be eligible to recover.

Can I Recover Social Security Benefits If I Am Also Receiving a Veterans Disability Benefit?
The short answer is "yes." If you are receiving veterans disability benefits, you can also receive Social Security disability benefits.

What Are the Benefits of Having a Social Security Disability Lawyer?
There are many. As we pointed out above, hiring a disability lawyer to work with you on your claim triples your chances of success. The Social Security disability benefits process is complicated and difficult even at the best of times. If you've suffered a severe disability, either physical or mental, this only makes the application process that much harder:
A disability lawyer can help you prepare the necessary medical evidence that you will need for a successful claim.
A disability lawyer can help prepare you for the important SSDI interview with Social Security.
If you have no evidence at all, either because you have lacked insurance in the past and couldn't see a doctor or you've moved and lost touch with the doctor who treated you previously, a disability attorney knows how to help. They can set up appointments with medical specialists who can properly evaluate your injuries or illness and can track down the doctors you saw in the past in other parts of Pennsylvania.
A good disability lawyer knows how to work around a negative medical report. The SSA requires that you submit all medical evidence about your disability. This includes medical reports that may work against your case. The disability lawyer understands that you can't ignore this report but that there are ways to get around it.
These are only a few of the ways that a disability lawyer can help you. Perhaps even more important is knowing that there is someone on your side during this complicated process. Disability lawyers will only charge a fee if your case is successful. That fee must be worked out ahead of time and approved by the SSA.
If your case is not successful, it won't cost you a penny.

Let KBG Injury Law Help You With Your Social Security Disability Appeal
If your initial claim has been turned down and you've decided to appeal the denial, you can count on a lot of work needed to prepare your case for a hearing. We have many years of helping clients prepare successful appeals. Our excellent and qualified staff of lawyers understands the ins and outs of the appeals process and how to present a case with the best chances of success. It is very important to us that our clients succeed because we understand how crippling a disability can be, both emotionally and financially.
We want to help. Whether you are starting a new claim or require immediate assistance with the claim you've already filed, you can reach us 24 hours a day at 800-509-1011. Or, you can visit us on the web to request a free consultation.