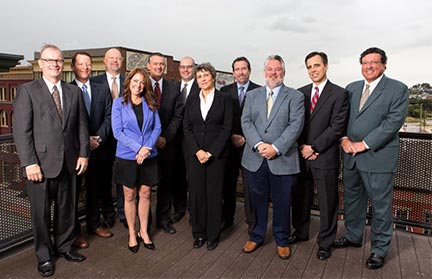 KBG Injury Law is a personal injury law firm that has represented clients in the central Pennsylvania region for over 30 years. The reputation of our firm is built on respect for our clients, many of whom have suffered greatly due to the neglect or actions of another party.
Our Areas of Skilled Focus:
If someone you care about needs help with a personal injury matter, schedule an appointment with Katherman Briggs & Greenberg for a consultation.
EXPERIENCED TEAM OF ATTORNEYS COVERING ALL ASPECTS OF INJURY LAW
Our team of accomplished attorneys brings a wide range of experiences to the practice of injury law. Whether negotiating a settlement with the negligent party's insurance company on your behalf or trying your case in a court of law, our attorneys know what it takes to get the results you deserve.
TREATING CLIENTS WITH DIGNITY AND RESPECT
We view all our clients as human beings who are often facing severe emotional, physical and financial challenges. As a Katherman, Briggs & Greenberg client, you will be treated with dignity and respect from your initial consultation to the final resolution of your case. For this reason, many of our new clients are referred to us by previous satisfied clients.
TAKE A CLOSER LOOK AT OUR MANY AREAS OF PRACTICE
We invite you to learn more about the areas of personal injury law we cover by exploring the individual specialties below:
To discuss personal injury representation,
please call us toll-free (800) 509-1011, or Request a Free Consultation.