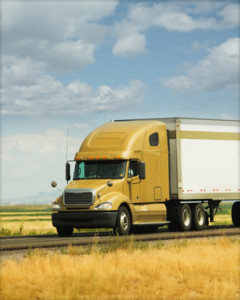 Our highways are teeming with tractor-trailers, as the very nature of our commerce system in the United States depends on the ability to move goods quickly and efficiently from one place to another. While such trucks may provide an efficient method of transporting goods, they present significant hazards to the motorists with whom they share the road. The sheer size and weight of these massive vehicles make them more difficult to control and maneuver and can cause serious injuries as the result of an accident, especially when a collision with a smaller passenger vehicle is involved.
COMMON TRACTOR-TRAILER ACCIDENT PROBLEMS

While the vast majority of truckers and the companies they work for are highly conscientious and safety-conscious, there are some drivers who may not always abide by the rules of the road, placing themselves and other motorists in jeopardy.

Tractor-trailer accidents can happen for many reasons, but certain problems are frequently associated with tractor-trailer accidents. One problem is faulty brakes and the failure of brakes to comply with federal safety standards causing a truck crash as drivers who are on the road continuously may not always take the time for proper brake maintenance. Driver error can also result in accidents, as drivers who are on the road for long hours may incur driver alertness and fatigue problems including the abuse of stimulants like over-the-counter drugs and prescriptions. There is also the possibility of excess driver blood alcohol concentration (BAC) or driving under the influence of alcohol; excessive speed; lack of driver training and qualification; and driver fatigue due to driving more than the permissible number of hours. If you have been a victim of a negligent accident, call our experienced tractor trailer attorneys for a free consultation today.

FINANCIAL IMPLICATIONS OF TRACTOR-TRAILER ACCIDENTS

If you've suffered a tractor-trailer accident injury, the financial impact can be severe. You may be unable to work for an extended period of time, making it difficult to sustain your usual standard of living. A serious accident may also mean significant medical bills that may not be covered in full by insurance.

PROMPT ACTION IS ESSENTIAL IN THE EVENT OF TRACTOR-TRAILER ACCIDENT INJURY

Collecting evidence immediately after a truck accident is critically important. If you've been injured as a result of a tractor-tractor accident, you must act quickly to secure the evidence you will need to establish negligence. Truck drivers who realize they've caused a tractor-trailer accident injury may take quick action to reduce the appearance of liability, as a negligent act could result in a loss of driving privileges, hindering their ability to continue to earn a living.

ESSENTIAL STEPS AFTER AN ACCIDENT

There are a number of important steps to take as soon as possible after an accident to enhance the chances of proving negligence. This may include inspecting faulty brakes for failure to comply with federal safety standards. It may also include reviewing truck log books, driver time sheets and personnel information to verify whether drivers were behind the wheel longer than permitted under the law. You will need an experienced tractor-trailer accident injury attorney working on your behalf to secure the necessary evidence and protect your interests. Call to speak with an experienced tractor trailer injury lawyer today.
To discuss personal injury representation,
please call us toll-free (800) 509-1011, or Request a Free Consultation.