If you work within one of the fields covered under the PA Heart and Lung Act, this law is highly relevant to you. Even if this law does not apply directly to you, you may know someone in a related field which it will affect.
Regardless of your level of knowledge regarding the Heart and Lung Act in Pennsylvania, it's essential to understand the basics of this law, such as what it is, how broad its scope is, what type of benefits it offers and most importantly, who it affects.
Even if you are not one of the individuals covered under this law, we still believe this is essential information everyone should be aware of. Maybe you know someone else who this law will apply to. Even if you do not know anyone, increasing your knowledge and awareness of the law is always useful.
---
Table of Contents
---
What Is the Heart and Lung Act?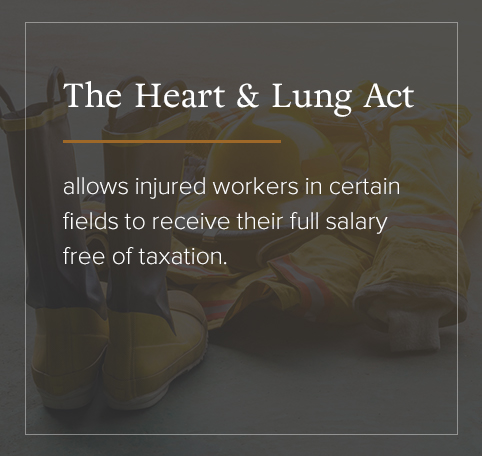 The Heart and Lung Act is a piece of legislation that allows injured workers in certain fields to receive their full salary free of taxation. This salary is defined as the worker's regular base pay minus any overtime payment.
Specifically, the Heart and Lung Act applies to law enforcement workers who were injured in the line of duty. These workers who are injured and temporarily unable to work can apply to receive benefits under this act. It should be noted, however, that this law does not apply to workers who are injured and permanently disabled. For these types of situations, workers should refer to general workers' compensation laws.
What Is the Different Between the Heart and Lung Act and Workers' Compensation?
As you may have noticed, there are a few similarities between the Heart and Lung Act and workers' compensation. They do share some overlap and operate in the same general area of the law. However, despite similarities, these are two very different laws.
Workers' compensation is built to provide a safety net for workers injured on the job. If an employee receives an injury while working, they can apply to continue earning their salary even while they are unable to work, in addition to receiving assistance for their medical bills and other
Two of the most significant differences between the two pieces of legislation are:
To whom it applies: The first notable difference between the two is that the Heart and Lung Act is restricted to only workers in the fields of law enforcement. Later, we will cover the specifics of who falls under this umbrella. Workers' compensation, on the other hand, can cover virtually any employee in any field.
The nature of the injury: Workers' compensation can apply to both workers who are temporarily injured and those who have suffered a permanent disability. The Heart and Lung Act applies only to those who are temporarily disabled, but who expect to be able to return to work again before long.
Based on these two differences, we can see that an individual covered by the Heart and Lung Act is likely also to be eligible for workers' compensation. However, not everyone eligible for workers' comp would also be covered under the Heart and Lung Act.

Who Qualifies Under the Heart and Lung Act?
The broadest definition states that this law applies to those in law enforcement professions. However, let us break that description down further to see who falls under that specific umbrella.
Here are the specific categories of workers who are covered under the Heart and Lung Act:
State police personnel
The Liquor Control Board employees, including both the investigators and the enforcement officers
The Board of Probation and Parole employees, including the investigators, parole agents and enforcement officers
The Department of Corrections employees in charge of inmate custody, care and control
The Department of Corrections/Department of Human Services employees, specifically psychiatric security aides in charge of inmate control, custody and care
The Office of the Attorney General employees, specifically enforcement agents
The Office of the Attorney General Employees, specifically those special agents with the duty of enforcing Pennsylvania's criminal laws
The Delaware River Port Authority Police employees
Any firemen, park guards or police officers of any township, borough, city or county
Any sheriff or deputy
The Pennsylvania Game Commission and Pennsylvania Fish and Boat Commission employees, including any investigator or enforcement officer
Beyond the regulations of who is eligible for the benefits under the Heart and Lung Act, there are specific qualifications individuals must meet in each case to earn benefits. These circumstances include:
If the worker's injury was received while discharging an official duty
If the injury is of a temporary nature
If the injury renders the worker incapable of performing their regular duties
If the employer takes appropriate measures to restructure the worker's responsibilities until they can return to work as usual
How Do I Obtain Benefits Under the Heart and Lung Act?
If you or anyone you know falls into one of the employment categories listed above, you could be eligible for benefits under the Heart and Lung Act. If you are injured while performing your work duties, follow this three-step process.

1. File a Report
The first step to receiving benefits under the Heart and Lung Act is to file an official report of the injury you sustained. In addition to this, your employer may ask you to record a personal statement, detailing the exact nature of the injury. It is likely that this report will include such details as the specifics of the injury, how and when the injury occurred, why you believe it is only temporary and how it prevents you from carrying out your regular duties.
The purpose of these reports and statements is to make your injury official both with your employer and with the government. They are unable to take it on hearsay that you have been injured, and thus the reports are necessary so there are official records and proof of an injury and how it occurred.
2. Wait for the Investigation
After your story and statement have been filed and submitted, you have little to do with the following stage. Your job is to sit back and wait while the authorities investigate the incident.
During this stage of the process, your employer will investigate your claim. They will decide whether the events you depicted in your statement are factual and accurate. If they determine everything is in order, they will develop their own report on the event. This report will then be submitted to the government workers in charge of the benefits of the Heart and Lung Act.
3. Receive a Decision
The government workers will then review your employer's report of what happened. If everything lines up and they decide you are eligible for Heart and Lung benefits, the process will begin moving forward.
If, however, your employer's report indicates you are ineligible for Heart and Lung benefits, you will be notified and given a chance to file an appeal. After filing an appeal, you must then be given a due process proceeding.

What Are PA Heart and Lung Benefits?
The next logical question you might be asking is this: exactly what benefits are you entitled to if you are deemed eligible for Heart and Lung benefits? What does this entail?
We mentioned briefly earlier that these benefits are primarily focused on providing the injured worker with their full salary. This is true, but it is also slightly more complicated than that. Rather than workers' comp, which provides the worker with compensation when they are unable to work, Heart and Lung benefits give the injured employee their regular full salary.
This wage replacement should be equal to your regular salary, including any pay raises that would ordinarily be expected, but it should not include any extra overtime pay. In addition to the salary, other benefits include coverage for medical expenses and regular accumulation of retirement credits. Workers receiving Heart and Lung benefits should also still receive any sick or vacation days that they would ordinarily receive, as well as holidays.

Can I Receive Workers' Compensation and Heart and Lung Benefits at the Same Time?
The Heart and Lung Act is not intended to operate as an alternative or a substitute for workers' compensation. When an injury occurs, two separate claims will need to be filed. This may seem strange since you cannot logically receive a full salary and compensation from both workers' comp and the Heart and Lung Act, but it is still crucial to fill out claims at once. But why?

Although it may seem counterintuitive, you do receive both workers' comp and Heart and Lung benefits at the same time, although probably not in the way you imagine. Workers' compensation payments go to your employer, who in turn uses this money to pay your regular salary.
Since Heart and Lung benefits entitle you to your full salary and workers' compensation is typically equal to two-thirds of your salary, this works out well for your employer. Since they receive the workers' comp money, the only thing they truly have to pay is the final third to make up the difference between the workers' comp payments and your full salary.
Another bonus of filling out the workers' comp claim in addition to the Heart and Lung claim is that you are already set up in case anything unexpected happens in the course of your injury and recovery.
Imagine if an injury that was initially assumed to be temporary is eventually revealed to be permanent. At this point, you will lose all Heart and Lung benefits, since having a permanent injury makes you instantly ineligible. But by losing your Heart and Lung benefits, you instead become eligible for workers' comp. And since you already filed the claim for these benefits, the process of claiming this will be much faster and more efficient than it would be if you had to start from the beginning.

When Do Heart and Lung Benefits End?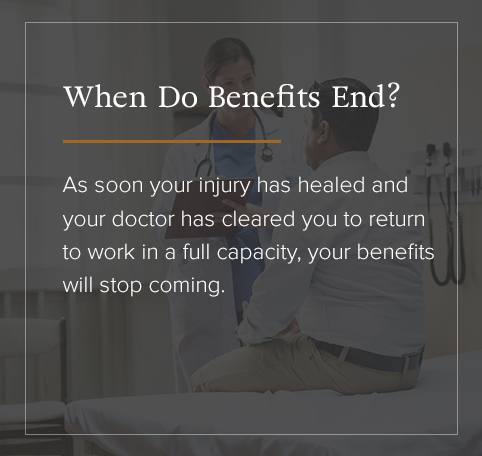 Your Heart and Lung benefits will stop coming as soon as you can return to work in your full capacity. It is possible that you have returned to work before this, but in a limited or modified capacity. Under the Heart and Lung Act, this is known as light-duty, and it does not affect your ability to receive benefits.
However, as soon your injury has healed and your doctor has cleared you to return to work in a full capacity, your benefits will stop coming. This is because you will be back to earning your salary as you ordinarily would.
Your Heart and Lung benefits will also stop coming if your injury becomes permanent, or if it is later proved that your injury was not acquired at work or if some other technicality was out of place. If any of these were the case, there would be a formal proceeding where you would be allowed to make an appeal.

Enlist a Professional to Help You Sort Out the Details of Your Heart and Lung Benefits Today
If you are a law enforcement worker and have been injured on the job, you deserve compensation, support and a shoulder to lean on. The process of receiving the benefits and compensation you're entitled to is often a complicated one, and you shouldn't have to go through it alone. You deserve professional, competent legal representation to get you the results you are looking for.
Here at KBG Injury Law, you can consider us your partner throughout this process. Our attorneys work tirelessly to represent injured law enforcement workers who are entitled to benefits under the Heart and Lung Act. We have a successful track record of helping our clients secure these benefits, and we will not rest until we have done the same for you. We know the complications that can be involved in proving your eligibility, and we are prepared to take you through every step of this often complicated process.
If you are ready to get started on this process, contact us to request a free consultation today. If you are not quite ready to begin taking legal action, but instead have a few more questions about how the Heart and Lung Act works and how it affects you, contact us online or give us a call at 800-509-1011.