There is nothing quite like the freedom and enjoyment that comes with riding a motorcycle. Unfortunately, you face significant odds of suffering a motorcycle injury when an automobile collides with your motorcycle. How do you protect yourself and your bike from harm? If you are in an accident, how will you pay for repairs and medical bills?
The first step to protecting yourself on your bike is to have the best insurance coverage you can afford. In Pennsylvania, you will likely not have medical insurance in your motorcycle insurance policy. We will look at the different coverage options you should consider as a motorcyclist in this no-fault state.

Second, you will need to wear the right gear and take special precautions when riding your motorcycle. There is a lot to consider on a bike that you do not have to think about if you were driving a car. For example, do you worry about driving your car when it is lightly raining outside? Probably not. However, if you are on a motorcycle when it starts to rain, you will discover new challenges.
Lastly, if you are in an accident, make sure you seek advice and representation from motorcycle accident attorneys who understand your needs, have experience in regularly handling motorcycle injury claims and have the trial experience to see your case through to the end.
Here is how to protect yourself and your bike in the state of Pennsylvania and who to contact if you are in an accident.
---
Table of Contents
---
How Can Riders Protect Themselves?
It is a fact riding a motorcycle is more dangerous than driving a car. In 2015, the government estimated that the number of deaths on motorcycles was 29 times more than in cars. In 2016, there were 3,454 motorcycle crashes in Pennsylvania and 192 fatalities involving motorcycle drivers or passengers.
Despite the risks, you do not have to let statistics prevent you from enjoying the open road on your bike. You can take steps to protect yourself while you ride, and you can better prepare for accidents with the right coverage.
Here are ways to protect yourself on a motorcycle according to the National Highway Traffic Safety Administration (NHTSA):
Attend a motorcycle driving course.
Do not ride in a vehicle's blind spot. Strive to be visible at all times.
Be a defensive driver. Always anticipate other drivers' moves.
Be extra cautious in dangerous weather conditions or while driving over slippery surfaces.
Before buying a motorcycle, consider the purpose of the bike and the size that will work best for you. Do your research.
Wear motorcycle gear such as eye protection, durable and snug jackets and pants, gloves for better grip and control, and sturdy non-slip boots with laces tucked in.
Learn your bike. Read the owner's manual and know your bike well before you take it on a road trip.
Avoid tailgating and communicate your intentions with other drivers.
Anticipate road hazards such as potholes, puddles or objects in the middle of the road, and develop skills to maneuver around objects. Do not ride beyond your skill level.
Maintain a safe speed.
Ride as if you were invisible to other drivers.
These tips are just a few ways you can increase your level of safety when you ride your motorcycle. It would likely be beneficial to enroll in the Pennsylvania Motorcycle Safety Program (PAMSP) for free motorcycle training, regardless of your current skill level.

Are Helmets Required When Riding a Motorcycle in Pennsylvania?
It is no longer required to wear a helmet in Pennsylvania. However, for this to apply you must be over age 21, and you must have been licensed to drive a motorcycle for at least two years or completed an approved motorcycle safety class.
Although you may not legally be required to wear a helmet, it still might be the smart thing to do when riding a motorcycle. According to the Centers for Disease Control and Prevention (CDC), helmets reduce the risk of death by 37 percent, and they reduce the risk of head injury by 69 percent. In 2015, helmets saved an estimated 1,772 lives.
Helmets may not protect you from impact completely or save the other parts of your body, but they help to protect your brain from injury in case you crash. Most crashes occur during trips less than five miles long and at a speed slower than 30 mph. Driving slow for a short distance is not a good reason to leave a helmet at home.

Is Lane Splitting Legal in Pennsylvania?

Lane splitting is when a motorcyclist drives between cars. Lane splitting is not legal in Pennsylvania. You may be tempted to lane split when traffic has come to a stop, but it is not worth the risk. Lane splitting is not only illegal, but it is also very dangerous. Why? Other vehicles may not see you, and they might make a turn and crash into you. Just being that close to another vehicle greatly increases your risk of an accident with it.

How Is Fault Determined in a Motorcycle Accident?
In most states, when two drivers are in an accident, someone is at fault. The person at fault is responsible for paying the damages resulting from the accident. Pennsylvania, however, is a no-fault state, which means your ability to sue is limited. You may sue if your injuries are severe enough to meet certain thresholds.
Motorcycle insurance is different than car insurance. Under regular car insurance in Pennsylvania, you are required to have first-party benefits or personal injury protection (PIP). These types of coverage are usually not available for Pennsylvania motorcycle drivers, which puts motorcyclists in a tough position if they are involved in a crash. If no one is at fault, but you are injured, who pays your medical bills?

Who Pays My Medical Bills After a Motorcycle Accident?
You and your health insurance provider cover your medical bills if you get in a motorcycle accident. Motorcycle insurance usually does not offer first-party benefits, meaning your medical bills will not be covered, regardless of who is at fault. However, you can file a claim against the person who caused you harm in an accident and seek compensation for medical costs.
Depending on your motorcycle insurance provider, you may have the option to purchase medical payment coverage. However, medical payment coverage usually only covers up to a few thousand dollars. If you suffered severe injuries, medical bills could easily exceed $100,000. Do not hesitate to contact a motorcycle accident lawyer to advise you on how to get the compensation that is owed to you.

What Motorcycle Insurance Should I Have?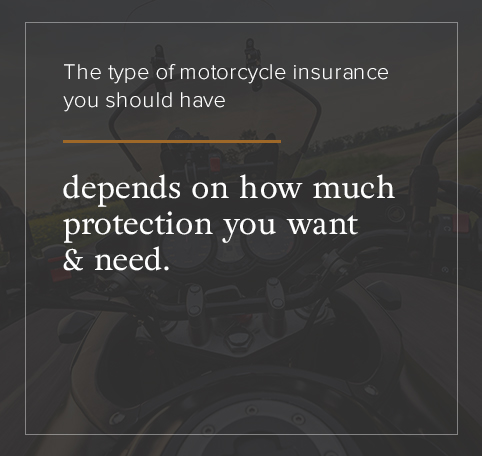 The type of motorcycle insurance you should have depends on how much protection you want and need. Are you riding a new custom bike? You might want to add custom-equipment coverage to your plan. Do you often ride with a passenger? You will probably want to pay for guest-passenger liability.
Although motorcycle coverage is separate from car insurance, the coverage basics are similar. Familiarize yourself with car insurance basics, and you will be better prepared to choose the best motorcycle insurance for yourself. Overall, you want to decide on insurance that provides the best coverage for what you can afford. You also want to make sure your coverage protects you and your passengers not just your bike.
In addition to motorcycle insurance, make sure you have health insurance. Motorcycles can be risky to ride and hard to control, especially for inexperienced drivers and operators in rough weather conditions. If you are in an accident, you will likely need to rely on your health insurance plan to cover medical costs, or you will have to pay out-of-pocket. Unless you sustain severe injuries, you may not get the other driver to help with enormous medical bills.
Unfortunately, your health insurance policy may not be enough coverage either. Many policies will not pay out for injuries related to motorcycle accidents. Why? Because motorcycles are seen as inherently dangerous, and you are choosing to take a risk by riding one. If you do not have adequate medical coverage, you may be required to repay health insurers if you receive compensation for your accident.
We believe that you have a right to enjoy your bike with peace of mind. That is why we recommend good coverage. Do not assume you already have the coverage you need. Here are types of motorcycle insurance coverage to consider for the most protection:
Bodily injury and property damage liability: Covers costs for injury or damage to property you cause for others after an accident. It is recommended to carry as much liability insurance as you can afford to avoid having to pay out-of-pocket in the event of an accident. Most states require this type of liability coverage. It does not cover harm done to you or your passenger.
Medical payment coverage:Benefits paid to you by your insurer after an accident up to a certain amount. In Pennsylvania, this benefit may not be available through your insurer.
Uninsured or underinsured motorist: Covers property and medical expenses in cases where the other driver does not have enough coverage or any coverage to cover your costs.
Collision: Covers bike repairs after an accident.
Comprehensive: Covers repairs from things other than collision, such as damage caused by weather. Also covers theft.
Guest passenger liability: Protects anyone who is riding on the back of your bike at the time of an accident.
In Pennsylvania, your motorcycle insurance policy must have at least $15,000 in bodily-injury protection per person, $30,000 in accident coverage and $5,000 in property-damage coverage. You will be responsible for paying all expenses that go beyond your insurance policy. Considering medical bills can easily surpass the amount with basic coverage, it may be worth it to go with as much liability coverage as you can afford.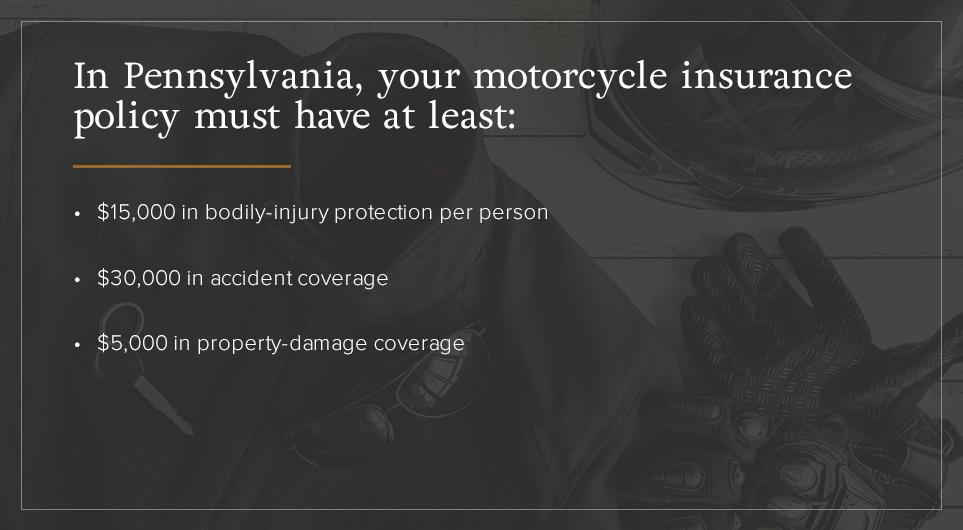 For example, in 2013, the bodily injury auto liability claim was $15,443 on average. The property damage claim, on average, was at $3,231. Who pays these costs? Insurance companies covered 50 percent, while victims paid 26 percent. Because motorcycles are higher-risk modes of transportation, you may want to keep these figures in mind. Also, remember that more than 80 percent of motorcycle accidents lead to injury or death.
Motorcycle insurance does not have to cost a fortune. You have the right to choose the minimum liability coverage. If you have a good driving record, use your auto insurance provider and complete a motorcycle training class, you may save on motorcycle insurance costs. Your age and the type of motorcycle you drive will affect premium costs too. It is up to you how much coverage you want.

Protect Yourself With the Right Representation
Another way to protect yourself on your bike is to have the right representation on your side. A motorcycle accident can lead to medical bills that go far beyond thousands of dollars. If someone has harmed you in an accident, why would it be fair for you to cover all the expenses out-of-pocket?
Many accidents are a result of negligence. And negligence is grounds to sue. If you were in an accident due to someone else's carelessness, it is your right to seek compensation for your injuries and pain and suffering.

What if your insurance company does not hold up their end of the bargain? An experienced motorcycle accident attorney will make sure you get all the coverage you deserve under your insurance plan too.
At KBG Injury Law, our goal is simple — to help injured people. You do not have to deal with the burden of an accident alone. Contact KBG Injury Law today and request your free consultation.