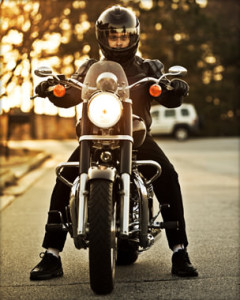 There's nothing quite like the freedom and enjoyment that comes with riding a motorcycle. But the reality is that you face significant odds of suffering a motorcycle injury when an automobile collides with your motorcycle. And, chances are that you will be involved in a collision with an automobile: an inattentive, hurried, unskilled, or simply ignorant driver will cross your path. If you were hurt in a motorcycle crash, call one of our experienced motorcycle attorneys today for a free consultation.
How do we, as riders, protect ourselves in the future? We can protect ourselves in three ways: insurance, ride preparation, and representation.
Insurance and ride preparation isn't that different. They both involve planning to crash. Don't be fooled into thinking that because you have your bike "fully" insured, that you and your passengers are properly insured. The coverage on your bike has very little to do with the coverage that you need to protect yourself and your passengers. Read the motorcycle insurance article in the vehicle insurance section of our website to learn more about the coverage you should have for when you crash. You'll have the ability to overcome a crash with less financial impact if you have appropriate coverage. You'll overcome a motorcycle accident injury more easily if you wear proper protective gear. Of course, the best thing you can do to protect yourself is to avoid a crash altogether: make every effort to be seen and employ every strategy you can to avoid dangerous situations. If you've been unfortunate enough to be involved in a motorcycle accident, make sure that you seek advice and representation from motorcycle accident attorneys who understand your needs, who have experience in regularly handling motorcycle injury claims, and the trial experience to see your case through to the end, so that you receive the results that you deserve from an experienced motorcycle accident lawyer. Call our motorcycle accident lawyers today for a free consultation.
To discuss personal injury representation,
please call us toll-free (800) 509-1011, or Request a Free Consultation.