It's rush-hour, and traffic is down to a crawl. You're a careful driver and you make sure you leave enough space between yourself and the car in front of you. You know how suddenly traffic can stop in these situations.
Unfortunately, the driver behind you is not as careful. The car in front of you suddenly stops and you apply the brakes with lots of room to spare, but the driver behind you slams into your car. In a worst-case scenario, the car behind him slams into his car. It's a traffic accident nightmare. Worse, the first car hit you hard enough that your head whiplashed.
Now you must deal with a multitude of questions. Who will pay for the damage to my car? If I have suffered an injury, who's going to pay my medical bills? If that injury causes me to miss work, who will reimburse me for my lost wages?
You are now entering the twilight zone of the car accident insurance process. While there are many instances where working with a personal injury lawyer is a good idea, in the case of auto accidents, a good lawyer is a must. We will explore the many ways that a lawyer can help you in an auto accident claim below. But first, let's look at some legal considerations and the steps you need to take if you're in an accident.
---
Table of Contents
---
What to Do If You're in an Auto Accident
The auto accident claims process really does begin at the scene of the accident. Getting in an accident can be physically, mentally and emotionally jarring, but it's critical that you take the following steps to responsibly handle the incident:
First, check and see if everybody in your car is okay. Then, check on the passengers in the other car. If anyone appears to be injured, call 911 immediately. Even minor accidents can cause serious injury sometimes. It's not only important to seek prompt medical attention for health reasons, but also because it plays an important role in the success of any claim for damages that you might make in the future.
After checking on the condition of the passengers, call the police. Ask for an officer to be sent to the scene, even if it just appears to be a minor fender bender. If anyone in the accident needs immediate medical treatment or if one of the vehicles is rendered undrivable, the police officer will file a report of the incident that will provide you with information to help with a car accident claim.
Exchange information with the other driver. Make sure you get the other driver's name and address, their license number, the vehicle plate number and insurance information.
Take pictures of the accident scene. Take out your cellphone and snap some photos of the accident scene. In addition to pictures of the cars, take pictures of anything that helps to illustrate what happened, such as skidmarks, the locations of stop signs or traffic lights, road markers and road debris. You also want to record what the weather was like and the condition of the road at the time.
If you are injured, even if it seems minor, seek medical care immediately. Tell the physician who treats you that you were in a car accident. If they prescribe any treatments or drugs, make sure you follow their instructions to the letter. This will create a reliable record of your injuries and demonstrate that you're doing all you can to recover.
Schedule a visit with your own doctor. In addition to seeking care quickly after the accident, be sure to see your primary care physician to follow up. Injuries may not show up right away, so it's wise to be examined by a physician once complications from the accident have had a chance to manifest. This will also give you the opportunity to discuss long-term care and treatment options.
Contact your insurance company. You should always report an auto accident to your insurance company promptly following the accident. This isn't just to document the incident. It can also help you move forward with getting your vehicle fixed and potentially even gaining access to a rental car while your vehicle is being repaired, depending on your coverage.
Keep a journal about how the injury is affecting you. While the medical record is most important in determining any damages that may result from a car accident, making notes about the pain you feel or any treatment or medication you may receive can help bolster your car accident injury claim.
What to Do in Accidents Involving Non-Personal Vehicles
Sometimes the kind of vehicle involved in an accident with you affects what you need to do:
Commercial vehicles: Insurance companies are known to aggressively fight commercial truck accidents. These can also be among the most serious kinds of vehicle accidents. If you are in an accident with a commercial vehicle, you should contact a lawyer immediately.
Government vehicles: If you're involved in an accident with a government vehicle, you should act right away. In many cases, you need to advise the government entity of your intent to file a claim within a relatively short period of time or they will not provide compensation. This is another case when contacting a lawyer immediately makes a lot of sense.
How Is Liability Determined in an Accident?
The question of liability, or who was at fault, is not as easy to answer as it seems. Numerous factors are involved in determining liability in an automobile accident, so it isn't always as simple as one driver bearing all the responsibility and the other driver being completely innocent. For instance, if a car backing out of a driveway hits you and damages your car, the other driver bears some liability. But, if they can prove that you were speeding down the street at the time the accident occurred, that increases your liability and limits theirs.
Liability is normally determined using four steps from common law:
Negligence
Recklessness
Intentional Misconduct
Strict Liability
The concept of negligence is a key factor in determining liability in the case of a car accident. Negligence is normally defined as conduct that is careless and results in harm to another individual or damage to their vehicle. If you fail to stop at a traffic light or you fail to yield the right-of-way to another car and it results in an accident, then you are negligent.

The phrase "reckless conduct" refers to totally disregarding the safety of yourself and others on the road. One example of this could be driving drunk. Intentional misconduct is when you deliberately cause an accident. Road rage is a prime example. Strict liability can come into play in an accident that involves a car with defective parts or a spill of a hazardous material.

In Pennsylvania, If I Am Injured in a Car Accident but I Am Partially at Fault, Can I Still Be Compensated?
If you get into an accident that was partially your fault and partially the other driver's, you may wonder whether you can seek compensation. Fortunately, the answer is "yes."
Pennsylvania operates with no-fault laws with respect to claims for injuries in an automobile accident. Drivers in the Keystone State are required to carry personal injury protection (PIP), also called "first party benefits." In a car accident, each driver's insurance company will pay for the insured's medical expenses up to a certain point.
In determining liability for other types of losses, such as pain and suffering, Pennsylvania uses a modified comparative negligence doctrine.
Under Pennsylvania law, when dealing with an auto accident claim, everyone involved in the accident is assigned a share of the fault. It reflects the percentage each person contributed to what happened. Under this comparative negligence law, you are allowed to recover compensation if you were 50% or less at fault. If you are considered more than 50% liable for what happened, you will not be compensated.

However, the law also stipulates that if you are at least partially responsible for what happened, any damages you may be awarded will be reduced in direct proportion to the percentage you are considered at fault. As an example, let's take the case mentioned above of the person who was hit by the car backing out of the driveway:
It is determined that the car backing out of the driveway is 70% at fault for the accident while you are 30% at fault for speeding. This means any damages you recover will be reduced by 30%. It also means the car backing out of the driveway can't seek any compensation.
In terms of the statute of limitations, you have two years from the date of an accident to file a claim against the other driver in the accident and their insurance company. If you wait longer than two years, your claim will not be considered.
Full vs. Limited Tort Insurance Policies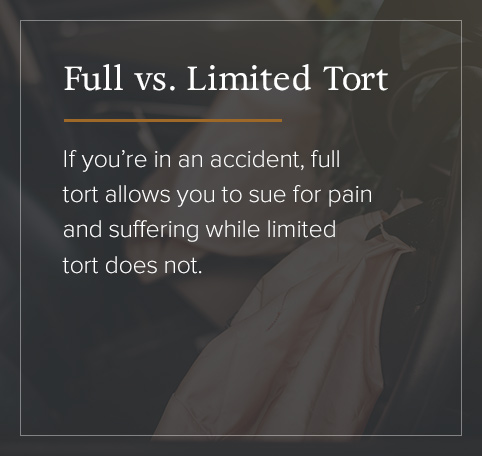 "Tort" is a word you hear politicians and lawyers toss around a lot, but few people actually know what it means. If you cause an auto accident, you are guilty of a "tort," which is defined as a private wrong committed against another individual. Insurance policies often call someone who is at least partially at fault for an accident a "tortfeasor."
Pennsylvania offers you the option when you're choosing car insurance to pick between full tort and limited tort. If you're in an accident, full tort coverage allows you to sue for pain and suffering. Limited tort does not, unless certain conditions are met, but costs about 15% less each month. If you pick limited tort over a full tort policy, you may save some money each month, but you will be out of luck if you are injured in an accident and wish to seek damages for pain and suffering and have not met specified conditions.
The wording of a limited tort policy can be easily misunderstood because it hints that it does allow you to sue for pain and suffering in the case of a "serious injury." But a "serious injury" is defined legally as an injury that leaves you dead, disfigured or crippled. Even then, most insurance companies pay little regard to the idea of a serious injury when you have a limited tort policy.
Dealing With Automobile Insurance Companies
If you've been in an accident, you should contact your automobile insurance company as soon as possible. Your company will assign you a claim number and an adjuster to deal with all aspects of your case. Dealing with insurance companies can be tricky, but the following guidelines can help:
Be prepared for your insurance company to send someone to look at the car and evaluate the damage and determine if the car is repairable.
Report the accident to the other driver's insurance company, but be very careful. This company is interested in looking after the other driver's best interests. Watch what you say and how you say it when speaking with this company so they won't be able to use any of your statements against you.
If the other driver's insurance company contacts you, be polite but do not provide a recorded statement or sign documents allowing them to see your employment or medical records. You are within your rights to refuse these requests. It's best to tell the insurance company that you will provide all important information when your treatment is completed.
Hire a lawyer to help you. Again, dealing with insurance companies can be intimidating and complicated if you're not used to it, but an auto accident attorney will know how to help you navigate the process.
The Benefits of Hiring an Attorney in an Auto Accident Case
The rules and laws surrounding automobile accidents in Pennsylvania can be confusing for someone unfamiliar with them. Insurance companies are all too familiar with these rules and laws and know how to use them to avoid compensating you for any damages you have suffered. Unfortunately, you can expect insurance companies to:
Argue with you over the extent of your injuries.
Assert that your car is worth less than you claim.
Disagree with you over the definition of "pain and suffering" — especially if you have a limited tort insurance policy.
Try to show that you are at least partially responsible to limit the amount of money they must pay you.
These are just some of the reasons why you need a lawyer when you're involved in an automobile accident case.
When you hire a personal injury lawyer after a car accident, it means you have an ally and an advocate working for your best interests. This is especially important if you have been seriously injured in a car accident and are not in any condition to really deal with insurance companies or lawsuits on your own. Your attorney will gather and put together the evidence necessary to support your claim, including witness statements, relevant medical records, information on lost wages and police reports, so you can focus on recovering from the accident.

Personal injury attorneys understand how the statute of limitations works in Pennsylvania and will make sure all the relevant paperwork is filed on time. Experienced attorneys understand the nature of the roadblocks erected by insurance companies to avoid paying compensation and how to argue against them. They also understand how liens and complex insurance issues can affect your recovery. They can also help prepare you for a trial if your case isn't settled beforehand.
Most injury attorneys work on a contingency fee model, which means they only get paid if you get paid.
KBG Injury Law Can Help You With Your Auto Accident Claim
At KBG Injury Law, we have the knowledge and the experience to make sure the insurance companies do not take advantage of you and fail to pay you the compensation you deserve. If we represent you in a car accident claim, we promise to be the ally and the advocate you need. We will talk with you about the circumstances of the accident and together we will come up with a plan for the best way to proceed. We recognize that each case is different and requires special care, which is why we focus on the needs of the client and not just the claim.
Representatives from KBG Injury Law are experienced in dealing with the car accident insurance process, and our staff includes lawyers who know and understand how the law works in Pennsylvania and the best way to seek appropriate damages if we believe you have a valid claim.
When you have been in a car accident, we understand the effect it can have on you, your family, your health and your state of mind. Lost wages and medical expenses multiply over time, and the physical and emotional hardships may be even more devastating. We want to help. For a free consultation, call us at 800-509-1011.