---
Table of Contents
---
What Is Workers' Compensation?
Depending on your industry, you may already be familiar with workers' compensation claims. For those working with heavy machinery or in industries where workplace injuries are common, chances are good either you or someone you work with has filed a workers' compensation claim.
However, statistically, workers' compensation claims come from a wider range of industries and economic sectors than many may realize. Consider the statistics from Pennsylvania's Bureau of Workers' Compensation 2016 Annual Report. A total of 159,170 work-related injuries and illnesses were reported in 2016 here in Pennsylvania — that was a reduction of nearly 7000 reports from the previous year.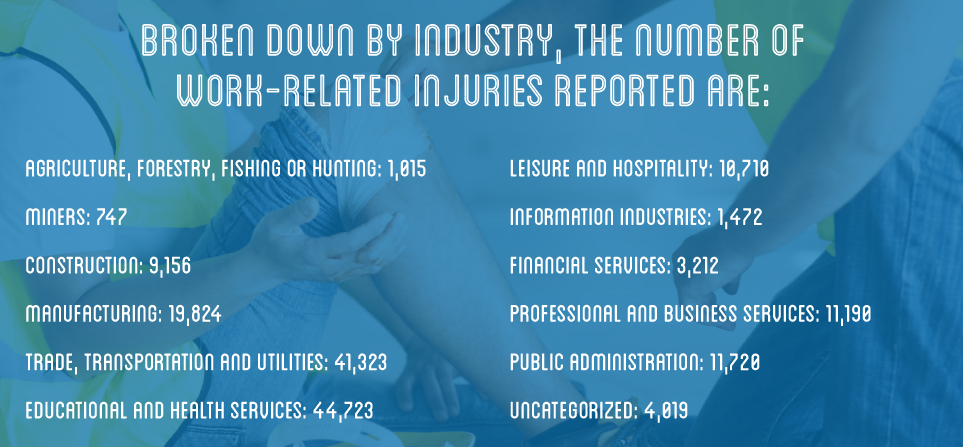 Broken down by industry, the number of work-related injuries reported were:
Agriculture, Forestry, Fishing or Hunting: 1015
Miners: 747
Construction: 9156
Manufacturing: 19,824
Trade, Transportation and Utilities: 41,323
Educational and Health Services: 44,723
Leisure and Hospitality: 10,710
Information Industries: 1,472
Financial Services: 3,212
Professional and Business Services: 11,190
Public Administration: 11,720
Uncategorized: 4019
As you can see, no industry is untouched by work-related injury or illness. That is why anyone engaging in economic activity — especially wage labor — needs to be familiar with workers' compensation law.
Since every state has their own workers' compensation law, it is equally important to familiarize yourself with your legal rights according to the Commonwealth of Pennsylvania. What qualifies for workers' compensation is contingent on your state of residence.
With that in mind, we have put together this guide covering the intricacies of the workers' compensation system in Pennsylvania. We hope you never suffer a work-related injury or illness, but if you do, it is best to be familiar with the system so you are prepared to receive the compensation you need and deserve.
What Is Workers' Compensation Like in Pennsylvania?
Here in Pennsylvania, the Pennsylvania Workers' Compensation Act defines workers' compensation laws. Under the act, you are entitled to compensation if you ever suffer a work-related injury or illness. This compensation covers your medical expenses related to the illness or injury, as well as wage-loss compensation for as long as your injury or illness prevents you from returning to work.
This act also dictates the terms by which employers and their insurers are responsible for death benefits for those who suffer work-related fatalities. In these cases, the compensation is paid to the person's surviving dependents.
To ensure all employers are financially capable of paying workers' compensation benefits, employers are required to carry insurance — either from a private insurer or the State Workers' Insurance Fund — that will, in turn, be responsible for actually paying workers' compensation benefits. Additionally, the law in Pennsylvania dictates an employee's workers' compensation benefits are not contingent upon who is at fault for the injury. That means if you suffered injury because of your own mistake, you are still entitled to benefits.
Conversely, in most cases, those who collect workers' compensation benefits cannot also seek other legal action as a means of procuring additional benefits, such as suing the employer. Because of these limitations, it is imperative for injured workers to contact an experienced injury law firm so they receive all the benefits they're entitled to. Additionally, if the injury is one of the rare conditions that warrants additional legal action, an experienced attorney is best-suited for exploring this option.

What Is Covered Under Workers' Compensation?
As we mentioned above, workers' compensation takes on a few forms. Here are four items that can be covered under workers' compensation.
1. Payments for Lost Wages
One of the most important and commonly claimed workers' compensation benefits covers wage loss. For those who are paid hourly, time off from work can have enormous financial consequences for both the worker and their dependents.

For those who cannot work at all while they recover from an injury or illness, these wage loss benefits will allow the worker to continue paying the bills and providing for their family.
Even those who can only work part-time or in a limited capacity after suffering an injury are entitled to workers' compensation benefits. While the actual amount will consider part-time income, these benefits are essential, especially if an injury lingers and requires a lengthy recovery time.
2. Death Benefits
Death benefits can be provided to the surviving spouse, as long as they lived with the employee at the time the death occurred and were financially dependent on the employee. Dependents under the age of 18 can also receive benefits, and full-time students may continue receiving benefits until age 23. The payments received are between 51 and 66 2/3 percent of the employee's average wage, depending on the number of dependent children.
Death benefits also include a one-time lump sum funeral benefit. Lump sum settlements can also be received from the insurance company if you are receiving benefits.
3. Specific Loss Benefits
There are some cases where work-related injuries are permanent. For example, if an accident results in a severed finger or appendage, no amount of recovery time will restore the use of that part of the body. In these cases, there are specific loss benefits designed to compensate the permanent loss of that function. Specific loss benefits also cover the loss of hearing and vision. In addition, if the injury results in scarring to the neck or head, additional disfigurement benefits can be claimed.
Specific loss benefits are paid without consideration of the time lost from work and regardless of whether you return to work. Because these loss benefits can be sizable, especially in the case of catastrophic injuries, consulting with a workers' compensation attorney is your best bet for receiving the full benefits you deserve.
4. Medical Care
Even if a work-related injury or illness did not result in time off work, you are still entitled to benefits if you have incurred any medical bills related to your care. As part of the Workers' Compensation Act, not only are employers required to cover medical expenses, but they also need to advise you of your rights at the time of your injury.
Covered medical expenses include supplies, medicine, emergency room or doctor's office visits, surgery, orthopedics and prostheses. Many medical bills will be covered under either the employee or employer's insurance, but the employer must cover any out-of-pocket costs.
However, be aware that if you seek medical care outside of Pennsylvania, some expenses may not be covered. Collaborating with an experienced attorney will ensure you do not accidentally seek treatment that is not covered.
Also, if your employer has posted a list of six or more approved medical providers in the case of injury, your initial visits for medical treatment must come from this list, as well as any subsequent visits for the next 90 days. If any of those medical providers prescribe invasive surgery, you may seek a second opinion at the employer's expense. If your employer does not provide such a list, you may visit your own health provider at your employer's expense.

Who Is Covered by Workers' Compensation?
Nearly all workers in Pennsylvania are covered by workers' compensation. By law, employers must provide workers' compensation to their employees, including seasonal and part-time workers. Unincorporated business, non-profits and even employers with only one additional employee are required to provide benefits.

There are some special exemptions, typically because workers have some other form of coverage. These include longshoremen, railroad workers, harbor and shipyard workers, federal civilian employees, certain agricultural workers, casual employees, certain domestic workers and employees with a specific religious exemption. Additionally, some executives within corporations opt out of workers' compensation.
If you are unsure if you are covered under workers' compensation, it is best to seek a legal opinion from an expert.

What If an Injury Is Not Caused by an Accident?
Many people erroneously believe only injuries suffered during accidents are covered. While someone who accidentally breaks their leg or injures their neck on the job is certainly covered, injuries suffered due to long-term activity are also covered.
For example, those who work in labor-intensive industries may over time develop acute back problems. If a doctor determines the cause of those problems was work-related, that injury is also covered under workers' compensation. Lung diseases may also be attributable to working conditions, and in such cases, may be covered.

What If the Injury Is Work-Related But Took Place Away From the Job?
Some jobs require doing work offsite. If you suffer an injury while performing a job function offsite, workers' compensation still covers you.
For example, if you are processing payroll and visiting the bank to make a deposit and get injured en route, that injury is considered job-related and is therefore covered. Those who travel for business are also covered, as long as the injury is work-related.

What If an Employer Is Refusing to Pay Benefits?
Unfortunately, not every employer adheres to their legal responsibility to provide workers' compensation benefits. If you feel your workers' compensation benefits are not being provided in accordance with Pennsylvania law, it is imperative to seek legal representation. Sadly, employers such as these will often take advantage of unrepresented employees, using their unfamiliarity with the law to save money.

When Should I Report My Injury?
You should always inform your employer of your injury as soon as possible. Delays in reporting an injury will result in delays in coverage.
Remember, employers and their insurers are incentivized to find ways not to pay you your benefits. While Pennsylvania has enacted laws to make sure your rights are protected, insurers pay lawyers to find loopholes and other means under the law to deny payment.
Delays in reporting only make denying payment easier.
By law, employers are required to report injuries and missed work to the Bureau of Workers' Compensation using what is called a first report of injury. If you have reported your injury, informed your employer of medical expenses and they fail to cover it, this can serve as crucial evidence in your employer's failure to comply with their legal obligation. However, if you do not make your injury clear to your employer, they can use this as a defense.

What If I Am Already Back at Work?
Many people assume workers' compensation benefits cease when they return to work. However, there is a legal process by which workers' compensation benefits are terminated. Additionally, many people can return to work even though they are still receiving some form of medical treatment. In such cases, workers' compensation benefits will continue to cover the cost of medical treatment, even if the employee is no longer collecting lost wage benefits.

Why Is My Employer Suggesting Disability Rather Than Workers' Compensation?
Employers who are looking to avoid paying out workers' compensation benefits will often advise an injured employee to opt for short-time disability or unemployment benefits rather than workers' compensation. Know that these disability and unemployment benefits are better for the employer, not the employee. There are many reasons workers' compensation is superior to disability benefits, so be wary of an employer making such a suggestion.

Some of the benefits of workers' compensation coverage include:
Not having to pay taxes on your benefits.
Receiving more benefits financially and overall.
A longer window of availability compared to state benefits or unemployment benefits.
The availability of partial benefits even after returning to work.
Coverage of all appropriate medical expenses, regardless of amount and without deductibles.
If your employer is attempting to convince you to take short-term disability over workers' compensation, they do not have your best interests at heart, and you will need help getting the full range of benefits you deserve. Do not hesitate to seek legal representation in such cases.
Can I Receive Workers' Compensation and SSDI Concurrently?
Yes. If your on-the-job injury results in permanent disability, you could be eligible to receive both workers' compensation and Social Security Disability Insurance (SSDI) at the same time. However, you can only receive a combined payment of up to 80 percent of your current wages.
What If I Am Laid Off While Injured?
Depending on your employer, your specialization within your job and your union status, you may find an employer fills your position while you are recovering from your injury. If you do not have a contract that specifies otherwise, this their legal right.

However, your workers' compensation benefits are not contingent on your employment. If your injury is preventing you from working, you are entitled to lost wage benefits. Additionally, medical expenses will still be covered by workers' compensation insurance. If you feel your employer laid you off to deny you your workers' compensation benefits, seek out legal counsel immediately.

What If I Have Another Legal Question About My Workers' Compensation Benefits?
Workers' compensation law is complicated, and there are numerous specific situations that cannot be covered generically. In addition to other frequently asked questions, the best way to get the answers you need regarding your specific situation is to contact a legal professional. Because they are intimately familiar with the details of Pennsylvania workers' compensation law, they will be able to tell you how the law applies to your particular case.

Who Do I Contact With My Legal Questions?
If you have additional questions, turn to an attorney. Since workers' compensation is just one piece in an already traumatic event, choose a lawyer who is both experienced and sensitive about these cases.
Here at KGB Injury Law, we take your injury as personally as you do. We understand a work-related injury is more than just a financial burden. Depending on the severity of the injury, your life may never be the same. You deserve to have someone on your side to listen to you and your needs — not just someone who will look at you as another financial transaction.
Simultaneously, you need to collaborate with someone who is tenacious in the courtroom. Unfortunately, employers and insurers are able to hire high-powered lawyers to fight for them. You need someone who can stand toe-to-toe with your opponent. At KGB, we fight on your behalf to get you the results you deserve.
If you have been injured on the job and have questions or feel you are not getting the workers' compensation benefits you are entitled to, contact KGB Injury Law immediately for a free consultation.