In times of need, particularly when seeking relief from physical pain or discomfort, we place our full trust in the men and women of the medical profession. Doctors and nurses are sometimes depicted on television shows as saviors who can do no wrong. This strong sense of trust can cause some to follow the advice offered by medical professionals without question.
Most of the time, our trust and confidence is rewarded with excellent medical care, as the medical profession is filled with compassionate, caring individuals whose primary goal is to improve the health and well-being of their patients. However, it is important to remember that physicians, as well as nurses, pharmacists, hospitals and other medical professionals, are not infallible. They make mistakes and unfortunately, their mistakes can often result in death or disability. The fact that the mistake is unintentional does not absolve the caregiver from responsibility for the result of the action.
---
Table of Contents
---
What Is Medical Malpractice?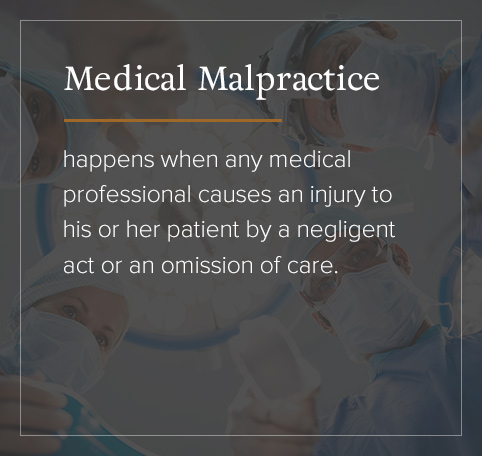 Medical malpractice happens when any medical professional — doctor, nurse, hospital employee, pharmacist etc. — causes an injury to his or her patient by a negligent act or an omission of care. This negligent act could result from diagnostic errors, mistakes in treatment, inappropriate aftercare or health management. Anytime a medical professional fails to competently perform his or her duties with the patient, there is a question of medical malpractice.
If you want to show that actual malpractice occurred, it must fit several categories:
A doctor-patient relationship already existed. You can't sue a doctor that you overheard talking about how to treat ulcers, for instance. You must have a relationship with the doctor who is treating you.
The doctor violated the standard of care. You need to be able to show that the doctor's actions, or lack of action, directly resulted in harm to you. You cannot sue your doctor just because you disagree with them. Every state requires a standard of care for their doctors, and you have a right to expect that standard will be met in your treatment. If it's not, the doctor may be negligent, and you may have a medical malpractice situation.
The doctor's negligence directly caused you harm. To show medical malpractice, you must prove that the doctor not only violated the standard of care, but also that this violation resulted in an injury that otherwise would not have occurred. This is important because sometimes the outcome of a medical procedure is not positive. This does not mean, however, that the doctor has been negligent. Sometimes even the best treatment delivered by a conscientious healthcare professional doesn't work. Malpractice occurs when the doctor's actions are directly responsible for the injury.
The injury led to significant damages. You need to be able to show that the doctor's negligence caused you significant damage in some important way. The negligence resulted in a disability, extreme pain, prolonged suffering and hardship, economic losses or expensive medical bills.
If you are a victim of medical malpractice, the rewards can be significant. However, pursuing a medical malpractice lawsuit is difficult. These statistics show why it is important to contact a personal injury lawyer as soon as possible if you think you been a victim of medical malpractice.
Can I Sue a Nurse If They Were Responsible for Medical Malpractice?

Yes, you can file a medical malpractice claim against any healthcare professional who has not met the standard of care.
The most common reasons for a lawsuit against a nurse include:
Not following the standard of care.
Not using medical equipment properly.
Failure to properly document the patient's condition.
Not appropriately monitoring the patient or assessing their condition.
Not communicating properly with the patient.
It's also possible to sue a hospital if a hospital employee — nurse, technician, support staff — does not give the proper standard of care to a patient. In addition, if the hospital employee was acting under the supervision of a doctor, it may be possible to also sue the doctor.

How to Determine If You Have Been a Victim
There are many different types of medical malpractice. Remember there must be negligence by the healthcare professional involved for it to fit the standards needed for medical malpractice:
Failure to diagnose a disease or an injury.
Misdiagnosing a disease or an injury.
Surgery that is not necessary.
Making mistakes during the surgery.
Performing surgery on the wrong spot.
Inadequate aftercare.
Being discharged too early.
Ignoring a patient's previous medical history.
Not recognizing a patient's symptoms.
Not ordering proper medical tests.
Persistent pain after surgery.
Bedsores.
Potentially deadly infections acquired while hospitalized.
Mistakes in prescribing medication or the dosage of that medication.
It's also important to know when it is not medical malpractice. If a patient's condition gets worse despite appropriate treatment or if the condition is ultimately untreatable, this is not negligence.
It's interesting to note that 1% of doctors account for 32% of all malpractice claims. In fact, 94% of doctors have never had to face a malpractice suit. Neurosurgeons and orthopedic surgeons were twice as likely to have paid out in a malpractice suit as an internist, and male doctors are 38% more likely to have more than one malpractice suits filed against them than women.

What Steps Should I Take If I Have Been a Victim of Medical Malpractice?

Filing a medical malpractice suit can be time-consuming and expensive. So before you actually file one there are several steps you should take:
Talk to the doctor or medical professional involved before you file a suit. You need to understand what went wrong, and your doctor needs to determine whether or not this is something that can be remedied. In many cases, doctors will fix the problem — often free of charge — or help you find a solution.
Contact the medical licensing board. If talking to your doctor does not help, try the licensing board that deals with medical licenses. They cannot force a doctor to compensate you, but they can issue warnings or discipline the doctor, and they may be able to help you determine your next steps.
Determine the statute of limitations. In Pennsylvania, the statute of limitations to file a medical malpractice claim is two years. It is important to note that this countdown does not start until the moment you discover, or reasonably should have discovered, that you been harmed by doctor's negligence. In many cases, the actual injury is not discovered until years later. In cases arising after 2002, there is an additional statute which is that injured patients may have up to seven years from the date of the negligent act to file a lawsuit. Check with your attorney to see how this law applies to your case.
Get a new medical assessment. You need to be able to show that you have indeed been injured by the doctor's negligence. It's important that you get a "certificate of merit" from another doctor to prove that the injury you have suffered was caused by negligence. Have this second doctor review medical records, and if they find your case has merit, they will certify that your original doctor deviated from the appropriate standard of care.
Consider settling out of court. The best course of action may be to seek an out-of-court settlement. You should talk with your attorney about this possibility. If you still believe you have a strong case, however, then you should still pursue a larger settlement.
Talk to an attorney. If you have not done so already, it is time to talk for medical malpractice attorney who knows the field inside and out. It may be the difference between you receiving damages for injuries or nothing at all.
If I Am a Victim of Medical Malpractice, How Can I Be Compensated?
In Pennsylvania, there are three kinds of damages that may be awarded in a medical malpractice lawsuit:
Compensatory damages. These damages basically cover any economic costs such as lost earnings from time off work and the cost of health care that you have had in the past or may have in the future.
Non-economic damages. These damages take into account the injury itself and the pain or suffering endured as a result of the doctor's negligence. This can include psychological and emotional distress or actual physical harm such as extreme pain or losing an arm or leg. Note that in Pennsylvania, there are no financial caps on the awarding of compensatory or non-economic damages.
Punitive damages. If the doctor's negligence is found to be malicious or willful, he or she may be assessed punitive damages. The idea behind punitive damages is to punish the medical professional's reckless behavior. In Pennsylvania, if no intentional maliciousness is found, punitive damages are capped at 200% of the total awarded for compensatory damages. Also, 25% of the punitive damages awarded to a claimant go into a fund known as MCARE, which serves to pay malpractice patients whose claims have exceeded the healthcare professionals' medical insurance.
Why Do People Not File Medical Malpractice Suits?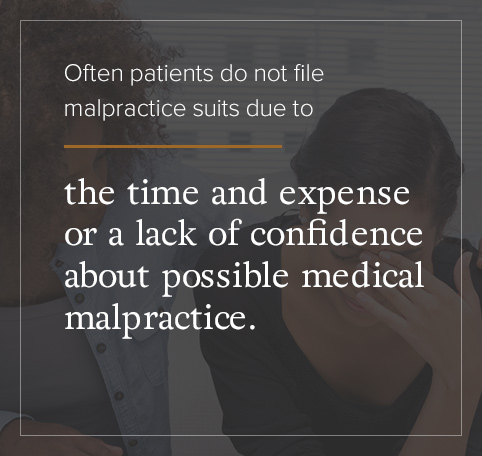 There are several reasons why more people do not file malpractice suits. One reason is the time and the expense. Often patients also have a lack of confidence about possible medical malpractice. They think it is all in their imagination. There is a tendency to regard healthcare professionals is almost "too smart to fail," which results in a patient believing that the injury or discomfort they feel after being treated is their fault.
Sometimes injured patients are deterred by the perception that medical malpractice suits are frivolous, will not result in any closure and will cause an increase in their premiums. The reality is the number of medical malpractice suits is actually declining. And, many states have started to place significant limits on damage awards in these cases. For instance, a bill currently in Congress would make it more difficult for seniors or those on low incomes to win lawsuits caused by medical malpractice or defective drug.
Medical malpractice is not frivolous — it should and can be taken seriously. Your health and welfare are important, and that is why it is important you contact an experienced medical malpractice attorney as soon as possible if in you believe you have been a victim of this kind of an act.

Talk to an Attorney in PA
An experienced malpractice attorney will do a thorough review of your case and let you know whether or not you should proceed. They will help you secure the important medical records, talk to your family members and friends about what happened to you, go over the situation with you in depth to determine if the doctor actually met the standard of care and help you determine if your case falls within the statute of limitations for medical malpractice in Pennsylvania.

KBG Injury Law Can Help You With Your Medical Malpractice Claim

At KBG injury law, we understand how important it is for you to seek justice if you have been the victim of medical malpractice. We never treat any malpractice claim as frivolous. We will sit down with you and talk about what happened to you, and together, we will come up with a plan about the best way to proceed. We care deeply about our clients and work hard to treat each as individuals. We recognize that each case is different and requires special care.
KBG injury law attorneys are experienced in dealing with medical malpractice claims, and our staff includes lawyers who know and understand how the law works in Pennsylvania. We understand what the best way is to seek appropriate damages for you if we think you have a valid claim.
When you been the victim of medical malpractice, it takes a toll on you and your family. Lost wages and medical expenses pile up, and the physical and emotional hardships may be even more devastating. We want to help. For a free consultation call us at 800-509-1011 or contact us online.