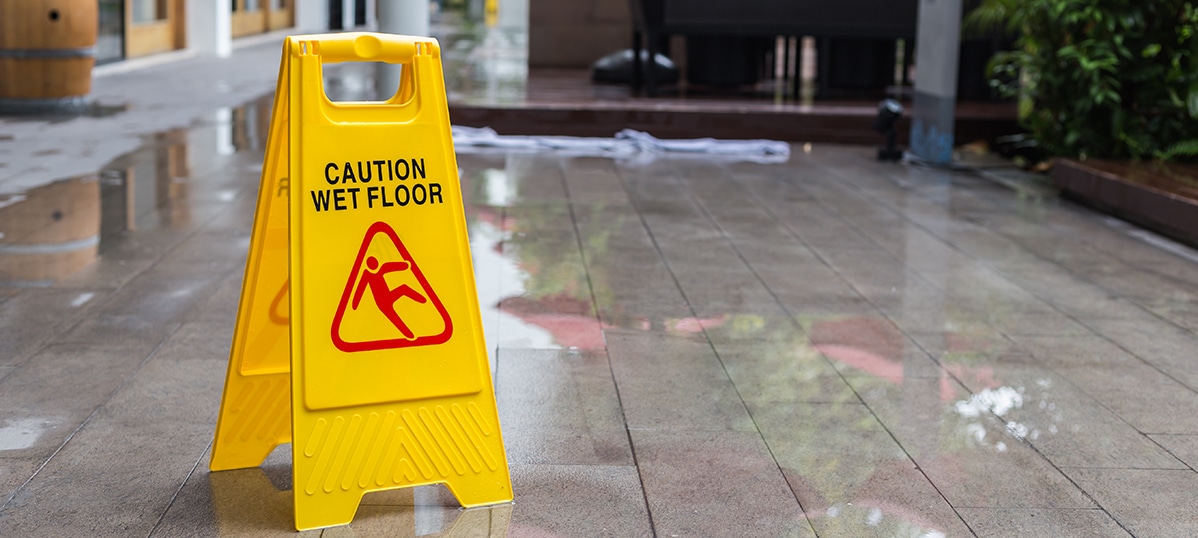 Premises Liability Attorneys in Harrisburg, PA
Holding property owners responsible when stores and buildings are unsafe
When you visit someone else's property, you have the right to expect the owner took steps to ensure your safety. Retail stores, restaurants, professional offices, and other for-profit offices must look for hazards that may cause you harm. Schools, charities, hospitals, and other non-profits have the same duty to protect anyone who visits their property. Property owners need to anticipate things like bad weather, broken tiles, and assaults. They have the responsibility to either fix known hazards or warn you about the dangers.
At KBG Injury Law, our Harrisburg premises liability attorneys are dedicated to using our experience, resources, and commitment to personal attention to obtain results that can make a difference in the lives of our clients. For 40 years, we've been helping Harrisburg injury victims secure compensation for their medical bills, lost income, and pain and suffering when defendants fail to protect them. We understand the unique challenges in showing that a property owner knew or should have known about dangerous conditions, such as wet floors, loose railings, and unsecured objects.
What are the elements of a Harrisburg premises liability claim?
There are three core requirements for every premises liability case:
The owner of the property must owe you a duty of care. In Pennsylvania, all property owners owe a duty of care to anyone they invite onto the property or give permission to be on the property. With limited exceptions, there is no duty of care to trespassers.
The breach of duty caused your accident. A breach is a failure to use proper safety precautions. The breach must have caused the accident. For example, you can file a claim if you fall because of a broken tile. You can't file a claim, however, if you fall because your shoelaces are untied.
The accident must be the proximate cause of your injuries. For example, if you fall on a torn carpet, you can file a claim if the fall breaks your leg. If you fall but suffer no injuries or losses, you likely will not have a claim.
Why does the reason for my visit matter?
Property owners in Harrisburg are in business to sell products or services or help people. The standard of care a property owner owes you generally depends on whether you are on the property to benefit the owner, to benefit yourself, or if you have no right to be on the property at all. Generally, the law recognizes three types of visitors:
Invitees. The highest duty of care is owed to people the owner invites into their store, hotel, office, or other location – to buy products, purchase services, or participate in a community social activity.
Licenses. A high duty of care is owed to people who are not invited onto the property but do have permission to be on the property. For example, if you fall because of loose hand railings at a doctor's office while waiting to pick up your spouse, you can file a claim. If you are hurt while walking on the sidewalk of a neighbor who didn't shovel the ice, you can file a claim.
Trespassers. Generally, a property owner does not have to compensate you for your injuries if you were injured when you did not have permission to be on the property. For example, if you are hurt when on a property after a business is closed, you may not have a claim. Those injured while in the process of committing a crime are not eligible to bring a claim, either.
There is one notable exception (called the "attractive nuisance" doctrine) to the trespassing prohibition against filing a claim. Pennsylvania recognizes that children may be attracted to pools, trampolines, and other objects – even though they have no right to be on the owner's property. Children (and their parents) can file a claim if the child drowns or is injured unless the owner took precautions to prevent the child from entering. Precautions include installing fences or alarms so the child can't enter the property.
What are the different types of Harrisburg premises liability claims?
At KBG Injury Law, we represent Harrisburg accident victims who suffer injuries on someone else's property caused by:
A slip and fall
A dog bite
An assault caused by negligent security
An escalator or elevator accident
A fire or explosion
Falling objects or unsecured objects
Exposure to toxins
Swimming pool or trampoline accidents
We also file claims when workers or non-employees are injured at a construction site.
What are Pennsylvania's dog bite laws?
Unlike, some other states which hold dog owners strictly liable for all the victim's damages, Pennsylvania's strict liability law only applies to medical bills - not pain and suffering or lost income. To claim compensation for pain and suffering and lost income, the victim must show the dog had "unmistakably vicious tendencies." Dog owners may be liable if they fail to comply with dog restraint laws. Some dog breeds are presumed to be dangerous.
Children are especially prone to dog bites. Dog bites can cause infections, diseases, puncture wounds, scarring, disfigurement, damaged nerves, broken bones, and death.
How can your Harrisburg premises liability attorneys help?
Our skilled Harrisburg premises liability lawyers work with investigators who examine the accident site, as well as police and first responders with knowledge of the accident. We speak with all witnesses and formally question the defendants through depositions and interrogatories. We seek records of prior complaints and prior repairs. Our lawyers also review the local building code requirements.
Our legal team works to show the property owner was negligent for common reasons like failure to:
Conduct regular inspections. Owners should look for defects to their parking lots, entranceways, interiors, floors, inclines, stairways, and any part of their location that might cause someone to fail. They should look to see whether any merchandise, tools, or equipment might fall or endanger anyone on the property. Owners should be extra cautious when the weather is likely to tread water, dirt, and mud throughout their location.
Repair known defects. If an owner learns of a defect, no matter the source, he/she should immediately warn visitors of the dangers until the defect can be repaired.
Anticipate assaults and attacks. Property owners should anticipate that customers may be assaulted when they are handling money, where liquor is being served, or where there is any history of violence. Security measures include fences, cameras, locks, and video equipment.
Property owners should make sure the inside of outside of their property is well-lit.
How long do I have to file a Harrisburg premises liability claim?
Pennsylvania has a two-year statute of limitations for personal injury claims, including premises liability claims. However, victims and families should never wait the full two years, but instead should speak to an attorney immediately, as some shorter time frames may apply. Our attorneys need to examine the accident site as quickly as possible before repairs are made and speak to witnesses before their memories fade. The sooner we meet with you, the sooner we can put your mind at ease, answer your questions, and ensure that you are seeing the doctors you need.
What damages can I seek in a premises liability claim?
At KBG Injury Law, we work with you, your doctors, your employers, and others to verify all your economic losses and to explain all the ways your injuries have changed your life. We are skilled at paying attention to all the small details that can add up to large settlements and verdicts. Our Harrisburg premises liability lawyers demand compensation for:
All your medical bills. These costs include current and future bills for ER care, hospital stays, doctor visits, rehabilitation and therapy, assistive devices, and medications.
All your lost income. This amount includes your lost wages, business income, and benefits, already incurred and for the rest of your life.
Pain and suffering. You're entitled to compensation for all your daily aches, pains, anxieties, and fears caused by your injuries.
Scarring and disfigurement. If you have an amputation injury, scarring, burns, or other disfigurement, you can claim compensation for your suffering due to these injuries.
Loss of consortium. This sum is awarded when your injuries affect your ability to enjoy your relationship or be intimate with your spouse.
Is there a premises liability attorney near me?
Our Harrisburg office is located at 717 Market Street, Lemoyne, PA, between N. 8th and N. 7th Streets. We are just a few minutes away from district and state courts. We maintain six locations throughout the state – Harrisburg, York (2), Lancaster, Hanover, and Gettysburg.
Talk with a seasoned Harrisburg premises liability lawyer now
At KBG Injury Law, our Harrisburg personal injury lawyers are respected by former clients, insurance adjusters, and the legal community for our dedication to our clients, our readiness to try your case before a jury, and our ability to negotiate strong settlements. To discuss your injury or the wrongful death of a loved one due to an accident on someone else's property, please call 717-848-3838 or use our contact form to schedule a free consultation. KBG Injury Law has offices in York, Harrisburg, Hanover, and Gettysburg. We proudly serve victims and families throughout South Central Pennsylvania