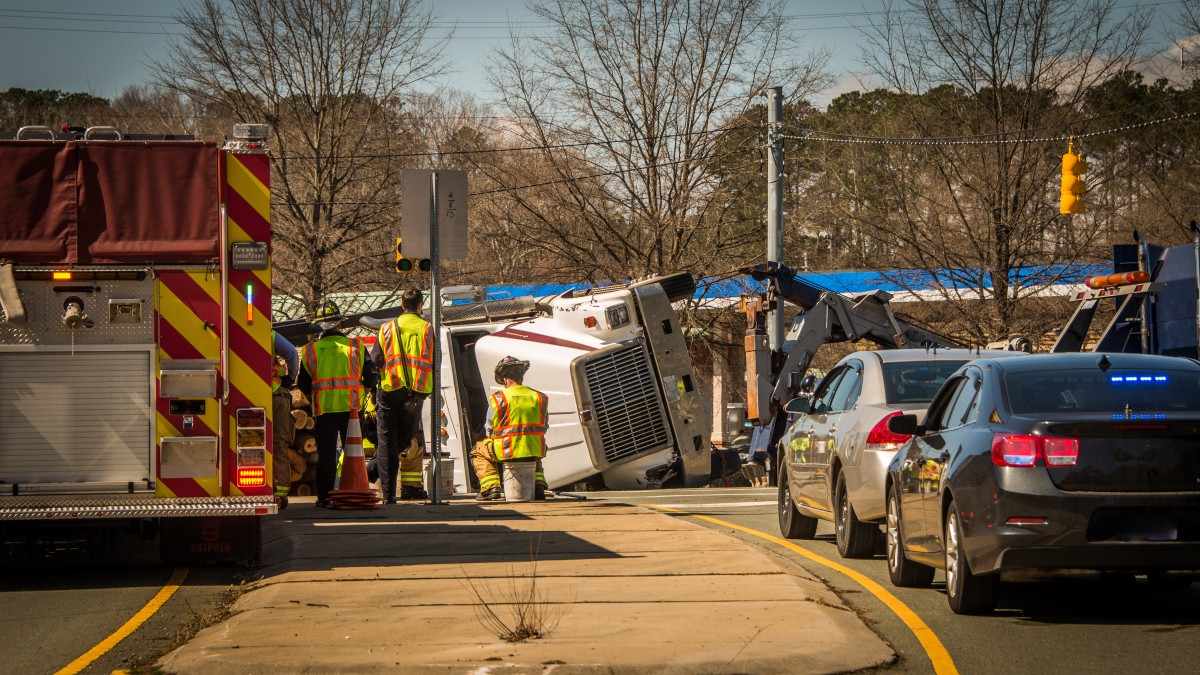 Gettysburg Trucking Accident Lawyers, Adams County, PA
Relentless advocacy for anyone injured or killed due to truck driver negligence or defective truck parts
Each day, we rely on tractor-trailers, big rigs, and heavy trucks to get raw materials to our factories, transport products to our favorite stores, and even take away our garbage. While we share the roads with these vehicles all the time, when they are involved in collisions, the consequences can be devastating. The size and force of large trucks mean that when trucks are in a crash with a smaller vehicle, the smaller vehicle can be crushed, and the passengers inside can be severely injured or killed. In addition, when big vehicles transport flammable materials or dangerous chemicals, any collision can result in an explosion, a fire, or toxic exposure to noxious substances, causing further injury.
Truck accidents are complex. Victims often suffer catastrophic injuries. Many victims die. There are usually multiple defendants. At KBG Injury Law, we handle the difficult cases. Our lawyers have three decades of experience fighting for injury victims and the families of loved ones. We work with professionals to show who caused your injuries, and why they should pay for all your economic and personal damages. We settle most cases but we're always ready to try your case if necessary.
What types of injuries are caused by truck accidents?
Truck crashes often cause life-changing catastrophic injuries. Many victims live with permanent injuries and chronic pain. Most victims require months or more of medical care. At KBG Injury Law, our Gettysburg truck accident lawyers represent victims who suffer any of the following injuries:
Traumatic Brain Injuries (TBI)
Head injuries
Injuries to the spinal cord and/or paralysis
The loss of an arm, leg, or another body part
Second and third-degree burn injuries
Internal organ damage
Fractures
Muscle damage
Soft tissue injuries
Hearing or vision loss
Cuts, bruises, and lacerations
Back, shoulder, and neck injuries
Scarring or disfigurement
Cuts and bruises
We work with your doctors including surgeons, neurologists, orthopedists, pain management doctors, family doctors, and cardiologists. We also work with your therapists including physical therapists, occupational therapists, and psychologists.
In the most tragic cases, a spouse, parent, or child is killed in a Gettysburg truck accident. In such instances, we can help you file a wrongful death lawsuit to hold the liable party accountable.
How deadly are truck accidents?
According to the Pennsylvania Department of Transportation, there were more than 52,000 truck accidents in Pennsylvania in 2020 that involved light trucks, SUVs, and passenger vans. 461 people died in those accidents. There were more than 6,300 crashes involving heavy trucks in 2020. 110 people died in those heavy truck accidents. More than ½ of heavy truck crashes in 2020 occurred on state highways.
When passenger cars collide with trucks, the occupants of the car are more likely to suffer severe injuries or die than the truck occupants. Cars absorb most of the force of a truck accident because they are smaller and weigh less than trucks. Truck drivers who operate commercial trucks are required to have a special commercial driver's license (CDL).
What type of truck accident claims do your Gettysburg injury lawyers handle?
Truck accidents happen for many reasons. Trucks are inherently more difficult to drive than cars. Blind spots make it difficult to see. Trucking companies often push their drivers to meet unrealistic delivery schedules.
Some of the many different types of truck accidents we handle include accidents that are similar to the way car accidents happen.  These crash types include head-on crashes, broadsides, sideswipes, and rear-end crashes.
Accidents that are fairly unique to trucks are rollovers, jackknifes, underride accidents, blind spot accidents, cargo overloads, cargo spills, and tire blowouts. Truck accidents often involve multiple vehicles, so determining liability is a critical factor in your accident claim. The sooner you contact us, the sooner we can get started.
Why do truck accidents happen in Gettysburg?
Truck driving is regulated by federal agencies. The Federal Motor Carrier Safety Administration (FMCSA) regulates the hours of service that drivers of commercial trucks must meet before they take a rest. The Occupational Safety and Health Administration regulates how trucks can be loaded. There are federal regulations, state rules, and industry standards that govern the qualifications to drive a truck, when to inspect trucks, and how to operate trucks.
At KBG Injury Law, our Gettysburg truck accident lawyers work aggressively to show why a driver was negligent, and why trucking companies failed their duty of care to other drivers and people on the highways.
Drivers and trucking companies may be liable if a truck accident is due to:
Driving while intoxicated or under the influence of drugs
Distracted driving
Texting while driving
Driver fatigue
Speeding
Violating the Pennsylvania traffic laws
Driving too fast with weather conditions
Lack of training
Failure to monitor blind spots
Improper loading of cargo
Not properly securing cargo
Not conducting daily or mandated inspections
Not knowing which roads to take
Making a wide turn improperly
Driving in a passenger-only lane
Failure to vet the truck driver
What if a defective truck part causes my injuries?
Truck part manufacturers can be held liable if they design or make defective truck parts. They can also be liable if they fail to properly warn truck owners about how to use their truck parts. At KBG Law, we file claims against the manufacturers, distributors, and sellers of defective truck parts.
Some of the truck defects that caused heavy truck accidents, according to the Pennsylvania Department of Transportation, involve tire, wheel, and brake defects, overloads, power train failures, steering failures, hitch failures, suspension defects, and windshield wiper defects. Other common truck defects include defective hydraulic systems, software, and airbags.
We work with truck safety professionals and the National Highway Traffic Safety Administration to help show a truck part was defective.
If a defective truck part caused a Gettysburg truck accident, you can file a strict liability claim. Injury victims and families can also file negligence and breach of warranty claims against manufacturers and other responsible companies.
What defendants are liable for truck accidents?
At KBG Injury Law, our Gettysburg truck accident lawyers work aggressively to hold all responsible drivers and trucking companies liable for the accidents they cause. Trucking companies are often liable because they fail to inspect their trucks, fail to comply with federal and state regulations, and fail to run background checks on the drivers they hire. Trucking companies are vicariously liable for the acts of their employees.
Possible defendants in a Gettysburg truck accident case are:
The truck driver
The owner of the truck – if different than the driver
The trucking company that hired the truck driver or truck owner to make the delivery
A truck broker who arranged the delivery
The truck loading and unloading companies
Truck repair and maintenance companies
The manufacturers of defective truck parts
The Pennsylvania Department of Transportation and other state or Adams County entities may also be liable. Sellers of alcohol may also be liable.
What's the value of my truck accident claim?
The value of most accidents is based on how similar cases have been settled in the past, or what jury verdicts have been obtained in the past. What's common about all these cases is that adjusters and juries consider common numerous factors. Our lawyers are skilled at showing the appropriate value for each factor. These factors include:
All medical expenses
The victim's lost wages
The daily physical pain and emotional suffering of the victim
Compensation for scarring and disfigurement
Compensation for loss of consortium
The cost to fix or replace a damaged vehicle
We work with your doctors, employers, family, and financial professionals to show how serious each factor is.
We demand wrongful death damages if a loved one died. These damages include the funeral and burial expenses, the income the decedent would have provided the family member, and the personal losses to each family member because the decedent is no longer alive.
What should I do when a truck accident happens in or near Gettysburg?
After a trucking accident, accident victims need to attend to their health. The victim, a driver, or the police should arrange for emergency medical technicians if necessary. If victims can wait until the police review the accident, victims should go to an emergency room to be examined once the police are finished their investigation.
Someone should call the police. The officer will examine the accident site, obtain necessary information such as insurance information, and issue citations if a traffic law was broken.
Victims should take pictures of themselves and the accident site if possible – or have someone they trust take the pictures for them.
Gettysburg truck accident victims should contact their lawyer as soon as possible. Our lawyers will answer your questions, explain your rights, and tell you what you should and shouldn't do. Drivers will need to contact their own insurance company and inform them there was an accident.
Drivers should not speak with the insurance company or with people who caused the accident about how the accident happened. Our lawyers are your mouthpiece. We will speak to the insurance company for you. We'll also explain when you can file a full tort claim that includes pain and suffering, and when your tort claim is limited to your financial losses. We'll also explain how UM/UIM insurance and collision insurance work.
Accident victims and the families of anyone killed in a truck accident have two years to file their claim. Victims and families should not wait. They should speak with our lawyers as soon as possible. We need to examine the accident site and speak to witnesses when the evidence is fresh, and people's memories are fresh.
Is there a Gettysburg truck accident lawyer near me?
We have several offices in South Central Pennsylvania. Our Gettysburg law office is located at 37 West Middle St. We meet with clients away from the office if they're not mobile.
Speak with a seasoned Gettysburg truck accident lawyer now
At KBG Injury Law, our lawyers have earned a strong reputation based on our record of high settlements and verdicts. We fight to obtain every dollar our clients deserve. Your life has been changed, sometimes forever, through the fault of others. The people who caused your injuries should compensate you for every way your injuries have changed your life. To discuss your rights after a Gettysburg truck accident, call us at 717-848-3838 or fill out our contact form. KBG Injury Law has offices in Gettysburg, York, Lancaster, Harrisburg, and Hanover. We handle truck accident cases on a contingency fee basis.