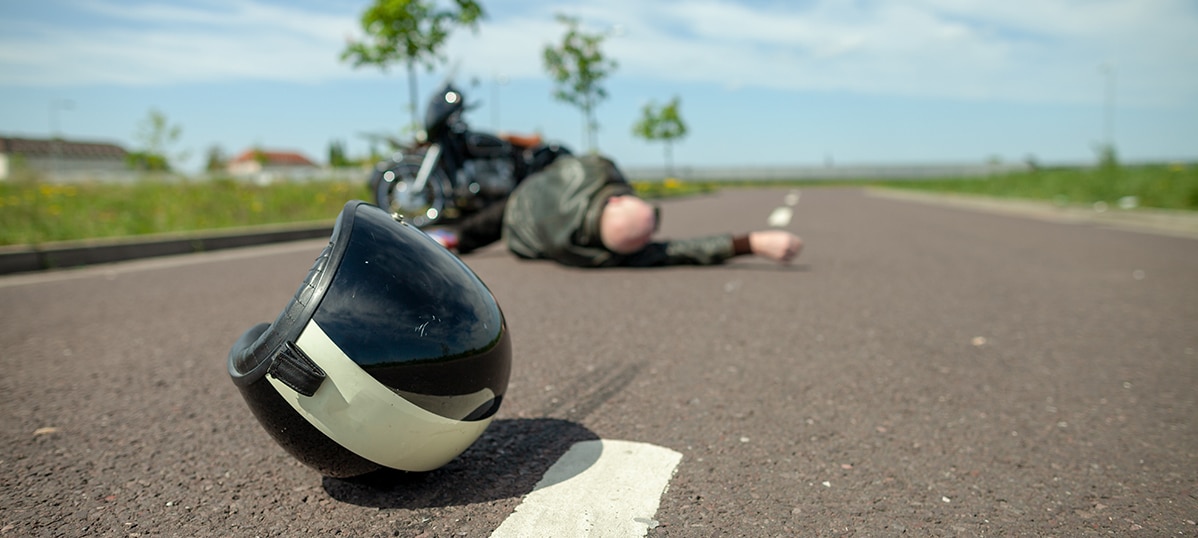 Gettysburg Motorcycle Accident Lawyers, Adams County, PA
Strong advocacy for motorcycle riders injured in a Pennsylvania motorcycle crash
Motorcycles are appealing for many reasons. They're a less expensive form of transportation. There's a feeling of joy being on the open road with the wind in your hair. Many riders enjoy the company of other riders. There's a counter side to riding, though. Motorcycle accidents have the potential to change lives and cause permanent injuries or death. While in a car or truck, you are protected by a crumple zone and layers of metal, cloth, glass, and plastic. In a motorcycle, there is often very little between you and the road.
No matter how careful you are on your motorcycle, another road user's actions can change your life in an instant. Wet roads, potholes, and bad weather can make riding treacherous. Riders are thrown from their bikes and can easily sustain head injuries, road burns, fractures, amputations, and other serious injuries. At KBG Injury Law, our Gettysburg motorcycle accident lawyers have 30 years of experience fighting for drivers, passengers, and families injured or killed in a motorcycle crash. Our attorneys are respected by former clients, insurance companies, and defense lawyers for our strong track record of successfully settling claims out of court and obtaining verdicts in court.
How dangerous are motorcycle accidents?
According to the Pennsylvania Department of Transportation, in 2020, there were 3,227 injuries due to motorcycle accidents and 217 motorcycle-accident deaths. In 53% of the fatalities, the victim was not wearing a helmet. On average, motorcycle crashes are much more likely to cause a fatality than car accidents.
Motorcycle accidents often cause deaths or catastrophic injuries because the motorcycle offers little protection for the rider, many car and truck drivers don't see motorcycles or don't respect the right of the rider to be on the road, and motorcycles are more difficult to control than cars and trucks. All motorcycle operators should take a beginner's course. As owners learn to drive their motorcycles, they should also take advanced courses.
Who is liable for a motorcycle accident that happens in or near Gettysburg?
Our personal injury lawyers file claims against everyone responsible for a motorcycle accident. Common defendants include:
Drivers and vehicle owners. Many motorcycle crashes happen because a passenger car or truck driver failed to respect the right of the motorcycle operator to be on the road. Drivers are liable for accidents if their negligence or carelessness causes an accident. The owners of a car, truck, or motorcycle are liable if they give permission to a driver to operate their vehicle, and the driver's negligence causes an accident.
Manufacturers, distributors, and retailers. Motorcycle accidents also happen because a parts manufacturer improperly designs or makes defective electrical systems, brakes, gears, fuel lines, or other parts of the motorcycle. Manufacturers can be held strictly liable if a product defect causes an accident. Manufacturers may also be liable if they act negligently or breach any warranties. Distributors and any sellers are also generally liable if the manufacturer is liable.
A state entity or agency. The Pennsylvania Department of Transportation, Adams County, and other state/county operators may be liable if a road was improperly designed, or the responsible entities/agencies failed to properly maintain their roads.
A seller of alcohol. Taverns, hotels, and others may be liable if they served a minor or they served an adult who was visibly intoxicated, and the person they served caused the motorcycle crash.
Other defendants may be liable too. Our lawyers work with investigators and conduct discovery to determine how the motorcycle accident happened, and who is responsible.
What types of injuries do motorcycle accident victims suffer?
Our Gettysburg motorcycle accident lawyers represent victims who have suffered any type of injury and the families of loved ones who tragically died in a motorcycle accident.
Catastrophic injuries change a rider's life permanently. If you or a loved one has a catastrophic injury, you will live with pain for the rest of your life. Catastrophic injury victims often require surgery and extensive medical care just to stabilize their medical condition. Long-term medical care is required to help prevent the injury from getting worse. Workers with catastrophic injuries often can't work for long periods of time. Some victims are permanently disabled. Catastrophic injuries include:
Spinal cord damage
Paralysis
Loss of limb/amputation
Burn injuries
Vision loss or hearing loss
Internal organ damage
Scarring and disfigurement
Many injuries are either permanent, chronic, or heal – but only with a great amount of medical help. These injuries include:
Broken bones and fractures
Soft tissue injuries
Muscle damage
Nerve and ligament damage
Shoulder, back, and neck injuries
Cuts, lacerations, and bruises
Psychological injuries
One injury that is nearly unique to motorcycle riders is road rash. This skin injury occurs as riders slide along the asphalt. Road rash may cause infections. Riders may require skin grafts and plastic surgery.
The most tragic result of a Gettysburg motorcycle accident is when a spouse, parent, child, or sibling dies. At KBG Injury Law, we file wrongful death claims to pay for the funeral bills, compensate the family members for the lack of financial support the decedent would have provided, and their personal losses because their loved one is no longer alive to provide companionship, love, and guidance.
Why do motorcycle accidents happen in and near Gettysburg?
Common causes of motorcycle accidents are:
The failure of larger vehicles to see, respect, or respond to the motorcycle
Drunk driving
Distracted driving
Traffic violations such as speeding or failure to yield
Driving too fast for the weather
Uneven road surfaces
What's the most common motorcycle accident?
Every rider knows it's the left turn from an oncoming vehicle followed closely the pullout. But rear-end collisions at stoplights and sideswipes, especially on curves, aren't far behind in frequency. As a motorcyclist, you can make yourself as visible as possible as a motorcyclist and yet still be invisible to every distracted driver on the road.
Which insurance coverage pays for motorcycle accident victims' damages?
At KBG Injury Law, our seasoned Gettysburg motorcycle accident lawyers understand the complex insurances that determine which company pays for your damages:
Personal injury protection. If you have your own vehicle policy, you can seek payment for your medical bills and lost income up to the policy limits – regardless of fault.
Collision insurance. If you have collision insurance on your motorcycle, this carrier pays for any damage to your motorcycle – regardless of fault.
Uninsured/underinsured (UM/UIM) insurance. You can claim UM/UIM damages if the responsible defendants do not have insurance, don't have enough insurance, or you were struck by a hit-and-run driver.
Your own health insurance carrier. Victims often request that their own insurance company pay their medical bills until the case is resolved.
Our lawyers will explain what exceptions and conditions apply. Other insurance coverage may also apply. We often negotiate settlements for the insurance policy limits. When necessary, we try your case before a jury.
What damage award can I expect?
If you are injured on a motorcycle in Pennsylvania, you can seek compensation for any harm that you suffer as a result of someone else's wrongful conduct, including compensation for:
Past and Future pain
Past and Future suffering
Past and Future loss of the enjoyment of life
Past and Future embarrassment and humiliation
Past and Future scarring and disfigurement
Past and Future wage loss and loss of earning capacity
Past and Future medical expenses
Past and Future incidental expenses
What are Pennsylvania's motorcycle helmet laws?
According to the Pennsylvania Department of Motor Vehicles, motorcycle helmets are required for any operator or rider who is under 21, and for any operator 21 or older who does not have at least two years of riding experience, or who has not completed an approved motorcycle safety course by PennDOT or the Motorcycle Safety Foundation. If you're outside of those groups, it's your right to ride without a helmet.
Is there a Gettysburg motorcycle accident lawyer near me?
We have multiple offices in South Central Pennsylvania. Our Gettysburg law office is located at 37 West Middle St., blocks from the Lincoln Highway.
Speak with a seasoned Gettysburg motorcycle accident lawyer today
Experience matters. When you're in a motorcycle accident, you worry about your health, your family, and how you will pay your bills. You deserve to have the people who caused you harm pay for your injuries. At KBG Injury Law, we explain your rights and guide you through the claims process. We fight aggressively to hold the drivers and other responsible parties accountable for the damages they caused. Contact us today – initial consultations are free. Call us at 717-848-3838 or use our contact form. KBG Injury Law has offices in Gettysburg, York, Lancaster, Harrisburg, and Hanover. We proudly represent accident victims across South Central Pennsylvania.