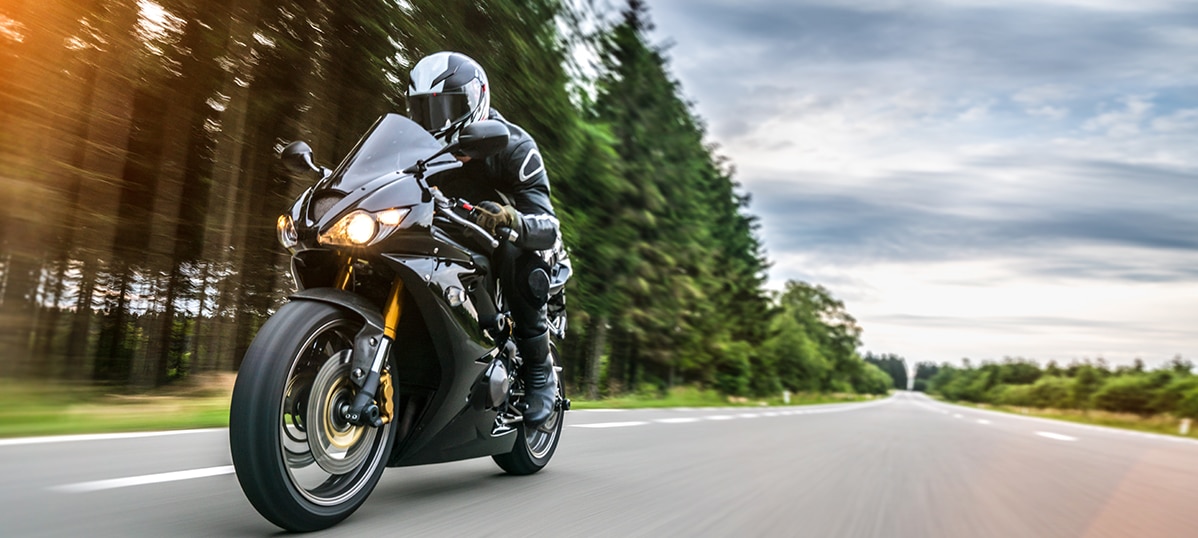 Motorcycle Accident Lawyers in Lancaster, PA
Helping riders and passengers who suffered serious injuries in motorcycle wrecks in Lancaster County
There is nothing quite like the freedom and enjoyment that comes with riding a motorcycle. Lancaster is an especially attractive location for motorcycle riders due to its open roads, rural roads, and numerous motorcycle retailers. Unfortunately, you face significant odds of suffering a motorcycle injury when an automobile collides with your motorcycle.
How do you protect yourself and your bike from harm? If you are in an accident, how will you pay for repairs and medical bills? The first step to protecting yourself on your bike is to have the best insurance coverage you can afford. Second, you will need to wear the right gear and take special precautions when riding your motorcycle. Third, if you are in an accident, make sure you seek advice and representation from motorcycle accident attorneys like those at KBG Injury Law who have nearly 40 years of experience in regularly handling motorcycle injury claims and have the trial experience to see your case through to the end.
How often do motorcycle accidents and deaths occur?
It is a fact that riding a motorcycle is more dangerous than driving a car. The Insurance Institute for Highway Safety estimates that per miles traveled, the number of deaths on motorcycles is 29 times higher than cars. In 2020, there were 3,503 motorcycle crashes in Pennsylvania and 217 fatalities involving motorcycle drivers or passengers.
Some of the main reasons motorcycle accidents are so deadly and cause so many accidents is because they are much harder to control than a passenger car, and because motorcycles do not offer the same physical protection as cars. Motorcycles, unlike passenger vehicles, do not have side doors, roofs, trunks, or hoods.
What kinds of injuries happen from motorcycle accidents?
If you are in a motorcycle accident, there is a higher risk of experiencing catastrophic or permanent injuries. Catastrophic injuries change your quality of life and often require years of medical care. Permanent injuries, by definition, last a lifetime. In addition to unbearable pain, if you have a catastrophic or permanent injury, you may not be able to financially support yourself or your family.
Even when personal injuries do heal, you may spend months or more receiving medical treatments including surgeries. During the recovery process, you may have difficulty sleeping, eating, driving, enjoying your children, and enjoying your life.
Our Lancaster motorcycle accident lawyers work with your doctors and independent doctors, when necessary, to fully understand what injuries you have, what short and long-term treatment you will need, and all the ways your injuries are affecting every aspect of your life.
Motorcycle accident victims may suffer the following injuries:
Head trauma
Spinal cord damage
Paralysis
Amputation
Broken bones
Soft tissue injuries
Injuries to muscles, ligaments, joints, and tissue
Internal organ damage and internal bleeding
Burns
Neck, shoulder, and back pain
Lacerations and cuts
A common motorcycle accident injury is road rash. This injury occurs as your body slides across the road. Serious road rash may require skin grafts and plastic surgery. You may also suffer scarring and disfigurement.
In the event a loved one dies from a motorcycle accident, family members have the right to file a wrongful death claim. Our lawyers are skilled wrongful death lawyers.
What are common causes of Lancaster, PA motorcycle accidents?
Many motorcycle accidents occur due to the negligence of another driver. Car, truck, and even other motorcyclists often cause accidents because they are speeding, not complying with Pennsylvania traffic laws, or because they are distracted. You may also have a claim if a defective motorcycle part caused your accident.
At KBG Injury Law, we regularly work with investigators who view the accident site, inspect the vehicles involved in the crash, and speak to witnesses. We also conduct discovery of everyone involved in the accident. We also work with traffic reconstruction experts when necessary.
Most motorcycle accidents are caused by one or more of the following:
Car and truck drivers who fail to respect the rights of motorcycle operators.
Driving while distracted, including texting while driving or talking on a cellphone while driving.
Driver intoxication.
Speeding, running a red light, improper passing, and other traffic offenses.
Driver fatigue.
Not understanding motorcycle operator hand signals.
Driving too fast for weather conditions.
Riding over uneven surfaces or roadkill.
If you ride a motorcycle, you should take a beginner's course and additional courses as you expand your driving area and skill level.
According to the NHTSA, motorcycle accidents often involve:
Left turns. Approximately 40 percent of motorcycle accidents occur when another vehicle turns left in front of the motorcyclist. The driver of the vehicle may not notice the bike or does not take the time to check his or her blind spots before making a left turn.
Lane changes. When another driver fails to check behind them or check blind spots before changing lanes, you are left vulnerable to a motorcycle accident.
Sudden stops. If you do not maintain a safe following distance, you are at risk for a motorcycle accident should you have to stop suddenly. It is under these conditions that rear-end collisions occur.
Mechanical defects. A poorly or improperly manufactured or installed component on your motorcycle may cause an accident.
Car door openings. Cars often fail to look for motorcycles when they open the door of their parked car.
Other causes of motorcycle accidents include head-on crashes, broadsides, sideswipes, and rear-end collisions. Motorcycle operators need to be extra careful when they maneuver around corners or turns.
An often deadly or serious type of motorcycle accident is one that involves lane splitting. When you lane split, you put yourself and your motorcycle into another vehicle's blind spot, leaving you susceptible to an accident. Lane splitting is when a motorcyclist drives between cars. Lane splitting is not legal in Pennsylvania. You may be tempted to lane split when traffic has come to a stop, but it is not worth the risk. Lane splitting is not only illegal, but it is also extremely dangerous. Why? Other vehicles may not see you, and they might change lanes and crash into you. Just being that close to another vehicle greatly increases your risk of an accident.
Is Pennsylvania a no-fault state for motorcycle accidents?
In most states, when two drivers are in an accident, someone is at fault. The person at fault is responsible for paying the damages resulting from the accident. Pennsylvania, however, is a no-fault state, which means your ability to sue is limited. You may sue if your injuries are severe enough to meet certain thresholds. Generally, you can file a claim against a negligent driver and any other responsible party if:
You purchase full tort insurance.
A loved one dies.
You suffer a serious bodily injury.
You and your health insurance provider cover your medical bills if you get in a motorcycle accident. Motorcycle insurance usually does not offer first-party benefits, meaning your medical bills will not be covered, regardless of who is at fault. However, you can file a claim against the person who caused you harm in an accident and seek compensation for medical costs if you meet the threshold requirements discussed above.
Depending on your motorcycle insurance provider, you may have the option to purchase medical payment coverage. However, medical payment coverage usually only covers up to a few thousand dollars. If you suffered severe injuries, medical bills could exceed $100,000 or more. Do not hesitate to contact a motorcycle accident lawyer to advise you on how to get the compensation that is owed to you.
Motorcycle owners may also want to purchase:
Collision or custom-equipment coverage
Comprehensive coverage
Guest-passenger liability coverage
Uninsured/underinsured (UM/UIM) coverage along with full tort coverage
Their own health insurance coverage
Talk to the attorneys at KBG Injury Law if you have questions about your insurance coverage and your rights.
Who is liable for my Lancaster, PA motorcycle accident?
At KBG Injury Law, we file claims against all responsible parties including:
A car, truck, or motorcycle driver.
The owners of the vehicles if they differ from the drivers.
A manufacturer of a defective motorcycle part.
Anyone who serves alcohol to someone who is visibly intoxicated if the intoxication causes the accident.
The Pennsylvania Department of Transportation, Lancaster County, or other governmental agencies if the accident is due to poor road design or maintenance.
Other defendants may also be liable, and we investigate all potentially responsible parties.
What is the value of my motorcycle accident claim?
Each accident case is unique. Our caring Lancaster motorcycle accident lawyers listen to our clients. We want to understand every way the accident has changed your life. We pay attention to all the intricate details that can add up to a large recovery.
We demand compensation for all your:
Medical expenses. This includes ER and hospital care, doctor visits, time with therapists, assistive devices, and medications.
Lost income. You can claim payment for all the money you lose and will reasonably be expected to lose in the future because your injuries prevent you from working.
Pain and suffering. This amount includes all the daily aches, pains, and worries you have. It also includes any loss of bodily function. We work to show every way your life is different because of your injuries.
Scarring and disfigurement. Motorcycle riders who suffer road rash, have burn injuries, or need surgery may have unsightly scars. If you lose a limb or body part, you will likely need psychological help.
Loss of consortium. This sum is paid because your injuries prevent you and your spouse from bonding like you did before the accident.
Property damage. This is the cost to fix or replace your motorcycle.
In the event your loved one loses his or her life in a motorcycle accident, we can seek additional damages for funeral and burial costs. In egregious cases, we may seek punitive damages.
How can I protect myself as a motorcyclist in Lancaster, PA?
With proper protection, you could help save yourself from accident injuries and other motorcycle mishaps. Here are ways to protect yourself on a motorcycle, according to the National Highway Traffic Safety Administration (NHTSA):
Take a motorcycle driving course.
Do not ride in a vehicle's blind spot. Strive to be visible at all times.
Be a defensive driver. Always anticipate other drivers' moves.
Be extra cautious in dangerous weather conditions or while driving over slippery surfaces.
Before buying a motorcycle, consider the purpose of the bike and the size that will work best for you. Do your research.
Wear motorcycle gear such as a helmet, eye protection, durable and snug jackets and pants, gloves for better grip and control and sturdy non-slip boots with laces tucked in.
Learn your bike. Read the owner's manual and know your bike well before you take it on a road trip.
Avoid tailgating and communicate your intentions with other drivers. Maintain a safe following distance.
Anticipate road hazards such as potholes, puddles, or objects in the middle of the road and develop skills to maneuver around objects. Do not ride beyond your skill level.
Maintain a safe speed.
Ride as if you were invisible to other drivers.
Does Pennsylvania have a helmet law?
Pennsylvania has helmet laws, but they only apply to certain individuals. You must be over age 21, and you must have been licensed to drive a motorcycle for at least two years or completed an approved motorcycle safety class. If you do not fulfill these requirements, then you must wear a helmet. Helmets may not protect you from impact completely or save the other parts of your body from accident injuries, but they help to protect your brain from injury in case you crash.
Do you have a Lancaster, PA motorcycle accident attorney near me?
KBG Injury Law's Lancaster office is located at 1776 Harrisburg Pike, near Good Drive. We maintain four additional offices throughout the Commonwealth and will make home visits if you are too injured to travel.
Get help from an experienced Lancaster, PA motorcycle accident lawyer today
At KBG Injury Law, our goal is simple — to help injured people. You do not have to deal with the burden of an accident alone. We work aggressively to hold anyone who caused your accident accountable for your injuries or the death of a loved one. We answer all your questions and guide you through each stage of the litigation process. There are no upfront costs. To schedule a free consultation with a motorcycle accident lawyer in Lancaster, please call 717.397-9700 or toll free at 800.509.1011, or use our contact form. We maintain offices in York, Lancaster, Harrisburg, Hanover, and Gettysburg, and serve clients throughout South Central Pennsylvania.