When you have been injured on the job, and you have made a workers' compensation claim; your own doctor or the referred specialist will advise you. They will discuss medical treatments, whether you have a partial or permanent disability and when or if you can return to work.
In cases where your employer's insurance company disputes your injuries, illness or disabilities, they may ask you to undergo an independent medical examination (IME). This will be given by another doctor who is supposed to be objective in the situation. In Pennsylvania, your employer's insurance company has the right to ask you to attend an IME once every six months.
An IME is not truly independent. It is an examination by a doctor who is selected, and paid, by the insurance company. He or she provides them with opinions regarding such issues as the cause of your injury, the nature/extent of your workers' compensation disability, your work capacity and your future treatment. You do not have to accept treatment from this doctor.
You should not attend an IME until first discussing this with a workers' compensation lawyer as, often, this doctor's opinions will differ from the opinions of your treating doctor.
If you are receiving workers' compensation benefits, the insurance company cannot stop your weekly benefits or stop paying your medical bills if you refuse to go to an IME, unless you have been ordered to attend an IME by a workers' compensation judge. If this happens, you should immediately contact a workers' compensation lawyer.
---
Table of Contents
---
Who Performs an IME and Who Pays for It?
Insurance companies send injured workers to "independent doctors" for their opinions on your medical condition. These supposedly independent doctors are selected and paid for by your employer or their insurance company. While there may be some independent medical examiners who are truly objective, the reality is that these doctors know that they will not continue to receive work from the insurance company if they routinely send reports saying that an employee's injuries are legitimate.

Many of these doctors are semi-retired and have little or no special training with the injuries you have suffered. Essentially, if a doctor has no criminal charges against them and has a medical license, they can be certified as an independent medical examiner. These doctors may be very nice, but they are not on your side. Many of these doctors have done IME work before and solicit business from the insurance companies.
And as noted above, they know the insurance company will not refer business to them if they do not provide reasons for the insurance company to argue that you no longer need to receive workers' compensation benefits.
When you visit an independent medical examiner, you will only be there for a short time — sometimes as few as 10 to 15 minutes. Yet, those minutes will have a significant effect on your ability to continue receiving workers' compensation benefits.
What Should I Expect During an IME?
All of your relevant medical records will be sent to the doctor doing your IME before the actual examination. Often the insurance company will include a letter that explicitly asks the doctor to examine you for particular reasons:
Do they think you have incorrectly diagnosed?
Do they think that a work-related incident or exposure to a toxic chemical on-the-job are responsible for your current condition?
Do they believe that you will require additional treatment for your condition?
Do they think that you have a permanent or partial disability?
When do they think you will be able to return to work? Will you need any restrictions when you return?
Make sure you ask the doctor performing the IME to see and review any letter sent to them by the insurance company. This will allow you to correct any mistakes they have made and see if the questions are appropriate for your medical condition. You should ask your workers' compensation attorney to help you do this as a written request you can file with the Workers' Compensation Board.
An IME is not like a routine visit to the doctor. Typically, as we noted above, it can be quite short. You will not have any relationship with this physician. You need to be careful what you say because there will not be any doctor-patient confidentiality.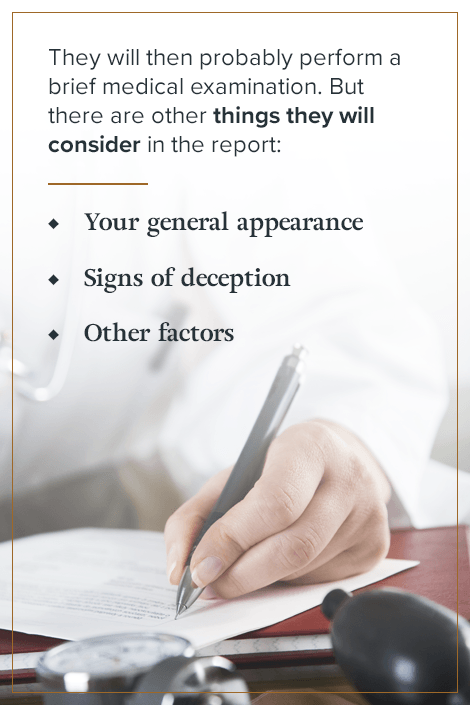 The doctor and their staff will observe anything you do in the doctor's office. If you walk into the doctor's office without problems but then develop a limp on your way into the exam room, that will be noted in the report they prepare. Insurance companies will often ask doctors to watch people in the waiting room to see how they act or even sit while they are waiting to be examined.
When you go into the exam room, the doctor will typically conduct an interview to learn more about the accident and your medical condition. They will then probably perform a brief medical examination. But there are other things they will consider in the report:
Your general appearance: How you walk, how you stand, how you get on and off the examination table, how you dress and undress and the range of motion that you show when you do – anything that this doctor considers relevant to your condition.
Signs of deception: Doctors are always on the lookout for any sign of exaggeration of your injury or illness and they will report that exaggeration.
Other factors: This can include lifestyle choices such as how much you drink or smoke, if you overeat and if you have ever used recreational drugs. The doctor asks these questions to see if they can be used as a contributing factor to your injury.
What Should I Do Before and During an IME?
An excellent way to help your case and help you be more relaxed and confident during an IME is to go over your medical history before the examination. Here are some of the things you should think about:
Your complete medical history, including any past injuries.
How your workplace accident occured
How you were injured, including every part of your body that was hurt.
How your injuries cause pain during normal daily activities, do not exaggerate. Do not say you hurt all the time because few people do. Be more specific. Say if it bothers you when you get up in the morning. Mention if it feels better during the early part of the day but as the day wears on the pain increases or if it makes it very difficult for you to go to sleep at night.
Any treatment or medication that improves your injuries.
How your life has been affected, including all the activities that you are no longer able to do.
If you prepare a summary following this outline, review it before you go to the IME. However, do not take it with you to the actual examination as then it will appear rehearsed.
You should also find out if you can take a friend or family member with you. If so, they can record what takes place during the interview. And they can be a valuable witness if needed.
Talk to your workers' compensation lawyer before you attend any IME. They can give you more specific advice on what to expect based on your situation.
When the doctor is examining you, here are some tips to follow:
Arrive for the examination as early as possible.
Always be as straightforward as possible with the doctor. Be honest about your injuries and perform any mobility or other tests the doctor asks you to do.
You should be pleasant but not humorous. Do not be chatty with the doctor, crack jokes or laugh a lot.
Be serious about your condition. Give the doctor brief, accurate statements about your injury and how it occurred. Yes or no answers are the best kind. If you do not know the answer to the question, then say so. Do not guess.
Provide the doctor with an accurate description of what your job entails and what your job duties were.
When the doctor asks you about previous injuries, be honest if you had any. But if the doctor does not inquire, do not mention them.
Ask for copies of any form or document you sign or fill out during an IME visit. Do not assume that the doctor will keep their own copies. Many doctors do not. Keep your own copy as it may be needed to help argue your case in the future.
What Should I Not Do During An Independent Medical Examination?
Just as there are rules about what you should do when undergoing an IME, there are also things that you should not do:

Do not try to be smarter than the doctor. Do not make a big deal about how much you have read about your situation on the Internet. Let the doctor do the examination and be pleasant.
Do not be chatty. If the information is not requested, do not volunteer it.
Do not discuss the terms of your workers' compensation claim with the doctor.
Do not drive yourself to the IME. Have your spouse, or a neighbor or a friend take you instead.
Do not discuss how your accident happened, your injuries or your feelings about your employer's insurance company in the waiting room or in any other part of the doctor's office building.
Do not come to the examination looking disheveled. Be clean and dress neatly.
Do not run to your car after the visit, even if it is raining. Doctors will often watch out the window to see if you are acting differently than you did while in their office.
Do not talk about money or your plans for retirement.
Do not talk about your marriage or living situation. It has nothing to do with why you have an IME.
Do not exaggerate your injuries. If you moan or wince every time the doctor touches you, even lightly, the doctor will assume you are faking.
Do not discuss the insurance carrier with the doctor.
Do not discuss what you think you deserve in a settlement, lost wages, medical bills or any other financial situation.
Do not expect that any report written by an independent medical examiner will be fair to you.
What Happens After an IME?
After you have had an independent medical examination, you should first write your own summary of the examination as you can best remember it.

It should include:
Details on what the doctor said to you.
Your responses.
If the doctor dictated anything into a tape recorder while he was examining you
The procedures and tests the doctor carried out during the examination.
The length of the actual examination.
If the doctor asked any unusual questions or made any puzzling remarks
After you have written out your summary, call your workers' compensation attorney and talk to them about what took place during the IME.
After the examination, the doctor will prepare a report that describes the examination performed and their opinion on your condition. They will send this to the insurance company and send a copy to you.
Can an IME Doctor Make Me Go Back to Work?
If your employer says you can go back to work and an independent medical examiner agrees, you have a right to a second opinion. Note that if you seek a second opinion from a physician who is not listed at your workplace, you will probably have to pay. Meanwhile, if your own doctor thinks that you are not ready to return to work, then you should not return to work.
In this case, your employer will likely file a petition to terminate your benefits with the Workers' Compensation Board. However, you will continue to receive benefits until a judge reviews your case. This is why it is extremely important to work with a workers' compensation attorney. The attorney will help you prepare a strong case about your medical condition and who can represent you at any hearing.
If You Have Had an Unfair IME and Need Help, Contact KBG Injury Law
At KBG Injury Law, we have an experienced team of workers' compensation attorneys who can help you. Whether you feel you have been unfairly treated during an independent medical examination or are just beginning the workers' compensation process. We treat our clients as individuals and give each case the time and attention it deserves.

You can 
request a free consultation
 or call us at 1-800-509-1011. A member of our team will get back to you as soon as possible to talk about your case.