Your Guide to Medical Malpractice Claims
KBG Injury Law would like you to know we are glad you are here.If you or a loved one has been injured following a medical procedure or related incident, you may be experiencing a variety of emotions. You may be fearful or mourning an expected outcome or loss. You may also be angry and feel betrayed by medical professionals you thought you could trust.
Each of these emotions is valid. On top of these feelings, you may be facing an uncertain future filled with questions and pain, and you may be wondering where to turn or how to proceed.
You have come to the right place.
Our Medical Malpractice Experience and Philosophy
When potential medical malpractice or medical negligence cases take place, various opinions on how to move forward present themselves. It is important to note, however, not all medical complications, injuries or unexpected outcomes are due to doctor malpractice or negligence.

Extensive research, witness testimony and records are required to make a decision on the best way to proceed. Most importantly, an experienced lawyer who specializes in medical malpractice should be involved.
We prioritize getting to know and understand our clients. We listen, and we do our best to provide you with support during even the darkest of times.
We refuse to allow clients to become just another case number. Personal injuries are life-altering and devastating. Those who have suffered deserve honesty, time and respect.
KBG Injury Law understands the soul-wrenching decisions and thoughts that are required to pursue legal action against another person, even when it seems like the right thing to do. This action should be accompanied by a legal team that is highly regarded in the community for its ethical approach to all cases.
We support our clients by making ourselves available, answering questions and helping to rebuild their lives, even after devastating injuries occur. Our refusal to accept frivolous claims means if we feel your case is valid, you have no reason to doubt your decision to move forward. We are here for you.
Learn More About What Conditions Qualify as Medical Malpractice
If you are just starting to look into pursuing a medical malpractice case, you likely have many questions. While those questions can only be answered in full by an experienced malpractice attorney, this guide is designed to serve as a starting point.
You will gain insight into the definition of medical malpractice and understand the general conditions required for an injury or death to qualify as medical malpractice. You will also learn about specific medical malpractice cases, settlements and rulings.
Other topics the guide will cover include:
Answers to common medical malpractice questions.
Steps to pursue if you or a loved one has been injured.
How to select the right medical malpractice lawyers.
Medical malpractice defenses to be aware of.
Taking Steps to Prepare a Medical Malpractice Case
After reading this guide, if you have additional questions or feel ready to proceed, KBG Injury Law will be here. Call us at 800-509-1011 or use our request form to schedule a free consultation to discuss the details of your case today.
You do not need to feel lost, alone or overwhelmed. Allow us to provide the expert legal advice and support you need. We look forward to working with you.
---
Chapter 1: What Is Medical Malpractice?
The term "medical malpractice" is thrown around a lot. You have likely heard it before. Someone could have mentioned it regarding your situation. You might have done some research on your own.
What is medical malpractice, exactly? The definition of medical malpractice is when a hospital, doctor or another professional in the healthcare industry causes an injury to a patient through either an act of negligence or omission.
According to the Civil Justice Resource Group, medical malpractice is the third-leading cause of death in the United States. It ranks only below cancer and heart disease. It causes an estimated 25,000 to 120,000 deaths each year, which is between .8 and 1% of all hospital patients.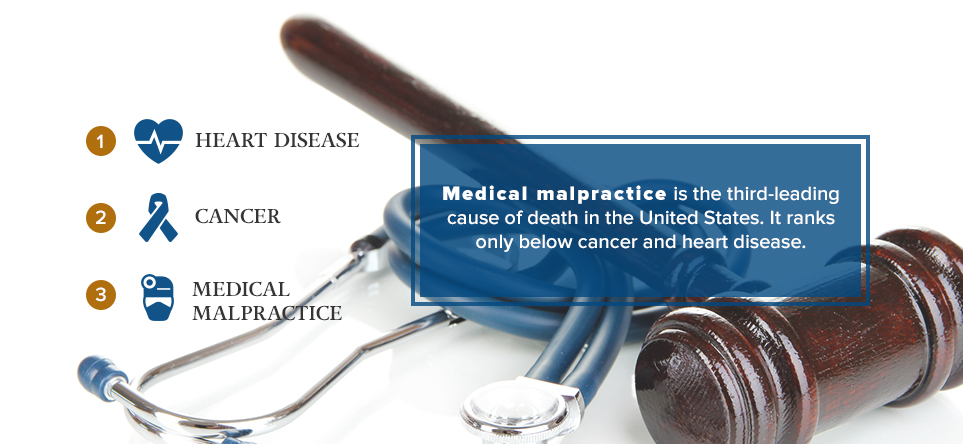 In addition to being a frightening potential outcome, medical malpractice is costly. In fact, over $3 billion is spent on malpractice payouts each year.
Examples of Medical Malpractice
Many circumstances and situations can be considered medical malpractice. However, the following are a few of the most common examples:
Misdiagnosis: In emergency and standard medical situations, misdiagnoses can take place. Whether a test is read incorrectly or certain signs are missed, sometimes misdiagnoses lead to worsening health situations or even death. These mistakes could qualify as medical negligence or malpractice.
Failure to Diagnose: Unlike a medical misdiagnosis, where an incorrect diagnosis is made, sometimes a patient is told they are fine, only to experience long-term negative health effects or death.
Delayed Diagnosis: In some situations, a diagnosis may be delayed, leading to a catastrophic outcome. Depending on the situation and who is at fault, medical malpractice may be a possibility.
Medication Errors: Negligence by a prescribing physician, an error in the administration of a medication or the incorrect filling of a prescription by a pharmacist that results in harm or death could be categorized as malpractice.
Anesthesia Errors: Anesthesia is a complicated science. When an error is made, bodily harm, brain damage or death can result.
Surgery Errors: While most surgeries are accompanied by inherent risks, sometimes injuries and mistakes that fall outside of the acceptable risk range take place. These injuries or situations could be considered malpractice in certain cases.
Childbirth Injuries: During childbirth, the potential for injury to the mother and/or child is great. If a caesarean section is not performed promptly, a delivery tool is used erroneously or drugs are administered incorrectly, medical malpractice may be a consideration.
Important Considerations to Understand About Medical Malpractice
Just because an incident listed above, or another that does not feel like it should have happened, occurs, does not mean medical malpractice has taken place.
One way to measure whether an injury qualifies as a case of medical malpractice is by measuring it against the Medical Standard of Care. This standard is the level and type of care a skilled and competent doctor or another healthcare professional would have provided under a similar set of given circumstances. Usually, in a lawsuit, an expert medical witness testifies to this standard.
If another doctor with similar qualifications would have taken the same actions and provided the same care if presented with the same situation, medical malpractice may be difficult to prove.
Another consideration relating to malpractice is the medical malpractice statute of limitations. In most lawsuits, when compensation is being pursued, statutes of limitations are in place. For malpractice, all states set a statute of limitations that limits the amount of time a patient has to bring a case against a medical provider or professional.
In Pennsylvania, the statute of limitations for filing a malpractice claim is two years from the time an injury is discovered — that two-year window does not begin until patient discovers something went wrong. However, there is another layer of limitations in place that complements this time window. For any cases that take place after March 2002, the timeline differs. A patient has seven years from when the malpractice act occurred to file a lawsuit.

Based on this information, if medical malpractice is suspected, it is best to seek legal counsel immediately.
Types of Malpractice Damages
Many potential clients wonder what their case may be worth and what compensation they may be entitled to. Instead of the overall figure, it is important to understand the various types of medical malpractice damages.
Compensatory Damages: Compensatory damages cover the actual costs the patient was responsible for, including medical bills and lost wages due to time off work. In Pennsylvania, there is no cap or upper limit on compensatory damages.
Non-Economic Damages: Not all benefits are easy to quantify. That is why non-economic damages cover intangible benefits, such as pain, suffering, loss of companionship and other negative effects due to the harm that was done. In Pennsylvania, there is no cap on non-economic damages.
Punitive Damages: Unlike compensatory and non-economic damages, which cover the loss experienced by a patient or their family, punitive damages are designed to punish the medical professionals whose actions caused injury or harm. If no intentional misconduct — including malicious or fraudulent actions — took place, the cap for punitive damages is 200% of compensatory damages that are awarded.
In Pennsylvania, 25% of punitive damages awarded to the patient go into the MCARE fund to help cover costs for other patients whose compensation awards are higher than a healthcare provider's medical malpractice insurance coverage.
Malpractice Vs. Negligence: Understanding the Difference
You may have noticed the terms "malpractice" and "negligence" being used together, or individually. What do they mean, exactly?
Medical negligence can be defined as the failure to act with the same actions or amount of care that a comparable medical provider would have if presented with the same situation — as previously defined as the medical standard of care.
Negligence is a part of medical malpractice. Instead of being defined on its own as something separate from malpractice, negligence must be the reason an injury or death occurred to prove medical malpractice took place.
---
[contact-form-7 id="3048″ title="Online Guide Test"]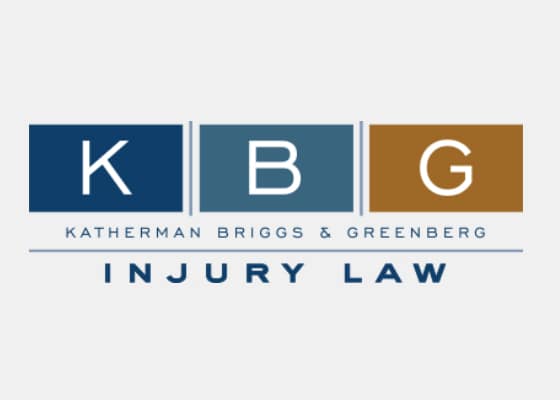 The personal injury attorneys at KBG Injury Law are all experienced litigators. Almost all of them represented insurance companies prior to becoming advocates for injured people, which provides them with a unique perspective and insight into how these companies operate. They also offer extensive courtroom experience if going to trial is the best legal alternative for the client.
[Read More]