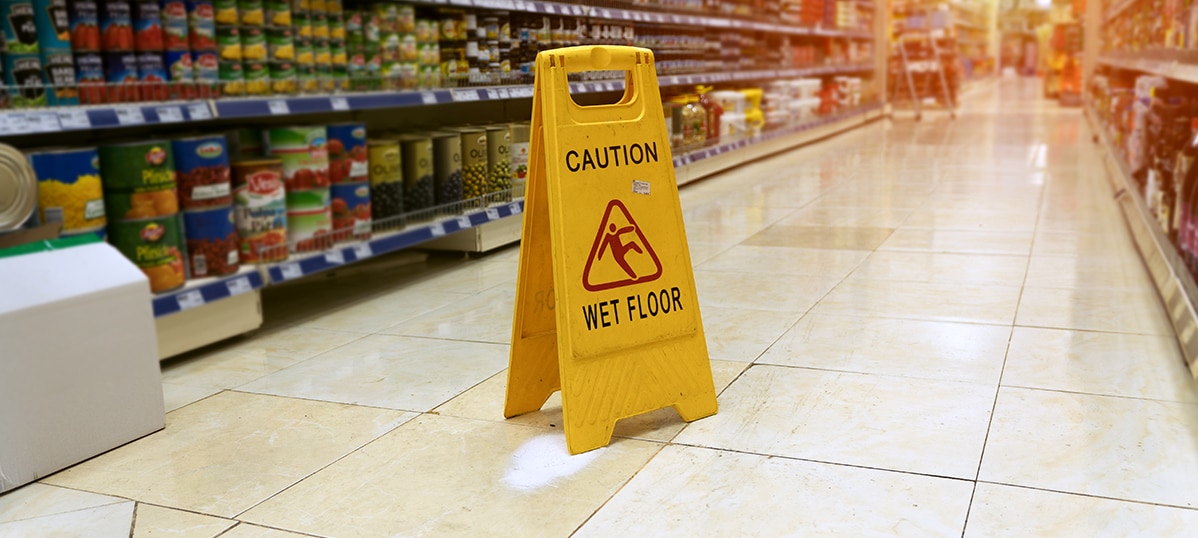 Slip and Fall Accident Attorneys in York, PA
Help when you are injured in a trip, slip, or fall in South Central Pennsylvania
Slip and fall accidents are among the most common types of premises liability claims. Property owners have a responsibility to keep their premises free of hazards and to protect the general public from danger. If they fail in that duty, and you slip and fall as a result, you may suffer serious harm and incur medical bills and other losses. Slips and falls can cause injuries to nearly every part of the body.
Have you been injured as a result of a slip and fall accident on a residential or commercial property? Were you injured due to a property owner's negligence? If your slip and fall injury was the result of someone else's negligence, you may have a personal injury claim against the party who owns or is responsible for maintaining the property. The York slip and fall accident attorneys at KBG Injury Law can help. Contact us today for experienced representation.
What is a slip and fall accident?
Slip and fall accidents, also called trip and fall accidents, fall under the premises liability area of law. These are incidents occurring on someone else's property and involve an injury. The victim of a slip and fall injury may be able to recover monetary compensation from the premises owner if they experience losses from the accident, like financial loss or pain and suffering.
A property owner owes visitors a duty of protection. Premises liability refers to the owner's responsibility to safeguard you from slip and fall accidents or other types of dangerous property incidents. Landlords, property owners, or anyone responsible for maintaining public premises could be liable for an injury caused by a hazardous property condition.
What are some common causes of slip and falls?
Slip and fall accidents can occur on just about any property owned by someone else, such as a grocery store, the mall, a parking lot, a restaurant, a movie theater or a neighbor's property. No matter where your accident happens, you should determine the exact cause of the incident.
Common causes of slip and fall accidents include:
Poor lighting
Torn carpeting
Tripping and falling
Defective furniture
Slippery or wet floors
Unbalanced flooring
Parking lot potholes
Uneven or icy sidewalks
Building code violations
Hazards in the workplace
Unfenced swimming pools
Missing or defective handrails
Dangerous or narrow stairways
Merchandise dropping from shelves
Uneven or deteriorated driveways, road surfaces or parking lots
The York, PA attorneys at KBG Injury Law can investigate the circumstances of your accident to determine exactly how and why it occurred. We can take on the legal aspects of your claim while you take the time to rest and recover from your injuries.
What injuries are caused by slip and fall accidents?
Slip and fall accidents can cause serious injuries, particularly for older adults or those who are already suffering from other serious medical conditions. Common injuries sustained as a result of a slip and fall accident may include:
Back injuries
Brain injuries
Broken bones
Deep cuts and lacerations
Neck injuries
Severe bruising
Spinal injuries
Sprained ankles
These types of accidents and injuries are ultimately preventable. A site manager or property owner can prevent slip and falls with inspections, vigilance, and proper precautions. However, failure to take care of hazards and dangerous conditions – especially when the property owner is aware of them – is negligence, plain and simple.
What is the statute of limitations on a York, PA slip and fall lawsuit?
Here in Pennsylvania, you have two years after the date of your, or your loved one's injury, to file a slip and fall injury lawsuit. If you do not file your lawsuit within two years, the defendant's attorney will file paperwork with the court, and a judge will likely dismiss your case. Because of this time limit, it is essential to speak with an attorney at KBG Injury Law as soon as possible after your injury.
There are exceptions to this two-year period, specifically when the injured party is a minor. The statute of limitations does not start for an injured minor until the age of eighteen, which extends it to age twenty. For details on this, consult with our attorneys.
What should I do after a slip and fall accident?
Even a seemingly minor slip and fall accident can cause a catastrophic injury. Follow these steps if you or a loved one has suffered an injury as a result of a slip and fall accident, to protect yourself and your claim.
Report the slip and fall accident: Report the accident as soon as possible. Depending on the circumstances, you can report the incident and injuries to a manager, property owner or the police.
Collect documents: If you report the accident to a store or property manager, ensure they create an incident report and get a copy of that report later. The same goes for a police report. Check the report for accuracy.
Take pictures: If possible, take photos of the hazard that caused your slip and fall accident. You may also want to take pictures of the surrounding environment and your injuries resulting from the incident.
Find witnesses: Locate any witnesses to your accident. Obtain witnesses' contact information, such as names and phone numbers, so you can get a statement from them about what they saw during the incident.
Seek medical attention: Seek medical attention as soon as possible after you suffer a slip and fall injury. In a serious emergency, call an ambulance. Otherwise, visit your doctor as soon as you can. If you delay seeking medical attention, this could negatively impact your case, as the defendant and his or her insurance company may interpret this as your injury being less severe than you claim.
Receive ongoing medical treatment: Continue receiving medical treatment for your injury and being evaluated by a medical professional as needed. Save all of your receipts and expenses. Follow your doctor's instructions carefully to ensure you are doing everything necessary to recover from your injuries.
Consult an experienced slip and fall accident lawyer: As for any premises liability claim, a slip and fall accident attorney can investigate the circumstances of your accident and determine the liable party for your injuries. The attorneys at KBG Injury Law can guide you through this process and work with insurance companies on your behalf.
If we cannot come to a fair and agreeable settlement, our attorneys will fight for you in court.
What is the value of my York, PA slip and fall case?
Property owners must take reasonable care to make their premises as safe for visitors as possible. After you or a loved one suffers a slip and fall injury, you may deal with far-reaching effects long after your accident. An experienced slip and fall accident attorney can help you recover compensation for the following costs:
Pain and suffering
Lost wages
Medical bills
Lost future income
Physical disabilities
Physical therapy or rehabilitation costs
Financial hardships
Ambulance transport costs
Prescription costs
If a slip and fall accident results in the death of your loved one, you may have a viable wrongful death claim, enabling you to recover compensation accordingly, such as funeral expenses and lost future income. The attorneys at KBG Injury Law will help you through this entire process.
Is there a slip and fall accident attorney near me?
KBG Injury Law is located at 110 North George Street, in downtown York. Our offices are near Interstate 83 and Routes 30, 74 and 462.
Contact a knowledgeable York, PA slip and fall accident lawyer
After a slip and fall accident, time is of the essence. We understand you are facing injury, pain, and massive medical bills. When you work with a premises liability attorney at KBG Injury Law, you have an advocate who stands up for you every step of the way. Call us at 717-848-3838 or toll free at 800.509.1011 or fill out our contact form. We have offices in York, Lancaster, Harrisburg, Hanover, and Gettysburg, and serve clients and families throughout South Central Pennsylvania.