Head injuries can be sustained in sports, workplace injuries, car accidents and any incident in which a patient's head hits a hard surface with force. While we are still learning about brain injuries and their long-term effects, researchers now recognize the serious and permanent effects these types of injuries can have.
What Is a Brain Injury?
You can sustain a brain injury in a few ways. One of the most common occurs when you smash your head against a solid object. In a car accident, for example, you may be thrown from a car and your head may impact with the windshield or the pavement. On the ski slopes, you may fall and hit your head on a rock.
When an impact occurs, the brain bounces around inside the skull, sometimes crashing against the hard surface. This can cause damage to the tissue, swelling, bruising and even bleeding, all of which can damage the brain and cause life-threatening injury. This type of closed-skull injury is known as a Traumatic Brain Injury (TBI).
Brain injuries can also be sustained if something punctures the skull and directly impacts the brain, as in firearm incidents. Another type of injury can occur if the brain is deprived of oxygen for an extended time. This can occur with birth injuries, for example.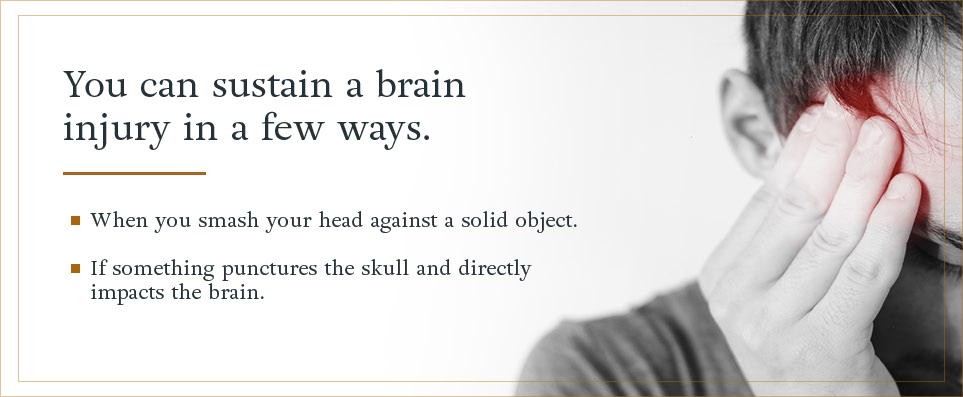 What Does a Brain Injury Involve?
Brain injuries can be fatal. Even when a patient survives, brain injuries can have serious, long-term or permanent impact. They can affect a person's mobility, vision and cognition. People with a TBI or other serious head injury may have memory problems, personality changes and difficulty with everyday tasks. Some require assisted living arrangements for the rest of their lives, while others need months or years of medical treatment and rehabilitation.
What Can Brain Injury Lawyers in Lebanon Do?
If you have sustained a head injury, it is important to seek medical attention right away, even if you initially feel fine. You will also want to consult with head injury lawyers in Lebanon if you have sustained a TBI or similar injury. An attorney can find any liable parties and help you pursue compensation.

When Should I Contact Brain Injury Attorneys in Lebanon?
It is never too soon to contact head injury attorneys in Lebanon because these cases tend to be complex. Since head injury claims involve considerable settlements, and since the research about brain injuries is still ongoing, it is important to have a highly qualified attorney and to pursue a claim early. Compensation can help you pay for quality care and support so you can rebuild your life after a challenging injury.
KBG Injury Law has more than 30 years of experience in central Pennsylvania, and we have helped many TBI patients secure settlements. Our clients have been able to pursue quality medical treatment and have been able to move forward with dignity. Contact KBG Injury Law for a consultation today to find out whether you have a claim.