KBG Injury Law raises $100,000 in its Community Fund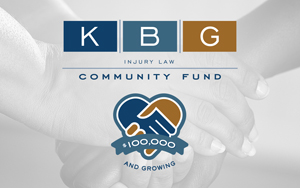 We are proud to announce that since its Community Fund inception in 2013, KBG Injury Law has now donated more than $100,000. The fund is set up through the York County Community Foundation.
The KBG Community Fund has provided monetary support to organizations including but not limited to:
Not to mention, the fund has also supported annual events, including but not limited to:
Sasquatch Run
York Gold Star Memorial Day 5K
Masquerade Ball
JRobWalk
York Suburban MiniTHON
All of these donations have been largely possible thanks to the generosity of our own employees.
"At KBG, we often talk about making a positive difference in others' lives by the work that we do as attorneys," said Brian Strong, a KBG managing partner. "We firmly believe that extends outside of the courtroom, and we are proud our Community Fund has crossed the $100,000 threshold and that we can use this Community Fund to financially support multiple great causes which benefit individuals throughout the southcentral Pennsylvania region."
Organizations that have received KBG's donations have praised the firm's fundraising efforts.
"Our corporate partnerships allow us to provide scholarships to children of workers who have been injured or killed on the job. Without the commitment of companies like KBG Injury Law, we would not be able to fulfill our mission and support these deserving kids."
– Chris Davis, President, Kids' Chance of Pennsylvania
"KBG is a fantastic partner to Downtown Inc who understands the importance of investing in our community. Through their support, specifically in our urban landscapes initiatives, we are able to further our work in enhancing investment in our Downtown and beautifying our Downtown streets. Congratulations to KBG for reaching such a huge milestone in community philanthropy!"
–Meagan Feeser, Chief Marketing & Development Officer, Downtown Inc
"Farm & Natural Lands Trust of York County greatly appreciates the long-term support of KBG Injury Law. Through their commitment to our mission in York County, we are able to preserve landscapes of agricultural and environmental importance for future generations to enjoy."
– Sean Kenny, Executive Director, Farm & Natural Lands Trust of York County
We are honored to serve the very community that supports the firm, and intend to continue building up the Community Fund for more donation opportunities.
To follow our latest sponsorships and donations, check out our Community Events page.