Required Minimum Pennsylvania Coverages
As experienced car accident lawyers, we have seen many people without minimum coverage. When you purchase your automobile insurance, there are certain minimal levels of coverage that every driver must maintain. You can usually purchase coverage beyond these minimums, but you must purchase at least the following amounts of coverage: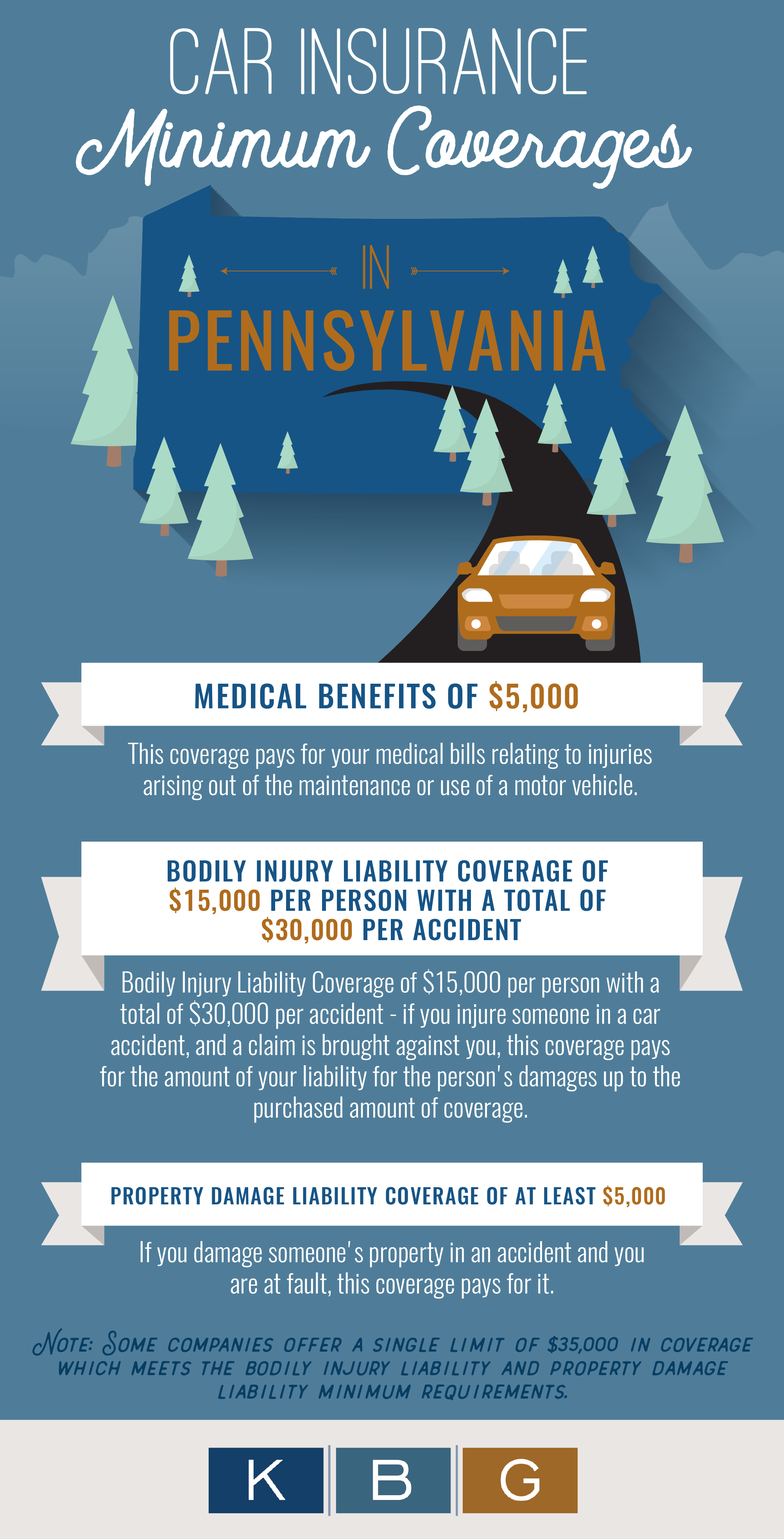 1. Medical Benefits of $5,000  – This coverage pays for your medical bills relating to injuries arising out of the maintenance or use of a motor vehicle. With respect to medical bills arising from a motor vehicle accident, Pennsylvania is a "no fault" state.  This means that, no matter who is at fault for an accident, your own automobile insurance pays for your treatment. This applies to you if you are the policyholder, and to anyone who is covered for medical benefits under your policy. You may purchase greater amounts of medical coverage to protect yourself in the event you are injured in an accident. You may also choose to purchase "Extraordinary Medical Benefits," described below. Once your insurance company has paid for treatment in an amount equal to the amount of coverage you carry, the insurance company's duty to pay for your treatment ends.
2. Bodily Injury Liability Coverage of $15,000 per person with a total of $30,000 per accident – If you injure someone in a car accident, and a claim is brought against you, this coverage pays for the amount of your liability for the person's damages up to the purchased amount of coverage. If the amount of  the damages of the injured person exceeds $15,000, you may be held personally responsible for this amount. For this reason, it is often wise to purchase a greater amount of coverage to protect yourself and to compensate the injured person. If you carry the minimum coverage, the $30,000 amount is the maximum amount your insurance company will pay per accident regardless of the number of people injured. In addition, you are not permitted to carry Uninsured or Underinsured Motorist Coverage (see below) in an amount greater than the amount of Liability Coverage you carry. Given the importance of Uninsured and Underinsured Motorist Coverage, this is a strong incentive to carry greater amounts of  Liability Coverage.
3. Property Damage Liability Coverage of at least $5,000 – If you damage someone's property in an accident and you are at fault, this coverage pays for it. Although you are only required to purchase $5,000 in coverage, the cost of vehicle repairs and the expense of cars often warrants purchasing a much higher coverage limit that this.
Note: Some companies offer a single limit of $35,000 in coverage which meets the bodily injury liability and property damage liability minimum requirements.
Other Decisions You Must Make
In addition to the minimum required coverages, there are several other coverage decisions that you must make when buying motor vehicle insurance. Many of these decisions will directly affect how well protected you are in the event of an accident and how difficult it may be to get back on your feet after an accident. Here are some of the main categories to consider:
1. Limited Tort or Full Tort? A better name for Limited Tort and Full Tort would be "Limited Right to Sue" and "Full Right to Sue." In Pennsylvania, if you choose "Full Tort Coverage" you maintain all of your rights to hold a negligent driver accountable for his actions and for inflicting injuries upon you and your family. However, you may limit your own rights by choosing the "Limited Tort Option." Although you may save a relatively small amount of money on your insurance cost, you may loose valuable rights in the event you are injured, as there are certain types of losses that you may be barred from ever recovering.
2. Uninsured and Underinsured Motorist Coverages. If you or your family are hit by an at-fault uninsured driver (no insurance) or underinsured driver (inadequate insurance to pay for your losses), this type of coverage will compensate you and your family.  This is one of the most important types of coverages available, as it protects you and your family from irresponsible or underinsured drivers, an all-too-common occurrence. Carrying this coverage is not required, but is strongly advised, to avoid the possibility that you could suffer catastrophic losses due to someone else's carelessness, and not be able to recover.
3. Stacking of Uninsured and Underinsured Motorist Coverages. Since Uninsured and Underinsured motorist coverage is so important, you may wish to pay an additional amount of money to "stack" this coverage. Stacking means that you are multiplying the amount of Uninsured and Underinsured Motorist coverage by the number of vehicles insured on your policy.
4. Funeral Benefit. If you or a family member dies as a result of an auto accident, a funeral benefit will be paid if you purchase this coverage.
5. Income Loss. This type of coverage pays your wages when injuries sustained in a motor vehicle accident keep you from working. This typically is offered with per month and per claim "caps."  For example, a policy with income loss coverage of $1000/$5000 will pay out no more than $1000 per month, to a maximum of $5000 over the life of your claim. If you purchase income loss coverage on your policy, you are entitled to collect it for lost wages that are related to an automobile accident, regardless of who was at fault for causing the accident.
6. Collision Coverage. This type of coverage pays to repair damage to your car as a result of an accident. This coverage will kick in even if the accident is your fault. A deductible of $500 will apply unless you request a lower or higher deductible amount. Most lenders require that you buy this type of coverage in order to receive a loan to purchase a car.
7. Comprehensive Coverage. This type of coverage pays for theft or damage to your car from hazards such as fire, flood, vandalism or striking an animal on the roadway. Like collision coverage, most lenders require this type of coverage.
8. Extraordinary Medical Benefits. If you purchase this coverage, it will pay for medical and rehabilitation expenses in excess of $100,000 up to $1,000,000 for accident related injuries.
9. Rental Car Coverage. If your car is damaged in an accident, this type of coverage provides payment toward the rental of a replacement car until your vehicle is fixed. The specific terms of this coverage will be defined in your policy.
10. Lease Gap Coverage. If your vehicle is leased and is destroyed in an accident, you may owe more on your lease than the vehicle is worth. In a normal situation, an insurer is only responsible to pay you the fair market value of your vehicle, if your vehicle is a total loss. This may not equal the full amount still due on your lease.  Lease Gap Coverage is designed to pay the outstanding lease amount on your vehicle should you be involved in an accident and your new vehicle is determined to be a total loss.
When we meet with people who were injured in an accident through no fault of their own, they are often surprised by the fact that they have coverage and benefits due to them, of which they were not aware. Conversely, as car accident attorneys, we also unfortunately meet with individuals who carry benefits that are insufficient to protect themselves. For example, we occasionally meet with a person injured by the careless actions of a financially destitute, uninsured driver. If the injured victim does not carry uninsured motorist coverage, it may be difficult for him or her to recover for most losses, since the uninsured driver that caused the losses likely has no assets to pay for the damage he has caused. Thus, selecting the proper types and amounts of coverage is important.