If you suffer an injury at your workplace, the best thing to do is to report it immediately. Even if you don't think you have been injured, but there has been an accident, immediately report the incident to your manager or supervisor. If, in the following days or weeks, you realize you have suffered an injury, having already reported the accident makes later legal action and reporting much more credible.
---
Table of Contents
---
How Long Do You Have to Report an Injury at Work?
No matter how insignificant you think your injury may be at the time, you should report it to your supervisor right away. Many times, an injury does not seem too bad when it happens, but over the next few days or weeks, it will become more severe. Failure to immediately report an injury is a common reason why the employer's insurance carrier denies workers' compensation claims.

So, while you may think that you are doing the right thing by not complaining about every little injury, you may be jeopardizing your claim by delaying to report the injury. Also, be aware that the injury must be reported to a supervisor, not a coworker, to be considered proper notice to your employer.
When you report the injury, you should also request medical treatment if you think it is necessary. Even if you do not think that it is necessary, you should ask if there is a list of doctors with whom you are supposed to see for a work injury. Then, if your injury worsens, you know where to go for treatment.
Another common reason why workers' compensation claims are denied is that the medical records of your doctors may not accurately reflect how your injury occurred or all of the injuries sustained. When you do seek medical treatment, it is therefore very important that you tell each new doctor you see how your injury happened at work and all your body parts that were injured.
Technically, under Pennsylvania state law, you have 120 days after a workplace accident to report an injury. You have three years to file a workers' compensation claim from the date your injury occurred. The Statute of Limitations is another important reason you should report any accident to your supervisor or manager when it happens.
Work-Related Requirement
If you have suffered an injury — or an illness or a trauma — and you want to claim workers' compensation benefits, you need to prove the injury was related to your job.
Suppose you repair phone lines for a telephone company and, while climbing a phone pole, you fall and suffer an injury. You are eligible to receive workers' compensation benefits after such an incident because the injury was work-related. It doesn't need to happen on your exact jobsite if your injury was related to your job.
The U.S. Occupational Safety and Health Administration defines a workplace injury or illness as "job-related" if the injury happened because of an event or exposure while on the jobsite, or if they develop certain injuries or illnesses related to the jobsite over time. It also includes the kind of injuries suffered in the above incident.
What Injuries Are Covered by Workers' Compensation Insurance?
If your job causes or materially contributes to any injury, illness, or disease, you are entitled to benefits. There does not have to be a specific "accident" nor does your job have to be the sole cause of your injury.
For injuries on and off the premises, you may be entitled to benefits even if you are not on your employer's property or even if you are not "clocked in" when your injury oc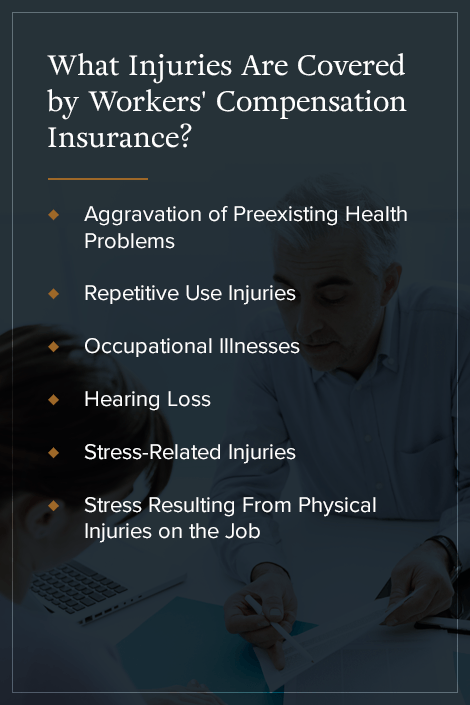 1. Aggravation of Preexisting Health Problems
Your job does not have to be the only cause of your injury. You are entitled to benefits if your job aggravates a preexisting medical condition. For example, if you had a bad back when you started the job, and injure your back further while working, you may be entitled to benefits.
2. Repetitive Use Injuries
If your injury is caused by doing the same thing repeatedly, you may be entitled to benefits. This type of injury is called a "repetitive trauma injury." A repetitive trauma injury may include a back injury from heavy lifting over many years or carpal tunnel syndrome caused by job duties like repetitive typing, computer work, assembly work, or machine operation over time.
3. Occupational Illnesses
An occupational illness or disease is one that an employee develops because of repeated or even sudden exposure to a dangerous or toxic chemical or material.
For instance, miners who suffer from long-term exposure to coal dust or miners who work with asbestos are examples of occupational illnesses. Other examples people may not normally consider would be an adult film star forced to work without a condom, or a healthcare worker accidentally stuck with a needle, who then develops HIV/AIDS.
4. Hearing Loss
Employees who work in a noisy environment — such as construction workers, or waitstaff in bars where the music is played continuously at high volumes, may suffer hearing loss over time. This will normally be covered by workers' compensation benefits.
5. Stress-Related Injuries
There is a well-established link between constant stress and a wide variety of physical and psychological illnesses. It is, however, still challenging to file a claim for workers' compensation based on any illness caused by stress on the jobsite.
Some states, however, will allow for PTSD claims. These claims are often allowed if it is the result of an unexpected and traumatic event, such as a bank robbery, a school shooting, or workplace violence. If you suffer an illness as a result of an event, make sure you report that you are not feeling okay to your supervisor or your manager after the event. Then contact a workers' compensation lawyer immediately.
6. Stress Resulting From Physical Injuries on the Job
The rules are not quite the same for this kind of stress.
If an employee develops psychological conditions as a result of a work-related physical injury, this quite often qualifies for workers' compensation benefits. Physical injuries often bring pain, loneliness, and changes to an individual's lifestyle that can lead to depression and anxiety. These conditions can be included as a "compensable consequence" of the original on-the-job injury.
What Doesn't Count as a Workplace Related Injury?
If
you injure yourself
on a lunch break, at a company event like a picnic or a baseball game, your regular commute, or any misconduct (more on that below), you are not covered.
What If I Am Responsible for the On-the-Job Accident?
It does not matter.
Workers' compensation is a no-fault system. What matters is that you were injured on the job. As long as personal misconduct did not lead to your accident, even if you cause that accident, you should notify your supervisor or manager that you been injured. You then can submit a workers' compensation claim.
What Is Personal Misconduct?
If you are drunk on the job and it caused an accident, or under the influence of a drug, or intentionally self-inflicted your injury, then you are not eligible for workers' compensation.

This is something to be mindful of moving forward. Often, employers who want to "knock" injured employees off workers' compensation will blame drug use or alcoholism as being fully or partially responsible for their injuries. If your employer tries to pull this on you, and you know it is not true, you need to contact a workers' compensation attorney immediately.
How Do I Report a Workplace Injury?
If you are injured on the job or are suffering from a work-related illness, you should immediately report your condition to your supervisor. If your condition has grown worse over time — such as with a repetitive motion injury — you should report it to your supervisor as soon as you believe it is related to your work. As we noted above, in Pennsylvania, you have 120 days to report an injury. If you don't report it within that timeframe, you will probably lose your right to collect workers' compensation benefits.
If you are seriously injured, your first course of action is to seek immediate medical care. However, if the injury does not seem serious, or, after you have been treated for your injury by medical technicians, you will likely need to fill out an injury report from your supervisor. If your employer does not have such a report readily available, the Workers' Compensation Board in Pennsylvania will send you one.
Most accident reports ask you to include:
The kind of injury you have suffered. Mention every part of your body that was affected.
The circumstances behind the accident.
The parties involved.
The day and time of the accident and where it occurred
Any medical treatment you have received because of the injury
After you fill out the form, make a copy for yourself and give the original to your employer. Fill out the form accurately and honestly. Resist the urge to include embellishments or hyperbole. They will come back to haunt you if you file a workers' compensation claim.
Do I Need a Witness for a Work Injury Claim?
Witnesses are not technically necessary, but a witness can play a vital role in a workers' compensation case. A witness does not necessarily need to have seen the accident. For instance, they may have been close by and heard a loud noise or heard you crying out in pain. As soon as you are able, you would get all the names of all the witnesses and give them to your workers' compensation attorney.
You may not need witnesses. Your attorney and the employer's insurance company may be able to come to a fair settlement without a court trial. But if it does go to court and evidence needs to be presented, having witnesses who can attest to what happened will help your claim.
Can I Sue My Employer?
You cannot file a lawsuit against your employer for an on-the-job injury. Your only recourse is workers' compensation benefits. However, if someone else is responsible for your injury, you may be able to file a lawsuit against that other party.

For example, if you are in a car wreck while working, you may be able to sue the other at-fault driver. In most instances, however, the workers' compensation insurance company is entitled to be reimbursed for the wage loss and medical payments they made, from any monies you receive from that other party. It is therefore essential to consult with a workers' compensation lawyer if you believe that someone other than your employer is responsible for your injury.
When Should I Get a Lawyer for a Work-Related Injury?
Suffering from a workplace-related injury is not a simple thing. Dealing with the rules and the timelines of workplace-related injuries is often confusing and frustrating. Many employers' insurance company agents will attempt to reach a settlement with an injured worker in the first few days after the injury occurs. They know the worker can be in a fragile state and possibly open to a settlement. Or, your employer may fight your claim and insist your own misconduct was responsible for your injury.
These are some of the reasons why you should hire a workers' compensation lawyer as soon after your injury as possible. An experienced workers' compensation lawyer can look at your case, help you understand which injuries will be eligible for benefits and let you know about the state's time limits for filing a claim. They can also assist you in keeping track of important information like doctors' visits, medical bills and emergency room visits, interview witnesses, and develop evidence to help you win your claim.

When You Suffer a Workplace-Related Injury, Contact KBG Injury Law
If you have any more questions or concerns, please contact us for a free consultation. Or, you can call us at 1-800-509-1101.