Yes, it is possible to apply for both Social Security Disability Insurance (SSDI) benefits and Workers' Compensation benefits.
It is, however, not quite as easy as it seems. SSDI and workers' comp operate under different rules and how they award benefits. If you are receiving both SSDI and workers' compensation, there may be some restrictions on how much money you can receive using a formula we will explain below. There is also always the chance you may be eligible to receive one but not the other.
Regardless of these possible restrictions, it is a good idea to apply for both SSDI and workers' compensation if possible. Many states have different rules about how to apply for both benefits, so it is a good idea to work with a disability lawyer to help you navigate this often complicated terrain.
---
Table of Contents
---
What Are the Differences Between SSDI and Workers'Compensation?
Although the rules about how SSDI and workers' comp work together may differ from state to state, each program offers benefits to injured workers in different ways and judges eligibility in different ways. Keep the following points in mind when deciding between the two:
Eligibility: You are eligible to receive workers' comp from day one of employment.If you started a new job on Monday and got hurt on the job on Wednesday, you can receive workers' comp. On the other hand, you are only eligible for SSDI if you have met specific wage requirements. To qualify for SSDI benefits from the Social Security Administration (SSA), you must have paid Social Security taxes and have earned 40 work credits. In 2018, you receive one credit for each $1320 you make, and you can earn a maximum of four credits a year. You must have gained 20 of these credits in the 10 years before your disability occurred. Younger workers, however, need fewer credits.

Location Coverage: Workers' compensation only covers injuries that occur on the job. Imagine you were working on the job around some chemicals that made you feel lightheaded. If you went home, then climbed a ladder to change a lightbulb and fell off, you would not be covered by workers' comp — even if you argued the exposure to these chemicals on the job affected your balance. Meanwhile, SSDI covers your disability whether it occurs on or off the job, so the SSA would look at the above scenario differently. If you could prove the exposure to the chemicals caused you to fall off the ladder at home and you suffered a permanent disability or one that will sideline you for at least 12 months, you are eligible for SSDI.
Injury Coverage: Under workers' compensation, you only need to be unable to perform the job you were doing when you were injured to qualify. Workers' comp also covers partial disabilities. Under SSDI, you need to prove your disability prevents you from doing any occupation, either physically or mentally. SSDI does not cover partial disabilities.
Length of Benefits: Workers' comp primarily provides temporary benefits for workers while they are recovering from their injury. Think of it this way — if you break your hand on the job and need that hand to do your job, workers' comp will provide income to you over the six to eight weeks it will take for your hand to heal. If your injury is more serious and disabling and you want to apply for SSDI benefits, workers' compensation can be used to help you through the waiting period for SSDI. But, SSDI provides long-term disability benefits. To qualify for SSDI benefits, you must prove your disability is either terminal or prevents you from working for at least 12 months at any occupation.
Start of Benefits: If you qualify for workers' comp, your benefits begin immediately. You should receive your first payment in the first month after your injury. If you qualify for SSDI and your initial claim is accepted, you will not receive your first payment until five months after the onset of your disability. SSDI has a very low acceptance rate on initial claims — about 30% to 35%. As a result, most SSDI claims can last several months to two years or more. This is one reason it is important to work with a disability lawyer to determine if you are also eligible for workers' comp — it could provide financial assistance while you are waiting for the decision on your SSDI claim.
If you are injured on the job and receive workers' compensation, it does not affect your ability to receive SSDI payments, either negatively or positively.
How Does Workers' Compensation Affect Social Security Disability Benefits?
If you are receiving both Social Security disability benefits and workers' compensation, you cannot combine the two benefits to receive more money than you were being paid for your job. The SSA requires that if you are receiving SSDI benefits in addition to either periodic or lump-sum workers' comp benefits, the total of these benefits cannot exceed more than 80% of your Average Current Earnings (ACE).
So, how do you calculate your ACE? The SSA uses one of three formulas to determine your ACE:
Your average monthly wage
Your average monthly earnings from your five highest-paid consecutive years
Your average monthly salaries from the one year you earned the most over the past five years
The good news is that they always use the formula that results in the most benefits for you.
How Do You Figure Out Your Potential Social Security Disability Benefits Reduction?
Once the SSA determines the ACE, this will then be applied to the total amount of benefits you are receiving from workers' compensation and SSDI.
So, let us assume your ACE works out to be $3000 a month. This means your total benefits from workers' compensation and SSDI cannot exceed $2400 a month. If they do, SSDI will reduce your benefits — which they call an offset — until it reaches the $2400 a month level. The SSA will minimize dependence benefits first if they are receiving any. If that is not enough to offset the amount you are receiving, your benefits will be reduced until the total reaches the mandated 80% level. Certain benefits are excluded from being included in the offset calculations, including veterans benefits and private pension or insurance benefits.

You should know that in most states it will be the SSDI benefit that will be reduced first, but not all of them — 16 states mandate the workers' comp award be cut first. A disability lawyer can help you determine how it works in Pennsylvania.
What If I Am Receiving Supplemental Social Insurance (SSI) Instead of SSDI?
If you are receiving Supplemental Social Insurance (SSI) rather than SSDI benefits, you have a different kettle of fish altogether.
SSI is a means-based program. Under SSI, an individual cannot have more than $2000 in resources or assets, while a couple cannot have more than $3000. If you are receiving workers' comp and it puts your resources above these two levels, you will not be eligible to continue receiving SSI benefits.
If you are already receiving workers' comp benefits and you apply for SSI, your application will be denied if your resources total more than the above limits.
How Does Workers' Compensation Affect Medicare Payments?
We are introducing the idea of Medicare here because it can affect the way you structure your SSDI and workers' comp payments.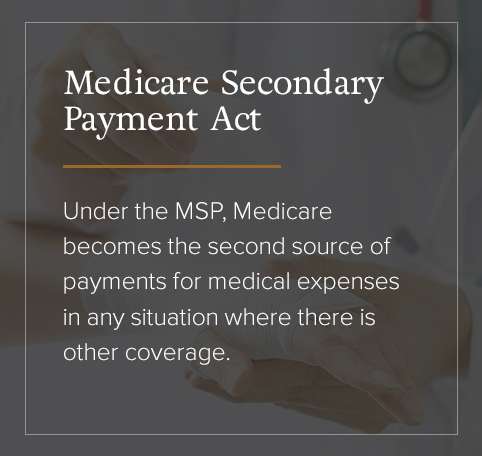 Under the Medicare Secondary Payment Act (MSP), Medicare becomes the second source of payments for medical expenses in any situation where there is other coverage. When the medical cost involves a work injury, an employer's insurance company that provides workers' comp must pay the medical expenses.
Things become more complicated if the injured employee negotiates a lump sum payment that includes medical benefits. There is a chance Medicare will ask that the funds for medical expenses in the lump-sum agreement be put aside to pay for any medical costs in the future so they will not have to pay them.
A person receiving SSDI benefits is not eligible for Medicare until 24 months after their claim is accepted or 29 months after the onset of a disability.
We recommend that you discuss the complex interaction between SSDI, workers' comp and Medicare with a disability lawyer if you are concerned about how your medical costs will be affected in the future.
Should I Apply for Social Security Disability Before or After Workers' Compensation Settlement?
The order in which you seek to apply for a workers' comp settlement and SSDI can be different from state to state. There may also be circumstances involving your disability that would affect the order in which you apply for these benefits and how you might apply for these benefits.
For instance, a properly structured lump-sum workers' comp settlement can have a discernible effect on the benefits you are receiving and how that affects the offset 80% total mentioned above. Before you make a decision, talk to a disability lawyer about the best course of action.
Is It Possible to Minimize How Much Workers' Compensation Will Lower My Social Security Payments?
Yes, it is possible to minimize the effect workers' comp has on your social security payments. The SSA has provided for a certain number of expenses to be excluded when calculating how much of your workers' comp benefit will count toward the 80% total. There are also ways you can structure a workers' comp lump settlement amount so it works to your benefit, which include:
Requesting the SSA to Deduct Certain Expenses From Your Total: Costs like legal fees, rehabilitation payments, medical expenses incurred in the past, payments to dependents or anything else you know you will have in the future — except payments from Medicare — will be deducted. Make sure you keep records of all these expenses. This is very important, as the SSA will want proof before they will deduct them from calculating the amount of a workers' compensation settlement.

Properly Structuring Your Lump-Sum Workers' Comp Settlement Payment: You can reduce or even eliminate the offset payment if you structure your workers' comp settlement to cover the rest of your life. This will reduce the monthly total the SSA uses to calculate an offset. You must make sure any settlement agreement includes an "amortization provision," and it must be included in the original settlement — you cannot add it in later.
Switching From SSDI to Social Security Retirement Benefits: If you are 62 or older, you qualify for Social Security retirement benefits. This is important to know because the workers' compensation offset provision does not apply to anybody receiving Social Security retirement benefits. So, if you are 62 now or approaching it, this could be an option to consider. Remember, however, that taking Social Security retirement benefits at 62 reduces your monthly retirement benefit.
Is It a Good Idea to Talk to a Lawyer?
Yes. Whether you are thinking about switching to Social Security retirement benefits or you want to try to negotiate a structured lump-sum workers' comp settlement with your employer or their insurance company, a disability lawyer can help.



Navigating rules the SSA uses to calculate the workers' comp offset can be complicated and confusing. Not only does the SSA apply different regulations from state to state, but they can also vary from region to region within a state. You can save yourself thousands of dollars in offset costs by working with a disability lawyer who understands the way the SSA applies the rules and can help you minimize or eliminate an offset.
The Experienced Team at KBG Injury Law Can Determine the Best Course of Action for You
As we noted above, working your way through the complicated rules and regulations of the SSA regarding workers' compensation and SSDI benefits can be frustrating and confusing. Our team of experienced and knowledgeable disability lawyers can help you determine the best course of action. We want to make sure you are receiving the most benefits you can in every situation.
At KBG Injury Law, we do not see you as just another client, but instead as a person who needs our help. It is our goal to treat each client as an individual and give them the attention they deserve. We understand how a disability can affect you emotionally and financially, as well as how important it is for you and your family to resolve these issues as quickly as possible.
We invite you to schedule a free consultation, where we can discuss your situation and determine how we can help you. You can reach us 24 hours a day at our toll-free line 1 (800) 509-1011, or visit our website to tell us about your situation. We look forward to assisting you.