You might be wondering how the Veterans Administration (VA) determines the veteran disabilities rate for those applying for benefits. This rating is basically a reflection of how severe your disability is and how much it impacts your ability to perform work. Here is a brief rundown on how your rate is decided.
---
Table of Contents
---
The Schedule of Rating Disabilities
The VA uses its Schedule of Rating Disabilities that assigns a percentage value to how minor or severe a disability may be. The ratings range from 0-100 percent. This will determine your veteran disabilities pay.
The schedule categorizes disabilities according to the part of the body that has been affected, with each category consisting of different groups of medical problems. Within each group is a list of diagnoses, and a code is assigned to each one.
For instance, there is a category devoted to digestive system issues that include ulcers, weight loss and other abdominal conditions. Under the "ulcers" category, there are four ratings: severe, moderately severe, moderate and mild. A severe ulcer is given a rating of 60 percent, while the other categories are rated at 40, 20 and 10 percent, respectively.
For each severity level, the VA also lists particular symptoms you must be experiencing to qualify at the particular percentage rate. In order for you to receive a 60 rating for an ulcer, for example, you have to suffer from periodic vomiting and have only received partial relief from any ulcer therapy you have received.
How Is My Rating Assigned by the VA?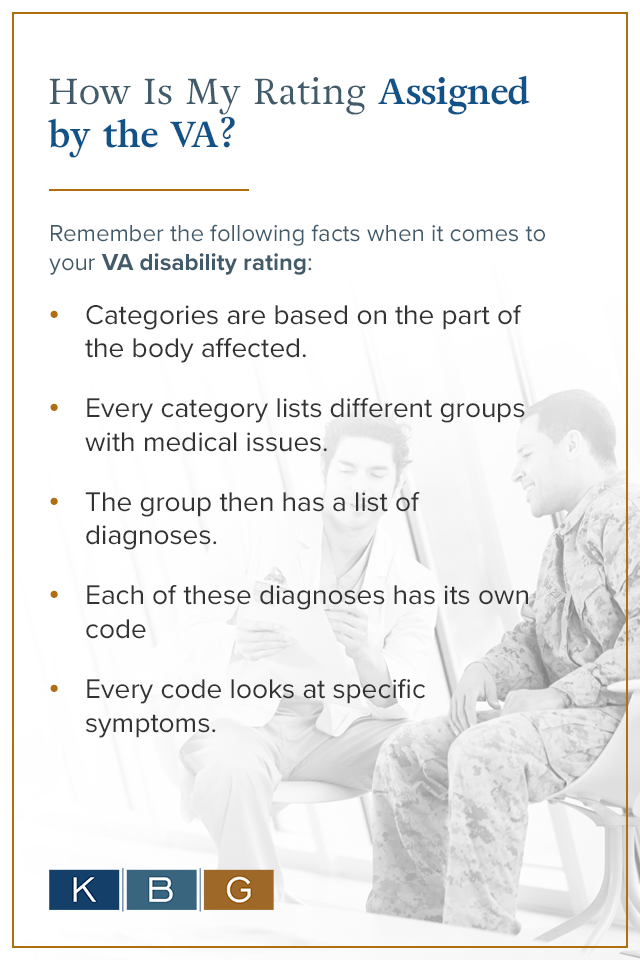 The idea behind a rating is that it allows the VA to compensate you for a service-connected disability that affects your ability to work. Using the above example of an ulcer, after you have had an exam from a VA doctor or presented medical evidence of how the ulcer affects you, the VA takes that medical evidence and assigns you a rating. As noted above, the VA then uses the Schedule of Rating Disabilities when assigning that rating. Remember the following facts when it comes to your VA disability rating:
Categories are based on the part of the body affected.
Every category lists different groups with medical issues.
The group then has a list of diagnoses.
Each of these diagnoses has its own code.
Every code looks at specific symptoms.
After these factors are taken into consideration, a rating is assigned. The VA may determine that your disability impacts your ability by to work by 30 percent, assigning you a rating of 30 percent for that disability.
If you have a disability that could technically qualify for more than one code,
you will still get rated under only one code. By law, if your disability fits more than one code, the VA is required to choose the one with the highest rating.
In the case that your disability is not listed in the schedule, the VA will use the code that best suits your disability and then create a rating using that code.
What If I Have Several Disabilities and Ratings?
If you have multiple disabilities — and as a result, multiple ratings — the VA does not create your final rating by adding all these different ratings together. Instead, it uses a formula known as the Combined Rating Table. When the VA creates a combined rating, it rounds up or down to the nearest 10 — if you have a rating that ends in 1 to 4, it will be rounded down, and if the rating ends in 5 to 9, it will be rated up.
Imagine you have two disabilities, one that is rated at 30 percent and another at 70 percent. Despite what you might think, this combination does not give you a rating of 100 percent. The VA uses the Combined Rating Table to determine your rating.
If you look across the top of the table until you find 30 percent and then go down the table until you find 70 percent in the left-hand column, you will see that your combined rating is 79 percent. Rounded up to the nearest whole number, your combined stability rating is 80 percent.
What Is the Pay for Each Rating?
How much each rating pays depends on several factors. How high your rating is, if you have a spouse, if you have children and if you have dependent parents can all affect the benefits you receive.

According to the most current Veterans Compensation Benefits Rate Tables:
If your rating is zero percent, you do not receive any disability compensation, but it may qualify you to receive priority health care and other benefits.
If your rating is 10 to 20 percent, you will not receive any additional compensation for dependents.
A 10 percent rating pays you $140.05 a month, and if your rating is 20 percent, you will receive $276.84 a month.
If you are single with no dependents, you will receive $420.83 a month with a 30 percent rating, $879.36 for a 50 percent rating and $1,833.62 for a 90 percent rating.
If you are veteran with a spouse and a child, you will receive $516.83 for a 30 percent rating, $1,026.36 for a 50 percent rating and $2,098.62 for a 90 percent rating.
The compensation rate tables contain ratings for a variety of situations, including your disability benefit rate for each additional child as well as rates for the support of a dependent parent or disabled spouse.
You will continue to receive benefits for children if they live with you and are under the age of 18 or if they are between the ages of 18 and 23 and attending a college, vocational institute or other form of schooling. All older children who are in school increase benefits because of the cost of attendance.
Can I Appeal for a Higher Rating If I Think My Current Rating Is Too Low?
Yes, but it is important to know that if you want the VA to reconsider your rating, it will start from the beginning to look at your disability rather than only considering that you feel you deserve a higher rating. On the one hand, the VA may say you do deserve a higher rating based on your disability. However, it may also decide that you deserve a lower rating.
Before you request a change in your rating, make sure you talk to your doctor about your actual condition and to your attorney to make sure you have a good case before approaching the VA. The more medical evidence you can present that supports your request, the more likely it is that you will be successful.
Can the VA Reduce My Disability Benefits?
Yes, when you receive a disability rating, the VA can re-examine you in order to determine if your disability warrants its current rating. The VA can increase, reduce or even terminate your benefits when you are given a re-examination. It is important to know, however, that the VA does not schedule re-examinations for every kind of disability rating, and even with a re-examination, not every rating will change.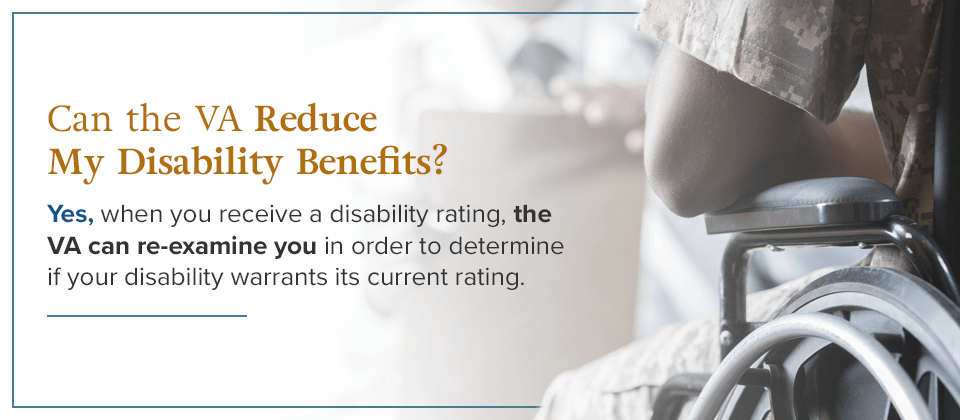 The VA knows that not every medical condition is permanent. Some injuries heal, and if they do not heal completely, they improve. It is necessary for the VA to determine if they are compensating you in an appropriate manner. When you are assigned your original rating, the VA will also determine if it wants to re-examine you at some point in the future.
The VA conducts these re-examinations within two to five years after the original assessment, and they can happen at any time if the VA determines that evidence exists showing that your condition has changed. Regardless of which of these two reasons the VA uses to decide to give you a re-examination, you will receive a re-examination letter that will inform you about where and when the re-examination will take place.
Do I Need to Pay Attention to a Re-Examination Letter?
Yes you do, because if you ignore it and do not attend the scheduled re-examination, the VA can use it as a reason to terminate your benefits. If it is difficult for you to attend the re-examination at the scheduled time because of other commitments, you can reschedule. When you receive a notice of re-examination, it will include information on how you can reschedule your appointment.
The VA cannot reduce your service-connected benefits if it does not send you a re-examination notice. If your benefits are reduced without receiving such notice, you should contact an attorney immediately. In many cases, doing so will mean a full reinstatement of your rating.
Who Cannot Be Scheduled for Re-Examination?
While the VA can schedule some veterans for re-examination, others are considered "protected," and their rating cannot be changed, nor will their disability benefits be reduced. For instance, any veteran who possesses a P & T rating (which stands for permanent and total) will not be re-examined. The situation is similar for any permanent or static injuries, such as blindness or a missing limb.
The VA will typically not ask for a rating re-examination in the following additional cases:
You are over 55 years old: The VA believes that after you are 55, it is much harder for you to reenter the workforce.
Your disability is static and will not change: You would receive this rating, for instance, if you lost an arm or a leg.
You have a permanent disability: Permanent disabilities include things like blindness and deafness.
Your disability rating is only 10 or 20 percent: When you have a minimal rating for your disability, it is unlikely that you will be re-examined.
Reducing one rating would not change a combined a disability rating: Taking the above example, if the VA re-examined you and found that your 30 percent rating could be reduced to 20 percent, but your other rating remained at 70 percent, it is unlikely that your 80 percent combined rating would change. If you receive a re-examination notice from the VA and you fall into any of the categories listed above, you should contact the VA using the information on the re-examination notice and tell them why you believe you do not need a re-examination. You may be able to cancel it.
What Are Protected Ratings?
Some veterans benefit ratings are considered protected according to VA regulations:
The five-year rule: If you have had your rating for at least five years, the VA cannot reduce it unless it can present documentation that shows your condition is improving on a sustained basis.
The 10-year rule: After 10 years, the VA cannot terminate a service-connected disability rating. It can be reduced, however, if the VA can prove that the disability has improved. The only time benefits can be terminated is if the VA can prove you committed fraud.
The 20-year rule: After 20 years, the VA cannot terminate your rating, nor can it reduce it below the lowest rating held for the past 20 years. So if you have had a 40 percent rating for the past 20 years, the VA cannot reduce it below that percentage. Once again, the benefit can be terminated only if the VA can prove fraud.
The 100 percent rule: In this case, the VA needs to prove that your health has improved so much that you are now able to do substantial work. Since most veterans with a 100 percent rating are dealing with one or more significant service-connected medical disabilities, it is unlikely that benefits would be decreased or terminated.

The Onus Is on the VA
If the VA wants to change your rating and reduce your benefits, the onus is on them to provide substantial evidence that your condition has changed before they can change your rating. That does not mean, however, that you can just sit back and not worry about your rating. If you receive a Notice of Re-Examination, you still need to keep your appointment or reschedule it. If you miss the appointment, the VA can terminate your benefits even if you know your rating has not changed.
If you attend the re-examination and the VA tries to reduce your rating, you can request a hearing. If you have not already done so, you should contact an experienced attorney who can help you prepare your case and gather the medical evidence you need to show that your rating should not be reduced.
It is also a good idea to talk to an attorney if you believe that your rating is too low and you wish to appeal it, you think that the VA has reduced your rating without sending you a Notice of Re-Examination, or you qualify in a protected category. An attorney can be especially helpful if your disability makes it difficult for you to gather the evidence you need and file that evidence on time.
When to Speak With an Attorney at KBG Injury Law
The VA is required to perform a thorough review of your medical file when determining your veteran disabilities rate. The agency sometimes makes mistakes, however, when applying its complex rating criteria. You might, for example, feel that your disability is more severe than the VA says, even though it has been properly rated according to its schedule.
If this is the case, then you may need to seek an attorney's help in order to receive the proper veteran disabilities pay. Please get in touch KBG Injury Law to learn more by calling 1-800-509-1011. We are happy to offer a free consultation. You can also visit our contact page, where you can leave your contact information and some details on your situation. A member of our team will get back to you as soon as possible.