If they qualify, veterans who have suffered a service-related disability and have not received a dishonorable discharge are entitled to a monthly benefit from the Department of Veteran Affairs (DVA). Benefit amounts, which are both federal and state tax-free, range from $136 to as much as $3,400 a month, depending on the severity of the disability and number of dependents.
If you are a veteran and interested in applying for disability benefits, you need to fill out VA Form 21 – 526, the Veterans Application for Compensation or Pension, as well as a DD214 (discharge paperwork). These forms can be found at the Department of Veterans Administration's website.
Along with filling out these applications (which you can do online or go to a local DVA office and have someone assist you), you must provide all relevant evidence of a disability, such as a doctor or a hospital report and other records, like marriage and birth certificates for you and your dependents. Always send copies — never originals.
If you have any doubt about whether or not you should file for veterans' disability benefits, always file.
In order to be eligible for any veterans' disability benefits, some of the following must be true:
You are a U.S. military veteran.
You are an active member of the military who will be discharged within 60 to 180 days and be included in the Benefits Delivery at Discharge program (BDD).
You are an active member of the military within 60 days of discharge through the BBD Quickstart claim program.
You have been diagnosed with a disease or disability.
The disability or illness resulted from an incident during your active service.
The disability falls into the category of "service-connected," or you can prove that there is a connection between your disability and an incident suffered during active service.
These benefits may also include any expenses that are incurred during rehabilitation or treatment of the disability. Veterans who are totally disabled, have a low income and are older than 65 can also apply for Disability Pension, which supplements a veteran's income.
Once you have submitted all the necessary paperwork, your application will undergo review by the DVA's regional office closest to you. The DVA determines whether you qualify for benefits. If you do, it will assign you a disability rating, which ranges from 10 to 100 percent in 10 percent stages. The amount of money awarded in each stage is strictly determined by law. See more about compensation benefit rates below.
---
Table of Contents
---
Post-Traumatic Stress Disorder
In recognition of the increased number of PTSD cases and their importance, the DVA shortened the process so that any veteran applying for benefits because of PTSD does not need to provide proof that they suffered a traumatic event that led to this diagnosis. If a DVA psychiatrist or a psychologist provides a diagnosis for the veteran that they have PTSD and that fear of hostile enemy combatants or terrorists developed during the veteran's active service, DVA will grant the veteran benefits.
Why Does My Disability Need to Be "Service-Connected"?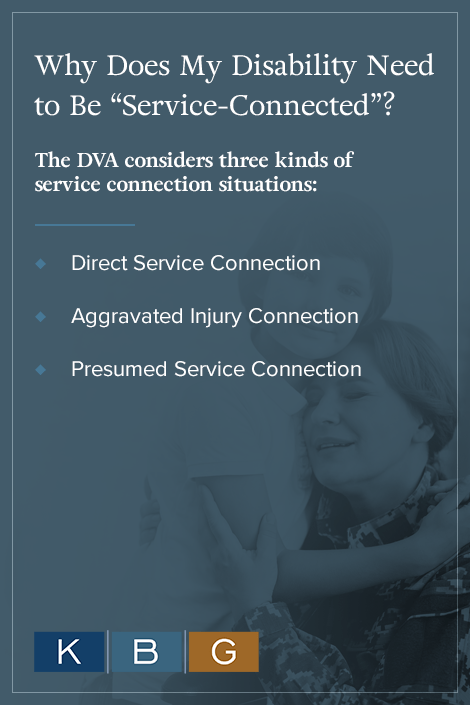 In order to be eligible for veterans' disability benefits, you, of course, need to be a veteran. And your disability or disease needs to have been connected to or related to your active military service. The DVA considers three kinds of service connection situations:
Direct service connection
Aggravated injury connection
Presumed service connection
Let's take a closer look at all three:
Direct service connection: Your disability is directly connected to your military service, such as a combat injury. You must provide medical evidence that your current disability is the result of this injury and give evidence of the incident that caused it.
Aggravated service connection: You entered the military having a pre-existing condition, which was noted in your entrance exam. As a result of your military service, this pre-existing condition has worsened. You need to show proof that an incident during your service or the service itself aggravated this pre-existing condition.
Presumed service connection: If you are a veteran having served 90 days minimum, and you develop a disability or disease that could be rated 10 percent or higher that is directly connected to military service, you are eligible for benefits. Under federal law, some of the disabilities and illnesses that fall into the section include ALS, certain tropical illnesses, tuberculosis and multiple sclerosis.
Veterans' Disability Monthly Rates
The rate of monthly benefits you receive from the Department of Veterans Administration falls into strict categories of payment. Your disability is rated on a percentage scale from 10 to 100 percent. If you are a single disabled military veteran, and your disability has been rated at 10 percent, you will receive $136 every month. Consider the following information as well:
If you have a disability that is rated at 30 percent or higher, you may also be eligible to receive benefits for your dependents, who are rated on the same scale.
If you are a veteran with a certain disability, and you are married with a child, you are eligible to receive $503.15 each month.
You may also receive $24 a month for each additional child under the age of 18 and $79 a month for every child over the age of 18 who is in school or college.
If you are rated at 100 percent disability, and you have a spouse and a child, you are eligible to receive $3,261.10 every month.
For every additional child under the age of 18, you may receive $82.38 a month. For every child over the age of 18 in school or college, you may receive $266.13.
You may have more than one disability as a result of active service. If this is the case, the DVA does not just add the disability ratings together. A 50 percent rating on your first disability and a 10 percent rating on your second does not give you a 60 percent rating. The DVA uses a formula that first determines which of your disabilities is the most severe.
If your first disability is rated at 50 percent, that means you are still 50 percent effective. Your second disability rating of 10 percent is then applied to your 50 percent remaining effectiveness. Your compensation rate may be only around 53 or 54 percent overall.
If you have any questions about these monthly veterans' benefits compensation rates, you should contact the DVA, as the rates can change every year.
Can I Receive Veterans Disability Benefits and Social Security Disability Insurance Benefits at the Same Time?
It is possible to receive both benefits, but the application process and eligibility criteria for each are very different. Even if you are rated 100 percent disabled, it does not mean that you will automatically receive Social Security Disability Insurance (SSDI) benefits. In this case, it is strongly recommended that you consult with a lawyer who understands both systems.

What Do You Do If Your Application Is Denied?
It is not unusual for disabled veterans applying for benefits to be denied. If you are a veteran who has applied for disability benefits, and the DVA turned down your application, some of the reasons it may cite for the denial include the following:
Your disability is the result of your own misconduct.
You were dishonorably discharged.
Your disability occurred while you were avoiding active duty (such as deserting or AWOL).
Your disability occurred while you were imprisoned or being held because of a civilian court offense or court-martial.
Also, as part of its investigation of your application, the DVA may also deny your application because of your service connection status. In these situations, the DVA will attempt to provide evidence that your disability or illness is the result of another cause that occurred after you left active service.
Don't be dismayed. Initial denials are not the final word in this process.
There are many cases where you may still receive your entire or even partial benefits if you have been initially denied. If you have been denied veterans' disability benefits, especially because of a dishonorable discharge or your service connection status, you should contact a qualified veterans' administration lawyer immediately. For instance, it is possible to apply for a Discharge Upgrade. A lawyer may help you prove that the DVA is mistaken about your service connection status and that your disability did occur as a result of your military service.
The Appeals Process
Appealing the denial of a veterans' disability benefits application is not a piece of cake. It can be confusing and time-consuming. You have only one year from the time your initial application is denied to file an appeal.
If the DVA has denied your veterans' disability application or you wish to apply for a discharge upgrade that would make you eligible for veterans' disability benefits, contact a DVA-certified veterans' disability lawyer as soon as possible.
The veterans' disability benefits appeal process contains several stages. Remember the following:
First, file a written appeal, known as a Notice of Disagreement, with the local or regional DVA office that denied your initial application. The DVA doesn't have a form called a Notice of Disagreement. Use a Statement in Support of Claim form. All these forms are available on the DVA's website.
You don't need to tell the DVA all the reasons you disagree with their denial. You just have to say that you disagree. Make sure you include the date of the denial on the form and write Notice of Disagreement prominently on it.
You could ask for a review at your local DVA office or request a review by the Board of Veterans Appeal (BVA).
If you have asked for a direct appeal to the BVA, the DVA will prepare a Statement of Case and send it to you.
When you receive this Statement of Case, you have 60 days to file your appeal with the BVA using Form 9.
If you have requested a hearing, the BVA will then schedule one.
If you are still denied, you may file an appeal with the U.S. Court Of Appeals for Veterans Claims.

Form 9s are known for being hard to fill out and confusing. If you make a mistake filling it out, it can have a direct impact on your ability to receive benefits. Your veterans' disability lawyer can help you with its preparation and filing.
The Benefits of Having a DVA-Certified Veterans' Disability Lawyer
Hiring a veterans' disability lawyer won't speed up the DVA's decision-making process about your initial application or your appeal, but it will make your life a lot easier. Veterans' disability lawyers work hard to make sure you get all the benefits to which you are entitled. DVA laws and regulations are confusing, subject to frequent change and hard to understand. Having a veterans' disability lawyer on your side is a real plus.

Remember that many lawyers can help you with disability claims, but in this case, you must find one who has the proficiency and understands veterans' disability law. Here are some good questions to ask an attorney you are considering hiring to help you with an appeal:
Have you been accredited by the DVA to work on veterans' disability cases?
How many years have you practiced veterans' law?
Do you attend sessions or seminars that keep you up-to-date on changes in veterans' law?
Are you able to help me receive benefits at my earliest effective date?
How can you help me get the highest possible disability rating?
Can you represent me through all my appeals?
Have you been admitted to practice before the U.S. Court Of Appeals for Veterans Claims? (This applies only in cases where all other appeal attempts have been denied.)
If your case involves sexual trauma that you suffered while in military service, look for an attorney who is familiar with the obstacles survivors of sexual assault must face. Contact the Service Women's Action Network (SWAN). It refers both male and female veterans with sexual trauma to attorneys who are familiar with this kind of case.
As for fees, veterans' disability lawyers may charge between 20 and 33.5 percent to work on an appeal. These fees will be paid only if the veteran wins their appeal and is awarded benefits.
If you need an attorney for a discharge upgrade, lawyers can set their own fees for these cases, but they need to be paid up front. You and your attorney can work out those details.

KBG Injury Law Can Help You With Your Veterans Disability Applications and Appeals
At KBG Injury Law, we see any case involving veterans as critical. No matter how long you served your country, we appreciate the sacrifice involved, especially if you have suffered a disability while in active service. We care deeply about our clients and work hard to treat each one as an individual. We recognize that each case is different and requires special care.
KBG Injury Law lawyers are experienced in veterans' disability cases, and our staff includes lawyers who have been certified by the DVA to work on veterans' appeal cases.
If you are a veteran with a disability or an illness that you feel is directly related to your active military service, and your appeal for disability benefits has been denied, we want to help. For a free consultation, call us at 800-509-1011, or contact us online.