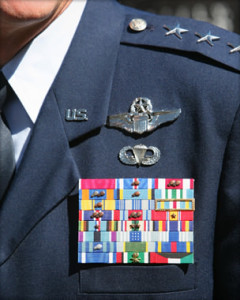 If you were disabled in the course of military service to our country, you may be entitled to receive monetary benefits. The Department of Veterans' Affairs, formerly known as the Veterans' Administration, administers benefits programs that provide assistance to veterans with service connected disabilities and, in some cases, non-service connected disabilities.
APPLYING FOR BENEFITS

The process of obtaining veterans' disability benefits starts with an application for benefits through the Department of Veterans' Affairs. To apply, you need to complete VA Form 21-526, Veterans' Application for Compensation or Pension and include any pertinent documentation, including medical evidence, such as physician or hospital reports, as well as any relevant dependency records like marriage or birth certificates. You may be eligible to receive an amount ranging from $123 to $3,100 per month, depending on factors, such as the degree of disability and your number of dependents. You may also be eligible for additional benefits in certain situations.

WHAT TO DO IF YOUR APPLICATION FOR VETERANS' DISABILITY BENEFITS IS DENIED

Sadly, it is not uncommon for eligible applicants to be denied veterans' disability benefits. However, a denial doesn't necessarily mean you are not entitled to benefits or prevent you from receiving them. In many cases, benefits are awarded after an appeal. If you've been denied service connected disability benefits or non-service connected pension benefits by the Department of Veterans' Affairs, contact an experienced veteran's lawyer to help you obtain the VA disability benefits to which you are entitled.

THE APPEALS PROCESS

The appeal of the denial of benefits is a multi-stage process. The first step is to file a written appeal with the VA regional office or medical facility that denied the application. You will then receive VA Form 9, which you must complete and send back. Your claim information will be forwarded to the Board of Veterans' Appeals, which will ultimately lead to a hearing in front of the Board if requested. If your appeal is denied, you can file another appeal with U.S. Court of Appeals for Veterans Claims. All correspondence and filings during the appeals process must occur within the specified time frames.

LEGAL REPRESENTATION DURING THE PROCESS

The appeals process can be cumbersome and confusing, and any misstep along the way can reduce your chances of appealing successfully. Representation by an attorney with extensive knowledge and experience regarding all appeal procedures can greatly increase your chances of obtaining the benefits you have earned through your loyal and patriotic service to our country.
To discuss personal injury representation,
please call us toll-free (800) 509-1011, or Request a Free Consultation.