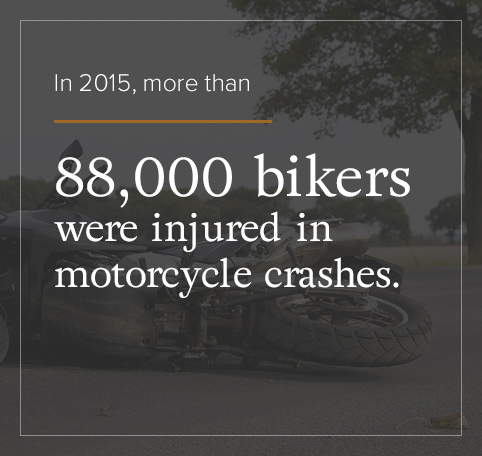 On a lovely late spring afternoon, you decide to fire up your motorcycle and see some of the beautiful Pennsylvania scenery. As you are making your way through the countryside, a driver suddenly crosses into your lane without signaling, and you are thrown from your bike. You wake up in the hospital emergency room with a doctor explaining to you how you have been injured and how long it may take for you to recover.
In 2015, more than 88,000 bikers were injured in motorcycle crashes, and nearly 5,000 died. With roughly 8.6 million bikes on the road, there is a good chance you could find yourself involved in an accident.
As you are lying there in your hospital bed, your first thoughts may be, "How will I pay for all this? What about all the time I will be off the job? All those lost wages." Therefore one of the first things that you should do if you are injured in a motorcycle accident in Pennsylvania is call an attorney who is experienced in dealing with these kinds of cases.
Whatever you know about car accidents in Pennsylvania, you can set aside. There is a different set of rules about motorcycle accidents that you need to know as you go ahead.
---
Table of Contents
---
How Does Motorcycle Insurance Work in Pennsylvania?
You are required to have insurance for driving a motorcycle in Pennsylvania, just as you need insurance when you drive a car. Your motorcycle insurance, however, is very different from your car insurance in several important ways:
1. First Party Benefits Do Not Exist for Motorcycle Drivers
Unlike car insurance, insurance for motorcycles generally does not contain first-party benefits and so does not cover medical expenses suffered in an accident, regardless of who is to blame. That means your bills will go to your health insurance company, which will pay all medical costs covered by your policy, and the rest of the costs will be passed on to you.


2. You Can Sue the Person Responsible for Your Accident
Unlike the limited car accident tort laws in Pennsylvania — a no-fault state — you can seek repayment of these bills from the person who caused the motorcycle accident. That is the good news.
3. Your Health Insurance Company Has a Right to Subrogation
The unfortunate news is that if you do receive a settlement in your case, your health insurance company could pursue a Subrogation of Benefits, which essentially means it asks you to repay the costs for your medical bills.
How Will I Know If My Health Insurance Company Seeks Subrogation of Benefits If I Am Involved in a Motorcycle Accident?
Check your healthcare policy. It will be spelled out there in black and white. Or call a representative of your health insurance provider and ask them about their policy on subrogation. That way you will know for sure, but you can count on the fact that it will be there.
What Are the Most Common Types of Motorcycle Accidents?
A motorcycle accident can happen a variety of ways, but four main situations can lead to a serious collision:
Head-on: A motorcycle hits another vehicle head-on.
Rear end: These accidents often happen when drivers change lanes or when you are stopped waiting for a light change. An inattentive driver collides with your motorcycle from behind.
Broadside: This is an all-too-familiar situation. You have the right-of-way on your motorcycle, but another driver cuts you off when they were making a turn or does not yield when you have the right-of-way.
Sideswipe: This usually occurs on highways with two more lanes. An inattentive driver veers into your lane and collides with your motorcycle.
What Kinds of Injuries Can Be Sustained in a Motorcycle Accident?
Motorcycle accidents can often cause severe injuries. Some of the more common forms of injuries that result from motorcycle accidents are:
Injuries to hands and arms: If your bike wipes out or falls over and your hands contact the ground, any abrasion the results from contact with the road can result in permanent nerve damage.
Head injuries: Probably the most feared kind of motorcycle injury. Even motorcycle drivers wearing a helmet, which is the law in Pennsylvania, can suffer serious head injuries, permanent brain damage or death in an accident.
Broken bones: It is not uncommon for motorcycle drivers involved in accidents to break or fracture one or several bones because of the collision.
Injuries to legs: Injuries to your legs are the most common form of injuries in motorcycle accidents. Abrasions, cuts, broken bones or even losing the functionality in one or both of your legs can happen to you if you are involved in an accident.
Is There a Timeframe for How Long I Have to Pay My Medical Bills After My Motorcycle Accident?
In terms of a timeframe for motorcycle medical bills, you should pay as soon as possible. You may be tempted to wait until you sort out who is responsible and what they owe you for all your medical bills, but this is a mistake. If you wait to pay for medical bills, you may imperil your credit rating and be the subject of endless harassment by doctors or the medical facility where you were treated.

Responsibility and fault in a motorcycle accident are mostly irrelevant when it comes to paying your bills.
You should always use your health insurance first. There are some The insurance companies intend reasons for doing it this way, regardless of the possibility of subrogation hanging over your head. Health insurers often have negotiated discounts with doctors and hospitals.
That means when you go through your health insurance to pay your medical bills, you are paying less than if you had paid them out-of-pocket or waited until you received any settlement.
For instance, if you sue the responsible party and receive a judgment in your favor, you will receive a single check that covers the amount of the settlement. There will not be a check to cover medical expenses, a check to cover lost wages and a check to cover pain-and-suffering. So if you had waited for the responsible party to pay for your medical costs before you accessed your health insurance coverage, you would lose a lot more of that single check on medical costs because you had not taken advantage of the discounts that the health insurance company had negotiated.
There are some downsides using your health insurance to pay for your medical treatment after a motorcycle accident through your insurance company:
You will need to pay for all deductibles and co-pays and this can sometimes add up to thousands of dollars depending upon the terms of your health care plan.
Health insurance will not cover every cost. Health insurance will not pay for any lost income, any out-of-pocket costs or any pain or emotional suffering.
Is There a Certain Health Insurance Plan That Is Better for Motorcycle Accidents?
Motorcyclists should take the time to look over health care policies to find the one that will best suit them. Most healthcare policies fall under Health Maintenance Organizations (HMOs) or Preferred Provider Organizations (PPOs). To some degree, it depends on how far you take your motorcycle. HMOs cost less but are more restrictive about using in-network doctors and facilities. PPOs cost a bit more but are less restrictive in terms of doctors you can and cannot use.
If you only use your motorcycle for short trips, you may be fine with the HMO option, as access to in-network physicians and hospitals will probably be relatively assured. If you like to hit the open road and take long bike trips, however, the PPO might be your best option because if you are involved in an accident far from home, you want to have access through your healthcare to a doctor and hospital.
It pays to do your homework and take time to find the kind of health care insurance that will provide you with the best coverage if you are involved in a collision.
How Do I Seek Repayment From the Person Who Caused the Accident?
As we noted above, there are significant differences in Pennsylvania law when it comes to car accidents and motorcycle accidents. If you are involved in a car or truck accident, Pennsylvania is a no-fault state. That means your own insurance company will cover most of your medical expenses and lost wages. Unless you have bought full tort insurance — which most drivers in Pennsylvania have not — your ability to sue the responsible party is very limited.

The situation is completely different for motorcycle accidents. Since your motorcycle insurance company will not pay for medical costs or lost wages, the only way you recuperate these expenses is by suing the responsible party.
Note that your motorcycle insurance should include coverage for underinsured/uninsured motorist coverage (UIM/UM). You can choose different levels of coverage. If the other driver only has limited insurance or none, you can file a claim on your own motorcycle insurance policy that will help cover the costs for your medical expenses at least.
Once you are either recovered or know how long the recovery may take and expenses incurred, you can then file a personal injury lawsuit against the other driver. Make sure the claim includes all-over healthcare costs including co-pays, deductibles and lost wages.
If you are working with an experienced motorcycle accident attorney — always a very good idea in motorcycle accidents — they will collect all the information from you regarding your accident. They will also gather relevant information from witnesses and the police report if there is one. The attorney will probably also give you some basic advice:
Make sure your motorcycle is secured somewhere.
Tell your insurance company and the other driver's insurance company where they can locate the motorcycle.
After you have informed the insurance companies where they can find your bike, cease all contact with them. At this point, your attorney will take over communication.
Insurance companies will ask you to give a recorded or written statement to them about the accident. Always decline this request. The insurance companies intend to find a way to deny your charges against their client. They will look for inconsistencies between the statements you may have given to the police and the one that you gave to them. Do not be surprised if they try to get you to make the statement when you are still in the hospital, possibly under the influence of painkilling drugs.
If you have suffered visible injuries because of your collision, have a family member or a friend take clear pictures of these injuries as soon as possible after the accident. Do not wait until the injuries have healed.
Your attorney will then calculate your medical expenses and collect all the documentation they can about wages you may have lost because of the accident. They will also make sure all of your health care bills have been paid.
Your attorney will then proceed with your claim. The first step is to try to reach a settlement agreement with the responsible party's insurance company. That is not likely to happen right away as they will inevitably push back against your initial demand for compensation. If they totally refuse a settlement of any kind, then your attorney take the lawsuit forward to trial.
Let KBG Injury Law Help You With Your Motorcycle Case
When you have been involved in a motorcycle accident, there are a lot of complicated factors that go into making sure that you receive the compensation to which you are entitled. Many motorcyclists do not truly understand the differences between car and motorcycle insurance in Pennsylvania. Our team of experienced personal injury lawyers can help you make sense of the motorcycle insurance laws in Pennsylvania and ensure you make all the right steps to be compensated justly. For instance, it is difficult for someone without a legal background to understand the law governing subrogation, which can affect how much of the compensation you can keep.

If you have been in a motorcycle accident and want to make sure you get the best possible settlement, protecting yourself from your insurance company, contact KBG Injury Law. We will review your case and help you figure out the best course to pursue.
If you would like to talk to us about your case, or even if you need some advice on figuring out how motorcycle insurance works in Pennsylvania, call us at 1-800-509-1011 or contact us online and a member of our team will get back to you as soon as possible.