There are many different forms of medical malpractice damages you may be able to obtain if you are successful in your case. These include medical expenses, lost wages, pain and suffering and more. If the malpractice led to the death of the patient, then their family members might also be able to obtain damages.
Medical malpractice occurs when a medical professional provides negligent or improper treatment to a patient that falls below the generally accepted standard of care within the medical community. To prevail in a medical malpractice suit, the patient must demonstrate that:
A professional duty was owed to the patient.
That duty was breached by the medical professional.
The injury was directly caused as a result of that breach of duty.
The injured patient must file a medical malpractice suit within two years of the date of discovery of the injury (or the date the injury should have been discovered) as a result of a doctor's or hospital's actions. However, suit may not be brought more than seven years of the date the malpractice took place, regardless of when the injury was discovered.
---
Table of Contents
---
A medical malpractice suit can be brought against a provider who may have contributed in any way to the damage or the injury caused by the malpractice. Examples of potentially responsible parties include:
The doctor: If the doctor's treatment or actions did not meet the accepted medical practice standards, then they are liable for the negative effects that resulted from their breach of duty.
The hospital: If a patient's injuries were the result of improper care by the hospital or poorly trained doctors or staff, then the hospital is liable. They may also be liable under the respondeat superior theory. This theory states that an employer may be held liable for the actions of an employee if the employee was acting in their employment capacity when the malpractice occurred. In other words, if a doctor is employed by the hospital and is responsible for medical malpractice, the hospital as the doctor's employer may also be responsible for any damages.
Nurses and other staff: Any medical personnel in attendance on the patient whose actions may have contributed to the patient's damages or injuries could be liable as well.
What Are Damages?
The concept of damages carries a specific meaning in the legal world. It has to do with the negative impacts you have experienced as a result of someone else's actions. In the case of a medical malpractice suit, the question to ask is, what losses have been suffered by the injured patient? In other words, what are the medical malpractice results for the patient?
The answers to these questions may include different types of losses ⁠— some may be more straightforward, while others are harder to pin down. Nevertheless, lawyers can calculate a financial amount that would appropriately compensate the injured party for all these types of losses.
There are two types of damages to consider in these cases:
Compensatory damages: Note the root word: compensate. These damages are meant to compensate for the losses a person has experienced from their injury to make them whole again. These damages are split into two categories: economic and non-economic damages.
Punitive damages: These damages are awarded to punish the defendant for outrageous conduct, where there has been willful or wanton misconduct or reckless indifference to the rights of others.
Being awarded damages in a medical malpractice suit can be challenging since you will need to prove your injuries were caused by malpractice. You will also need to place some sort of "price tag," so to speak, on them.
Let's look in greater detail at what types of damages you could recover, both within the categories of compensatory and punitive damages:

1. Compensatory Damages
Economic damages are easy to quantify. These damages are primarily focused on your medical expenses, past, present and future, and the wages you have lost due to missing work. While there are still some subjective aspects to general damages, such as future medical expenses, they are still usually tangible.
Special damages can be awarded for the income that you have lost while you have been recovering from the injury that was a result of medical malpractice, as well as any future earnings you may lose as a result. Special damages include future medical expenses, as defined by the IRS. Estimating future medical expenses can be difficult. It is critical for you and your attorney to sit down with the team of medical care providers and a life care planner to help estimate potential future costs.
When dealing with lost earning potential, you must calculate losses for many years, maybe even decades in the future. This is calculated in terms of present value. This is the financial concept that determines how much your weekly paycheck, or any other stream of income, would be worth if it were in your bank account today.
Think of it this way — if your employer was going to put all your salary in a bank account today to cover the next 20, 30 or 40 years, how much would that be? Your lawyer will hire a financial expert as an expert witness in your case who can speak to these difficult and complex financial calculations.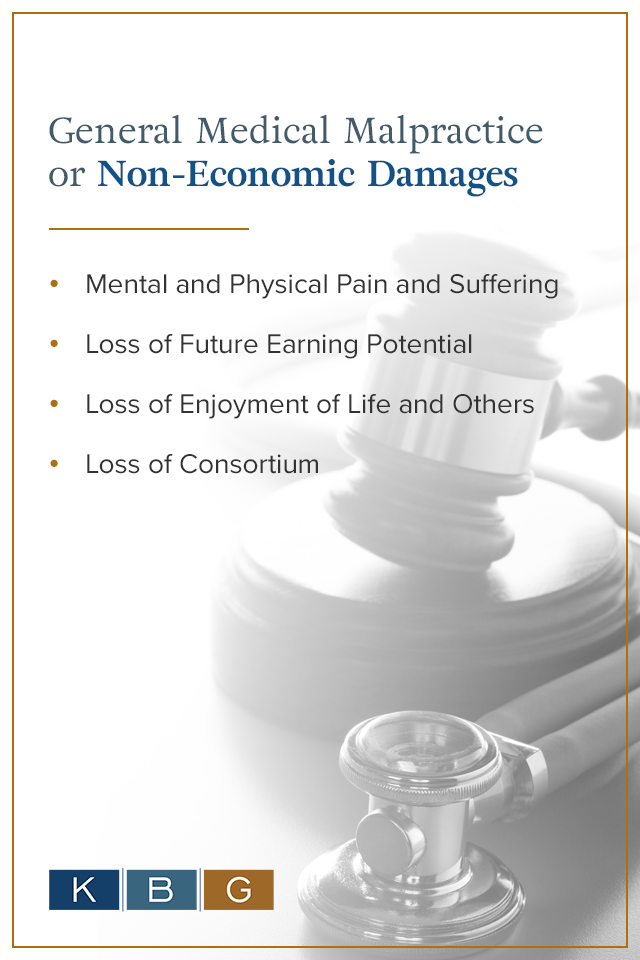 Several potential problems could arise in determining the economic damages that result from medical malpractice. It is important that you and your attorney discuss these possible hurdles to recovery. Economic damages could be affected if you:
Were unemployed at the time of your injury.
Had plans to take a new job that would pay you more money, but the injury prevented that.
Are self-employed.
Are retired.
Alternatively, non-economic damages are not as easy to identify and calculate. Non-economic damages are real, yet they cannot have a definitive price put on them. These include:
Mental and physical pain and suffering.
Loss of future earning potential.
Loss of enjoyment of life and others.
Loss of consortium (how the patient's injury affects their relationships with their entire family).
While these are somewhat abstract concepts, you will still need to arrive at a dollar value when trying to recover compensation. To find that dollar value, you and your attorney will have to provide evidence of the damages you are claiming. You might need a medical expert to testify on your behalf regarding the seriousness of your injury.
2. Punitive Damages
Punitive damages are usually much more difficult to recover because you must prove that the doctor knew they were harming you or, at least, that they were willfully reckless. Punitive damages go beyond the primary purpose of repaying a patient for the negative effects of their injuries. Therefore, many view them as superfluous.

The cases where punitive damages are legitimate are where medical staff or hospitals deserve to be punished for especially reckless or nefarious behavior.  For example, your doctor might leave a sponge or some other medical tool inside your body during surgery to ensure you would need a second operation to take it out. Another example is a hospital that allows a harmful virus to go untreated in a patient because calling attention to it may scare other patients away from the hospital.
The judge or the jury will decide the exact amount a patient can receive in punitive damages, somewhat similar to special damages, but it cannot be more than several times larger than the damages awarded in the general and the special categories.
How to Put a Value on Pain and Suffering
This can be the most challenging part of deciding upon an award for the plaintiff in a malpractice suit. How do you value pain and suffering? Some insurance companies use what is known as a "multiplier" in medical malpractice lawsuits. Insurance companies try to calculate the value of pain and suffering by making it worth some multiple of what you received in special damages. That is not always the case, however.
When most juries are considering damages, they do not think about things like multipliers. Sometimes what affects the amount awarded has much more to do with factors that are just as intangible as the award itself:
Was the plaintiff a good witness for themselves?
Was a plaintiff likable? Or did the jury seem to react to them negatively?
Did the jury believe the plaintiff?
Did the jury believe the defendant or their witnesses?
Does the plaintiff have a criminal record?
How difficult was it for the jury to understand the nature of the injuries caused by the medical malpractice?
As you can see, the preparation that you and your attorney need to do before any hearing involves preparing you for the trial. How you comport yourself can make an enormous difference in the amount of money that the jury will award you if they find the doctor or the hospital liable for your injuries.

Damages Awarded to the Patient's Family If the Patient Dies as a Result of Medical Malpractice
If medical malpractice leads to your death, your family is eligible to recover damages. Every state has a law determining the amount of damages that can be recovered, both economic and non-economic. These are known as survival and wrongful death statutes:
1. Survival Statutes
These allow a patient's family or their estate to recover damages that happened from the time the initial malpractice took place to the patient's death. They include all relevant damages that would have been awarded if the patient had survived except for future damages such as earning capacity. But these damages may be awarded as part of wrongful death statutes.
2. Wrongful Death Statutes
These are specifically designed to help the patient's family recover damages based on future monetary loss. It can be a more complicated calculation than the one used in a Special Damage award, as it takes into account factors like what the patient may have saved, spending habits, even their work habits. Loss of consortium is not normally considered under wrongful death suits, but those factors may be considered under Pennsylvania law.
Wrongful death claims must be brought about by the personal representative of the deceased's estate on behalf of their beneficiaries. In Pennsylvania, this can also include the parents of the deceased patient.
According to a case decided by the Pennsylvania Supreme Court in 2017, the statute of limitations for any medical malpractice case that involves survival or wrongful death situations will be two years from the date of the death of the patient and not two years from the date of their injury.
Limitations on Damages
In Pennsylvania, there are no limits on compensatory damages. There are no limits on how much a jury or a judge may award a plaintiff in a medical malpractice suit.

As for punitive damages, if a medical provider was reckless in their care of a patient, but the misconduct was not intentional, state law caps punitive damages at 200 percent of special damages. Also, 25 percent of all punitive damages awarded to a patient go into the Medical Care Availability and Reduction of Error (MCARE) fund, which helps to pay damages to patients in cases where the doctor's malpractice insurance coverage will not cover the financial amount of damages awarded.
Why You Need a Lawyer to Help You With a Medical Malpractice Suit
Medical malpractice suits can be time-consuming and complicated. The time between when you first file a suit and when you go to trial can be as long as three years. Whether you eventually want to seek a settlement from the medical provider's insurance company or if you decided to take your case to trial, you are going to need the help of an experienced medical malpractice attorney to make sure you get all the compensation to which you are entitled.
A medical malpractice attorney serves another useful purpose. After they have gathered all of your medical information, talked to all the relevant witnesses and examined your chances at a potentially successful outcome of a malpractice case, they will tell you whether you stand a reasonable chance of winning. If you do not, they will tell you so.
If you do, however, they know the best ways to ensure that your malpractice suit will be a success. Whether it is negotiating with insurance companies' lawyers or trying the case in front of a judge or a jury, an experienced medical malpractice attorney is essential to a successful outcome.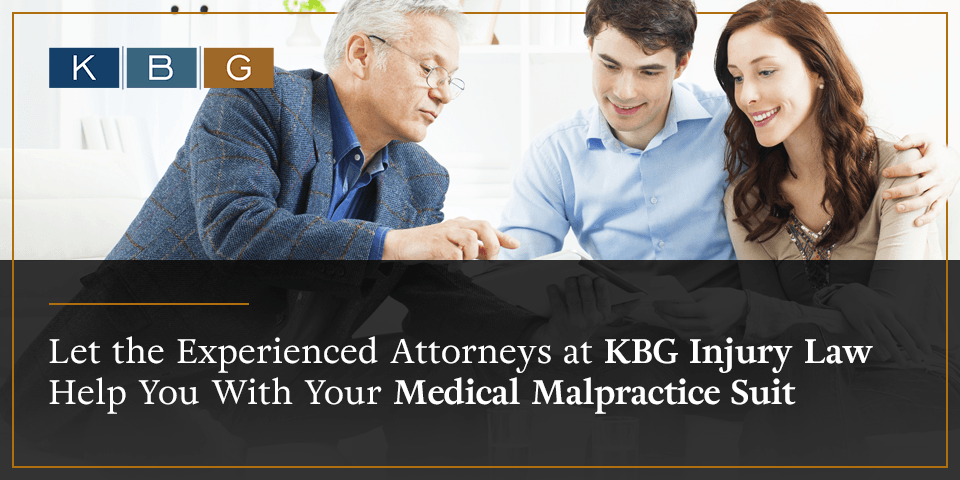 Let the Experienced Attorneys at KBG Injury Law Help You With Your Medical Malpractice Suit
Medical malpractice damages are a complicated matter, but an experienced medical malpractice attorney can analyze the details of your case to help you determine if a medical malpractice suit is a wise course of action and what sorts of damages you may be entitled to. The professionals with KBG Injury Law can answer all your questions regarding medical malpractice damages. If you would like a free consultation, you can call us at 1-800-509-1011 or visit our contact us page where you can leave your contact information and details about your situation. A member of our team will get back to you as soon as possible.