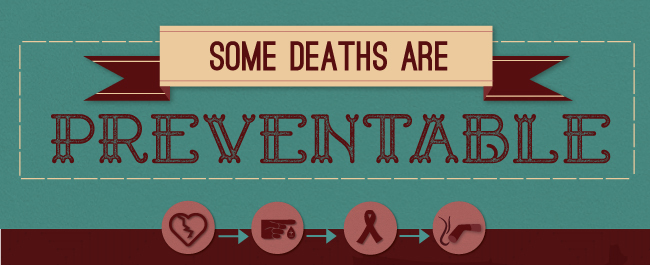 Did you know that over 30 percent of female deaths and 20 percent of male deaths under the age of 75 in the United States are preventable? In many cases, death resulted because of the negligence or actions of another party. Although nothing in the world can replace a loved one, those who remain should not have to worry about unpaid medical bills, lost income and other financial concerns.
If someone you love died a preventable death, it may be time to consider hiring a wrongful death attorney. At Katherman Briggs & Greenberg, we have helped clients in the central Pennsylvania region recover expenses and damages resulting from personal injury for over 30 years. When you partner with us, we will take your case personally — and you will get the results you deserve.
Preventable Death in the U.S.
Modern medicine and research continue to increase life expectancy, but there are still many preventable deaths that take our loved ones away from us. As a matter of fact, the U.S. has the worst preventable death rate in the world. Though it is improving, this is happening at a rate far slower than other countries like France, Germany, and the UK.
We invite death into our lives through a lack of good nutrition, physical inactivity and excess weight. Nearly a fifth of the adult population continues to smoke despite its well-documented dangers, leading to death an average of ten years earlier than non-smokers.
Because of these bad living habits, Americans end up paying $2.4 trillion in health care every year. Medical malpractice causes 200,000 deaths each year that could have been prevented. This caused $3 billion in payouts just in 2012.
We Can Help
At the law firm of Katherman Briggs & Greenberg, our exclusive area of focus is personal injury law. Our reputation in the central Pennsylvania legal community speaks for itself. We earn our clients the old-fashioned way — referrals. We have helped clients recover millions of dollars in damages, and we may be able to help you too.
Our personal injury practice includes injury resulting from vehicle accidents, products and premises liability, medical malpractice, denial of entitlements such as Social Security and veterans' benefits, head injuries and more. Nothing can replace your loved one, but you also should not have to worry about financial problems either. When any of these issues result in wrongful death in the central Pennsylvania region, our attorneys may be able to help you recover the funds you need to move on with your life.
Do I Have A Case?
The facts and circumstances surrounding every wrongful death case are unique. If you have a growing suspicion that the death of your loved one was preventable, it is time for you to schedule a consultation with Katherman Briggs & Greenberg. We are happy to meet you in one of our four central Pennsylvania locations or at your home. Our conversation will be kept completely confidential, and the initial consultation is free.
Do not let the death of your loved one become another statistic. For more information on preventable death and how much it costs the U.S., check out the infographic below. Interested in sharing this graphic on your own website? Simply copy the HTML code below the image to embed it in your next article or blog post.