Personal Injury Law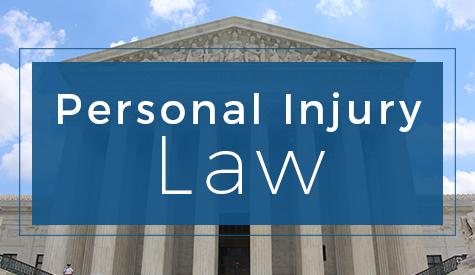 Personal injury cases deal with claims brought by people who feel they have been wronged and are seeking compensation. In some instances, claimants are seeking to recoup money for medical bills and expenses related to their injuries, while in others, they are attempting to get the disability benefits they believe they are entitled to because of their injuries.
No matter what type of personal injury is involved, proper legal representation will help the injured parties determine whether or not they should pursue a claim, and the amount they should be seeking as fair compensation.
Examples of Personal Injury Cases
There are many situations where someone could become injured due to the actions, or lack of actions, by another person. The following are some examples of personal injury cases.

This work is licensed under a Creative Commons Attribution-NoDerivs 3.0 United States License.
Auto Accidents
Auto accidents are a very common source of personal injuries. The US Department of Transportation reports that there were approximately 6 million auto accidents in 2014. Approximately 5.9 million passenger cars and 4.2 million light trucks were involved in crashes that year. These figures include collisions with other vehicles, stationary objects and pedestrians, as well as accidents involving vehicles leaving the road.
A driver who has been involved in an auto accident should make sure that they, as well as anyone else in their vehicle, are not suffering from any obvious injuries. Once they have accounted for everyone's safety, the driver should ask for the name and contact information of the other driver(s) and anyone who witnessed the accident. The other driver(s) should also provide their insurance information.
It is a very good idea to take some photos of any damage to the vehicle at the accident scene. Write down all the details of the accident that can be remembered shortly after the event. Do not add anything that is not clear. Instead, simply focus on the facts.
The driver and all passengers should visit their local Emergency Room for an examination shortly after the accident. It is possible to be injured in an auto accident but not have the injuries become immediately apparent. Undergoing a physical examination is a way to prove that injuries being reported stem from the accident and not some other event.
Motorcycle Accidents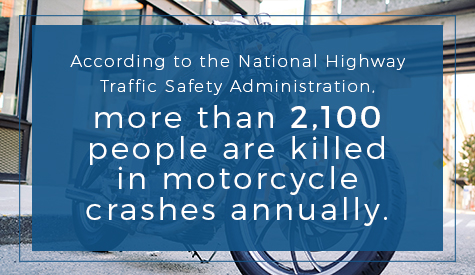 Motorcycle accidents are another type of motor vehicle accident. When they occur, they tend to be quite serious for riders and their passengers. According to the National Highway Traffic Safety Administration, more than 2,100 people are killed in motorcycle crashes annually. This type of accident has the potential to be much more deadly than one where someone is traveling in a closed vehicle. About 20 percent of car accidents are fatal, whereas 80 percent of motorcycle crashes involve loss of life.
Many motorcycle accidents involve the motorcycle operator coming into contact with a car or a truck. It is important to determine the facts of the case. The driver of the motor vehicle should write down their recollection or draw a diagram of the events that occurred. Details like whether the car hit the motorcycle or the motorcycle hit the car, and whether or not the motorcyclist was wearing a helmet, should be noted.
When preparing a statement following an accident, include only what was personally observed. Do not fill in any blanks with assumptions or guesses. No one who was involved in an auto accident is expected to remember every detail of the event. It is normal that, during a high-stress situation, some details may be fuzzy or forgotten altogether.
As in the case of the auto accident listed above, the driver and all passengers in the car should make arrangements to go to the Emergency Room for an examination following the accident, as a precaution. If the motorcyclist appears to have sustained only minor injuries, they should also go to the nearest E.R. for the same reason.
Heavy Truck Accidents
Heavy truck accidents are a specific type of personal injury case involving a person who has been injured in an accident involving a collision with a semi-truck. When this type of accident occurs, it is imperative to determine the full scope of the injured person's injuries. This may not be a quick or easy process, since an injured person may need to consult more than one medical specialist before a full prognosis can be made.
An accurate medical prognosis is required in order to calculate the cost of future lost income in a personal injury case. An injured person should keep copies of all medical bills, as well as any other receipts pertaining to expenses incurred as a result of the accident.
Head Injuries
Head injuries can be sustained during a number of circumstances. It is possible to experience an injury to the head during a motor vehicle accident, especially if the car in which one is traveling is hit from behind. The classic "whiplash" injury occurs when the neck undergoes a forceful, back-and-forth motion, which is similar to that of a whip being cracked.
If someone is traveling or sitting in a vehicle and is hit from behind, their head and neck can be pushed forward from the force of the impact and then snapped backward very rapidly as the energy dissipates. This type of injury can also happen while playing sports or during a physical assault.
People who sustain a whiplash-type injury may experience pain and stiffness in their neck, as well as headaches. Some people recover from their injury within a relatively short time with medical treatment that involves pain medication, exercises and perhaps consulting with a physical therapist and/or a chiropractor. Others who have been injured in this manner find that their soft tissue injuries take much longer to heal, and experience chronic pain in the neck or headaches long after the accident or incident.
Medical Malpractice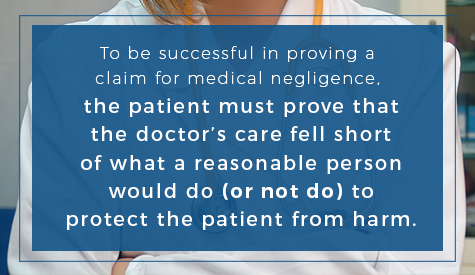 Medical malpractice occurs when a doctor either fails to act or takes an action, while treating a patient, that diverges from what is acceptable in the medical community and causes harm to the patient. To be successful in proving a claim for medical negligence, the patient must prove that the doctor's care fell short of what a reasonable person would do (or not do) to protect the patient from harm.
In order to prove a medical malpractice case, an injured patient must successfully prove four points:
The doctor had a legal duty to provide care or treatment to the patient.
A breach of this duty occurred that was severe enough to mean the doctor did not adhere to professional standards.
The breach of the professional standards was the direct cause of the injury or injuries to the patient.
The patient sustained damages for which the legal system can provide compensation.
The first point is generally easy to prove. If the patient was under the doctor's care in a hospital or clinic, the doctor has a duty to provide a reasonable quality of care toward the patient. This duty of care also extends to doctor visits in an office. It does not, however, apply to social relationships or if someone asks a doctor for advice in a purely private setting where there is no professional relationship.
Expert opinions are usually necessary to determine whether a breach of duty occurred. Unless the cause of the patient's injuries is readily apparent, an expert will need to explain how the breach of duty was directly responsible for them, as well as the patient's prognosis.
Damages need to be calculated based on the level of injuries sustained by the patient. If the doctor's negligence led to a permanent disfigurement or disability, damages for ongoing treatment, loss of income, compensation for future income and other expenses could be part of this calculation.
Premises Liability/Property Negligence
With the exception of motor vehicle accidents, these types of personal injuries are likely the most common ones seen by attorneys. "Premises" in this instance refers to private residences, commercial properties and public places owned by municipalities, such as sidewalks.
The type of personal injury accidents for which someone may consider consulting an attorney include the following:
Slip and Fall
Slip and fall injuries may occur indoors or outside. Interior falls may result from pooling of water or other liquids, wet conditions not having proper warning signs, floors being poorly maintained, area rugs put in place without a non-slip underpad in place, poor lighting conditions or clutter impeding aisles or walkways.
These types of injuries can also occur out of doors from stairs and decks being poorly maintained, ice and snow buildup, potholes and failure to repair footings for signage promptly. Allowing debris to collect and create a slip and fall hazard may also give rise to a claim.
Elevator Injuries
This branch of personal injury law also includes injuries sustained in an elevator accident. The injured person would need to show that their injuries stem from a defective elevator and/or that the building owner failed to perform proper maintenance on the unit that was responsible for the accident.
Pool Accidents
Injuries sustained in swimming pools are covered in this area of personal injury law. They would include claims that the negligence of a lifeguard led to a person at a public pool becoming injured while diving into water that was too shallow. It would also cover injuries sustained while walking on the pool deck, in the locker room or while using any of the facilities at the public pool.
Dog Bites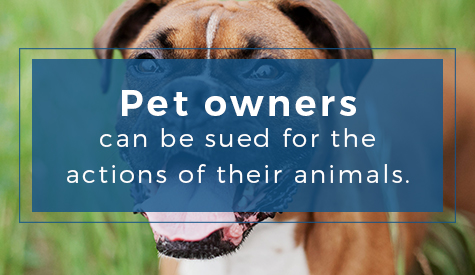 Pet owners can be sued for the actions of their animals. A dog owner can be held liable if the pet bites a person. If the attack is severe enough, the person can sue to recover damages for injuries, lost wages, assistive devices (in the case of damage to the eye, jaw, mouth or hands) or future care (medical treatment and therapies).
Other
Premises liability covers many other types of injuries that can occur on someone else's property. It includes incidents that take place while at a restaurant or bar, such as food poisoning or becoming injured during an altercation. If a glass door or window breaks or shatters, causing injuries, this incident is also covered under premises liability.
Electrical shocks that cause injuries are included in this area of personal injury law as well. Injuries caused by falling objects, either on private or public property, are also covered under this category.
Product Liability
Product liability refers to injuries suffered by a consumer as the result of purchasing a defective product. Along with the actual purchaser, the user and any bystanders injured as the result of the product defect may also be able to make a claim for injuries and property damages.
This type of personal injury law covers manufacturers' defects, along with design defects. It also covers defects in the number of warnings to buyers regarding a product. The manufacturer, wholesaler, distributor and the retailer may face claims for damages, depending on the circumstances surrounding a claim.
Wrongful Death
A claim for wrongful death can be made along with many of the personal injury claims listed above. It can go along with damages sustained in a motor vehicle accident, head injury, medical malpractice, some types of premises liability claims or a product liability claim. As the name implies, these claims are brought by a representative of the estate of the deceased family member on behalf of the surviving family members.
The reason this type of claim is brought is to provide financial compensation to those family members who have suffered emotionally and financially due to the loss of the deceased.
Consult an Attorney for Personal Injury Cases
When an injury occurs that may be the fault of someone else, it is a stressful situation. An injured person and their family is not expected to be able to determine whether they can make a claim for their injuries. In that situation, the best thing to do is to contact an experienced attorney familiar with personal injury law.
If you or a loved one has been injured due to someone else's negligence, contact us to arrange an appointment for a personal consultation. Don't delay — there may be a specific time limit for you to start a claim.
Leave a Response