How to Keep Yourself Safe This Holiday Party Season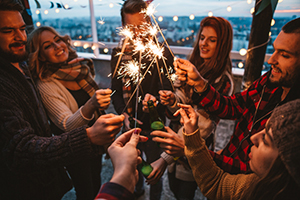 The holiday season isn't just the most wonderful time of the year – it can be the most hectic, too. Holiday parties are abundant, and chances are, you might be headed to one to celebrate the coming New Year. But in the midst of seasonal chaos, you don't want injury or illness to derail the holiday spirit. What will you be eating? How much will you have to drink? How are you getting to and from the party? Food poisoning, mixed drinks, and driving are all factors to be aware of that could send you from enjoying a good time with friends and family to enduring preventable injuries.
As with any time of the year, it's important to stay safe during the holiday season. Knowing about food and drink safety, as well as drunk driving and driving in winter conditions, can keep you protected from harm.
Food Safety at the Holiday Party: What to Know
About 48 million Americans will become sick due to food poisoning every year. The good news is that food poisoning is extremely preventable. Small steps such as washing hands, cooking food to the proper temperature, preventing cross-contamination, and storing food in a freezer or fridge can wipe out food poisoning. Whether the holiday party you're at has a home-cooked meal or is catered, the cook should have followed proper food safety precautions.
If you believe that the food being served at a holiday party is unsafe, avoid eating it. If you feel sick after eating food, watch for signs of food poisoning:
Cramping, nausea, vomiting and diarrhea are all common symptoms of food poisoning.
High fever, dehydration and bloody stools are symptoms of more severe food poisoning.
Symptoms that last for one day to a week or longer are indicative of food poisoning.
If you believe you have contracted food poisoning from food at a holiday party, see a doctor or healthcare professional, especially if you are exhibiting severe symptoms.
What Am I Drinking at This Holiday Party?
Whether it's wine, champagne, beer or a mixed drink, it's important to know what's in your cup or glass. Pay attention to the alcohol content of your drinks, and keep track of how many you've had. This can be easy if the alcohol content is printed on the bottle, but what if you're drinking a mixed beverage and you don't know what's in it?
A good rule of thumb is that if you don't know what's in it, don't drink it. If the host won't tell you what alcohol is in a fun-colored punch, or if someone tries to give you an open beverage, avoid consuming it all together. The holiday season from Thanksgiving to New Year's is one of the deadliest times of the year for drunk driving incidents because of the amount of alcohol consumed socially combined with more travel than usual.
If you believe you've had too much to drink, or drank something that you shouldn't have, be aware of alcohol poisoning symptoms:
Slurred speech, incoordination, mood and behavior changes, blackout, dehydration and vomiting are all signs of alcohol poisoning.
Other effects that may not be immediately apparent are loss of muscle sensitivity, slowing or stopping of nerve function, low blood sugar, low body temperature and dehydration.
If you are experiencing any level of intoxication, including alcohol poisoning, do not get behind the wheel or operate any machinery. If you or someone you know is in danger due to alcohol, contact Poison Control and 911.
The Holiday Party is Over. How Do I Get Home Safely?
Maybe the ball has dropped, or Santa's on his way — nonetheless, the night is coming to a close, and everyone is wishing each other goodbye. But alcohol, wintery conditions and holiday traffic can all contribute to unsafe driving conditions.
Taking precautions when it comes to drinking, such as drinking safely, appointing a designated driver or using a taxi or rideshare service such as Uber or Lyft, can make all the difference instead of getting behind the wheel intoxicated. Not driving can spare you from DUI charges, accidents, and resulting injuries or death. This is especially important if there are wintery conditions outside. Whether it's snowing or if there's ice on the road, knowing how to drive in winter conditions is essential to braving them. If you're at all worried about making it home safely, ask the hosts if you can stay the night. Chances are, they will be understanding of your concerns.
Safety is always important. You don't want your holiday party season to be sidetracked by illness or injury. By taking proper precautions and being aware of your party surroundings and situations, you can make your happy holidays all the happier.
Do you believe someone is liable for your food poisoning, alcohol poisoning or driving-related injury? Speak to an attorney at KBG Injury Law. Our experienced team will help you get the compensation and Results You Deserve©.
Leave a Response