ATV Accidents and Off-Road Safety: What You Need to Know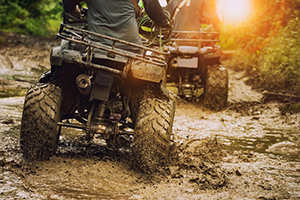 Spring and summer in Pennsylvania provide an opportunity for spending more time outdoors. For many people, this includes taking their ATV out for a spin. However, without the proper safety precautions, gear and training, this can end tragically in an ATV accident. ATV accidents can result in serious head and spinal cord injuries, broken collar bones, broken limbs and even death. Between 2014-2016 there were 70 ATV-related deaths in Pennsylvania alone.
The first week of June marks ATV Safety Week, and since Pennsylvania is ranked among the top 5 states for ATV deaths, we're reviewing ATV safety.
As with all vehicle sports, helmet use is the most important rule when it comes to ATV accidents and off-road safety. Nearly 75 percent of all ATV accidents involve head or spinal cord injuries, according to HealthResearchFunding.org. Helmets have been shown to reduce ATV accident-related fatalities by 42 percent. Even if you think you can beat the odds, it is illegal in Pennsylvania to ride an ATV without a helmet.
Other safety gear for ATV riders include long sleeves, long pants, goggles and over-ankle boots.
Beyond gear, there are basic rules everyone should follow to avoid an ATV accident. First, always ride sober. Like driving, operating an ATV under the influence is extremely dangerous. Always ride during daylight hours, and always ride on designated trails, roads and spaces.
Choosing the right ATV for the rider is another important precaution. ATVs typically have age limits marked directly on the vehicle. Children younger than 16 should never operate an ATV designed for an adult. Instead, they should ride age-appropriate vehicles that are designed to be more maneuverable and sized correctly for their smaller bodies. Also, passengers should never ride on ATVs designed only for a single rider.
Children and ATVs
While it is legal for children younger than 16 to ride ATVs, the American Academy of Pediatrics strongly discourages it. If you do decide to allow your child to ride off-road, keep the following laws and rules in mind.
In Pennsylvania, children must have a valid safety certificate to ride outside of a property owned or leased by their legal guardian. The only exception to this law is if the child is participating in a certified safety training course. Only children ages 8 and older are eligible for a certificate. Additionally, 8- and 9-year-olds can only ride vehicles with an engine of 70cc or lower.
If you or a loved one has been injured due to an ATV accident, seek the counsel of an experienced personal injury lawyer. Contact KBG to get the Results You Deserve®.
Leave a Response