The personal injury attorneys at KBG Injury Law are all experienced litigators. Almost all of them represented insurance companies prior to becoming advocates for injured people, which provides them with a unique perspective and insight into how these companies operate. They also offer extensive courtroom experience if going to trial is the best legal alternative for the client.
FAMILIARITY WITH INSURANCE COMPANY TACTICS
Our injury lawyers understand how to avoid the traps set by the insurance companies. As a rule, insurers attempt to force claimants to settle quickly and for an amount less than they truly deserve. A quick settlement avoids the prospect of a lawsuit where the company conceivably could be required to pay out large sums of money. In many cases, a quick settlement is not in the best interests of the claimant. Effective legal representation can often lead to a more fair and just settlement.
A STAFF OF HIGHLY ACCOMPLISHED YORK PA ATTORNEYS COVERING ALL AREAS OF PERSONAL INJURY LAW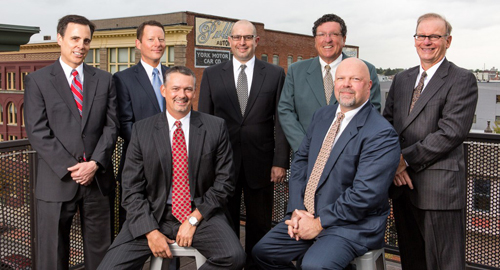 All our attorneys are accomplished trial lawyers offering a wide range of experience in all areas of personal injury law. We represent individuals who've been injured in all types of vehicle accidents, including those involving autos, motorcycles and tractor-trailers. We help families facing the devastating loss of a loved one due to wrongful death or as a result of medical malpractice. We also assist in the appeals process for those who have been denied Social Security or Veterans' Disability benefits. Read answers to some common questions about retaining an attorney.
Our attorneys have a deep understanding of personal injury law, especially since many of them have previously worked in the insurance field or have represented insurers before dedicating themselves to helping injured parties. This work experience allows our attorneys to understand the strategies insurance carriers use when dealing with their clients.
If you have ever wanted to speak to an attorney who understands what your insurance provider is thinking, contact KBG Injury Law.
Personal Injury Attorneys Dedicated to You
Our attorneys are deeply committed to you, the client. We work on your behalf tirelessly to bring you the results you deserve. Our representation is marked by:
Commitment: We are fully dedicated to representing our clients and treating them with respect. If you do not want to be treated like a number and if you want an attorney who recognizes contacting an attorney can be a difficult time, contact KBG Injury Law today.
Integrity: We only take on legitimate cases and are always honest with our actions. You can count on us for transparency and trustworthiness in all our interactions.
Results: Our actions on your behalf are results-oriented. We are always bringing our best work to the table, ensuring we go above and beyond to get you the results you deserve.
The reality is that any injury can be more complex than you may realize. You may lose more time at work than you originally anticipated, or an insurance carrier may offer you less than you need for medical treatment. Many do not consider the full costs of an injury.
In addition to wage loss and medical costs, you need to consider other expenses. You may need help at home while you are injured, or you may be unable to drive and have to rely on taxis for transportation. If there are any complications in your situation, your medical bills can increase catastrophically. Even replacing the electronics and personal belongings you lose in a car accident can add up to thousands or tens of thousands of dollars.
There is a reason KBG Injury Law fights so hard on behalf of our clients. We have seen firsthand the devastating results when personal injury survivors do not get the support they need.
Returning to work too early because an insurer or employer ignored medical evidence can result in re-injury, or even permanent injury that affects your income potential for a lifetime. Getting less than expected for an insurance claim can result in returning to work too early or require you to pay so much out of pocket that your ability to plan for retirement or even pay the bills is compromised.
Our attorneys will represent you so you are not left to face these possibilities on your own. We seek fair insurance treatment for you, so your health always comes first. Contact us for a free consultation today.